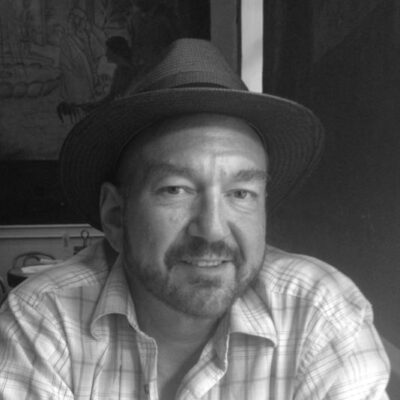 Michael Larice
Lecturer in Architecture, City & Regional Planning, [IN]CITY Lead
Email
larice@berkeley.edu
SPECIALIZATIONS
Urban design, comparative urban studies, architecture, urban theory and form, planning theory and history, livability theory and practice, quality of life, urban studies and design methods, research design, housing design and typology, slum housing and upgrading, international development, social sustainability, street and streetcar system design.
EDUCATION
PhD, City and Regional Planning (Urban Design), University of California, Berkeley
Master of Architecture, University of California, Los Angeles
Bachelor of Design, University of California, Los Angeles
BIOGRAPHY
Michael Larice is a designer and educator, who teaches urban design and urbanism, applied theory, design methods, street and transit design, and progressive housing.  Although he is an architect, city planner, and urban designer – he is primarily an urbanist. He takes a comparative, pluralist, and collaborative approach in teaching, research and practice to help students, professionals, and clients better transform their cities – how they can overcome struggle, how they can sustain themselves, and how they can thrive. Most of his urban design studios are partnered with clients trying to solve very real public realm, community, and development problems. Among these clients have been the cities of Abu Dhabi, Seattle, Oranjestad, Philadelphia, Vancouver, Park City, and Salt Lake City. This pragmatic design approach helps students build skills, construct competitive portfolios, operationalize theory, write more effectively, and address the challenges they will face in their professional careers. Many of his funded studios result in professionally formatted studio monographs for project clients. Over his career, Professor Larice has helped educate and place hundreds of forward-thinking planners and urban designers with firms and public agencies across the country. Professor Larice's professional and academic work focuses largely on the transformative urban design of livable places – and increasingly on how to manifest socially sustainable places. Previous research looked at dense urban neighborhoods, development approvals, slum upgrading, streetcar impacts on quality of life, urban arterial livability, and, the history and theory of livability thought. He continues working toward the professionalization of the urban design field, the democratization of planning, and the transformation of urban places.
Professor Larice is a son of California, who holds a PhD in City Planning from UC Berkeley, where his dissertation focused on the form and livability of high-density neighborhoods in North America. He has taught at the University of Pennsylvania, the University of British Columbia, the University of Utah, and the University of California, Berkeley. Most recently he directed the Graduate Certificate in Urban Design and the PhD Program in Metropolitan Planning, Policy and Design at the University of Utah. After serving in the US Peace Corps in Swaziland (Eswatini) 1992-1995 in the Ministry of Housing and Urban Development coordinating the nation's largest slum upgrading project, he worked as a licensed architect for several years in California.  In 2009, Professor Larice was awarded the G. Holmes Perkins Award for Distinguished Teaching at the University of Pennsylvania. In 2012, he was named Professor of the Year at the University of Utah's College of Architecture + Planning.  He and his urban design studios have won a number of competitive design awards and made lasting impacts on local municipalities and the public realm. For several years Professor Larice served as the Urban Design Track Chair for the American Collegiate Schools of Planning annual conference. In September 2019, he and Molly O'Neill Robinson signed a contract to author/edit The Routledge Handbook of Urban Design Practice, forthcoming Fall 2021. In his free time, he is an avid soccer fan.
COURSES TAUGHT
ENV DES 2 - SUMMER [IN]STITUTE: [IN]CITY
ENVIRONMENTAL DESIGN 4B - THE GLOBAL CITY
ENVIRONMENTAL DESIGN 100 - THE CITY: THEORIES & METHODS OF URBAN STUDIES
CITY PLANNING 110 - INTRODUCTION TO CITY PLANNING
CITY PLANNING 111 – INTRODUCTION TO HOUSING: AN INTERNATIONAL SURVEY
Publications
Larice, M. (2019). "Urban Design" and "Urban Design History"  Wiley-Blackwell Encyclopedia of Urban and Regional Studies, Anthony Orum, ed.
Larice, M. and Hinners, S. (2016). Assessing the Impacts of Streetcars on Economics, Equity, and Quality of Urban Life. US Dept of Housing and Urban Development – Sustainability Communities Program.
Larice, M. and Scheer, B. (2016). Strategic Design and Policy for Improving the Livability and Multimodal Use of U.S. Urban Arterials and Commercial Highways. National Institute for Transportation and Communities.
Larice, M. and Macdonald, E. (2012). The Urban Design Reader, 2nd Edition. Abingdon, UK: Routledge/Taylor & Francis. 660 pages.
Larice, M. and Macdonald, E. (2006). The Urban Design Reader, 1st Edition. Abingdon, UK: Routledge/Taylor & Francis. 560 pages.