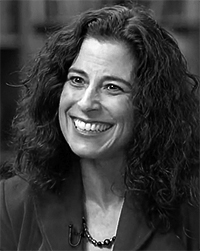 Karen Trapenberg Frick
Associate Professor of City & Regional Planning; Faculty Director, Arcus Social Justice Corps
Address
313b Wurster Hall, UC Berkeley
Address
313b Wurster Hall, UC Berkeley
Email
kfrick@berkeley.edu
EDUCATION
UC Berkeley, Department of City and Regional Planning, Ph.D.
UCLA, Urban and Regional Planning, M.A.
UCLA, Sociology, B.A.
BIOGRAPHY
Dr. Karen Trapenberg Frick is Associate Professor in the Department of City and Regional Planning and Faculty Director of the Arcus Social Justice Corps.
Teaching
Karen teaches graduate and undergraduate classes in transportation policy and planning, global cities, planning history and theory, and dissertation research design. She was also the academic lead for CED's [IN]CITY summer program in sustainable city planning (also see [IN]City, 2014).
Research and Areas of Interest
She is an expert on sustainable transport and community-based planning and major transportation infrastructure projects. Her current research focuses on conservative, Tea Party and property rights activists' perspectives on planning and planners' responses. She received a "Best Paper of the Year" Award for research on the topic from the Journal of the American Planning Association.
Research in this area is published in the journal Urban Studies which received a "top five" designation, in Planning Theory and Practice which was shortlisted for award consideration, and in the Journal of Planning Education and Research.
A short related article was published in Planning Theory and Practice, and for the California Planning and Development Report.
She also co-curated/edited and contributed to a collection of essays titled "Strengthening Planning's Effectiveness in a Hyper-Polarized World".
Her past research includes an evaluation of variable tolls on the Bay Bridge and an investigation of best practices and challenges related to transport innovations.
Community Partnership and Advising Awards
Karen is the recipient of a 2016 Award for Outstanding Faculty Advising from UC Berkeley's Excellence in Advising Awards Program and the 2019 STEM Partner Award with the College of Environmental Design Student of Color (CEDSOC and Low Income First Generation (LIFgen) groups from Self e-STEM. Self e-STEM is a non-profit organization based who provides extensive pipeline STEM (Science, Technology, Engineering, Mathematics) education and mentoring opportunities for elementary to high school girls from untapped communities in the greater Bay Area (Selfestem.org). Also see Fostering Conversations in STEM.
Professional Experience in Planning
Prior to her University position, Karen was a transportation planner at the San Francisco Bay Area's Metropolitan Transportation Commission for nine years where she worked on a wide range of activities including the agency's award-winning Transportation for Livable Communities program, congestion pricing, transport funding and policy, and legislative analysis.
COURSES TAUGHT
CY PLAN C114 Introduction to Urban and Regional Transportation Planning
CY PLAN 216/CIV ENG 290 Transportation Finance
CY PLAN 217/CIV ENG 250 Transportation Planning and Policy
CY PLAN 218/CY PLAN 250 Transportation and Land Use Studio
CY PLAN 280 Research Design for the Ph.D.
CY PLAN 200 Planning History and Theory
Global Cities, Environmental Design 4b
[IN]CITY Summer Program in Sustainable City Planning
Book (2016)
"This book chronicles the manner in which the replacement bridge was constructed, which extended over the course of 25 years. The initial estimated cost for reconstructing the bridge was set at 250 million dollars; at the project's close, the new bridge's total cost hit 6.5 billion dollars. This book examines how this significant cost differentiation occurred by investigating the shortcomings of elected officials, engineers, architects, special interest groups, and corporations. The author also addresses and inspects the manner in which this project was packed with incompetent management, an overall lack of engineering knowledge, and a complete misunderstanding of regulatory requirements. To finish, the author provides suggestions to improve the construction, management, and implementation of "megaprojects." This book is recommended to individuals in the areas of regional and transportation planning." — A. M. Strauss, Vanderbilt University  To Routledge >
Reviews by CityLab & UC Berkeley