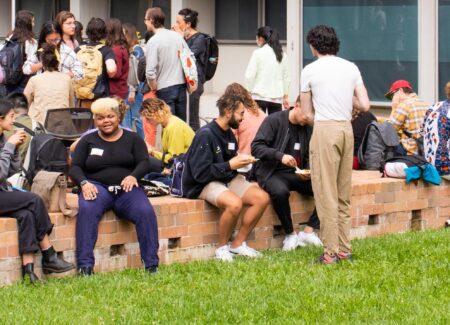 Application & Admissions Requirements
ELIGIBILITY
Thank you for your interest in applying to the College of Environmental Design Summer Programs. We encourage all eligible students to apply, including minorities, first generation college students (or college-bound high school students), and international students. Specific requirements are listed in the table below.
| | embARC | DISC | Summer Institute |
| --- | --- | --- | --- |
| | | | |
| Level of education | Rising high school juniors (11th grade) and seniors (12th grade) | Current college students | Post baccalaureate* |
| GPA | 3.0 or higher | 3.0 or higher strongly recommended | 3.0 or higher strongly recommended |
| | |
| --- | --- |
| Subject Expertise | No design experience required, but evidence of academic rigor and intellectual curiosity |
| English Language Skills | International students: Provide proof of English language proficiency (both in terms of exam scores and quality of the written statement in the SlideRoom program application). International applicants who qualify for an English Proficiency Waiver are not required to submit language test scores. |
* We will also consider exceptional students who will have completed their junior year of college before the start of the program
APPLICATION
The CED Summer Programs require a high level of engagement and commitment. Therefore, we require you to formally apply and show your qualifications and interest. To apply to one of our programs, you must submit an application via the SlideRoom application portal.
To be considered for the program, you must submit the following with your online application:
| | embARC | DISC | Summer [In]stitute |
| --- | --- | --- | --- |
| Online Application | Required | Required | Required |
| Application Fee | Submit with application | Submit with application | Submit with application |
| Essay and Statement of Intent | Required | Required | Required |
| Transcripts (student information, classes, GPA, attendance dates, etc. must be clearly visible) | High school transcripts that include all grades from 9th grade through the fall semester preceding your application | Most recent unofficial college transcript | Most recent unofficial college transcript |
| Current resumé/CV | N/A | Required | Required |
| Letter of recommendation | Required* | N/A | N/A |
| International Students | Submit proof of English language proficiency | Submit proof of English language proficiency | Submit proof of English language proficiency |
| | | | |
* embARC: The letter of recommendation can be from a high school teacher, counselor, principal, or another professional who can comment on either your academic achievements, work ethic, intellect, creativity, professional goals and/or ability to succeed in a rigorous pre-college program. We will not accept recommendation letters from friends or family members.
APPLICATION REVIEW & NOTIFICATION
Applications are reviewed for admission beginning in mid-February and decisions are released on a rolling basis. Due to space limitations, early submissions are strongly encouraged. Only complete applications will be reviewed. We notify all applicants of the status of their application via email. Please check your spam folder!
REGISTRATION & ENROLLMENT
Students accepted into the program need to complete the following steps by the required deadlines in order to finalize their enrollment. (This information is also included in the admissions email.)
Step 1: Express an intent to enroll by the deadline provided in the admissions email.
Step 2: Complete the Summer Sessions registration form and pay the $25 registration fee if you are a visiting student.
Once the registration application is processed, Summer Sessions will send an email with instructions on how to create a UC Berkeley login (CalNet ID). Please allow 2-3 days to receive email instructions. A CalNet ID will allows a student to activate their CalCentral student account, enroll in classes and pay tuition via CalCentral (https://calcentral.berkeley.edu/).
Step 3: Log in to CalCentral and complete all required tasks, including proof of Covid-19 Vaccination. Note: A current status of Covid-19 vaccination is required to attend any in-person CED Summer Program.
Once all required tasks in CalCentral are completed, students should proceed to:
Step 4: Course enrollment:
Summer Institute & DISC students - enroll in your course(s) via CalCentral. You will need to refer to the enrollment instructions and permission number in your admissions email.
embARC students - once your CalCentral student account is activated, CED Summer Programs staff will enroll you in the course. Note: You cannot enroll yourself. Only CED Summer Programs staff can enroll you.
Step 5: Promptly pay the program fees and tuition via CalCentral.
All applicants and admitted students need to adhere to the general deadlines posted on our Deadlines and Fees page as well as any deadlines provided in their admissions email. Please also note the important deadlines for withdrawal and cancellation.
CED Summer Programs reserves the right to cancel any course for which there is insufficient enrollment for a full refund, and to withdraw or modify course offerings.
QUESTIONS?
TRANSCRIPTS
CED Summer Programs students can request paper or electronic transcripts through the UC Berkeley Office of the Registrar Transcript Ordering Service.