Evacuation
An emergency assembly area is a predesignated safe location near a building where occupants assemble and report to the roll taker(s) after evacuating the building. The Bauer Wurster Hall emergency assembly area is the 1914 Fountain — directly south of Bauer Wurster Hall, near the intersection of Bancroft Way and College Avenue.
When evacuating your building or work area:
Stay calm; do not rush or panic.

Safely stop your work.

If safe, gather your personal belongings; take prescription medications with you.

If safe, close your office door and window, but do not lock them.

Use the nearest safe stairs and proceed to the nearest exit. Do not use the elevator.

Proceed to the designated emergency assembly area and report to your roll taker.

Wait for any instructions from emergency responders.

Do not re-enter the building until the emergency responders instruct you.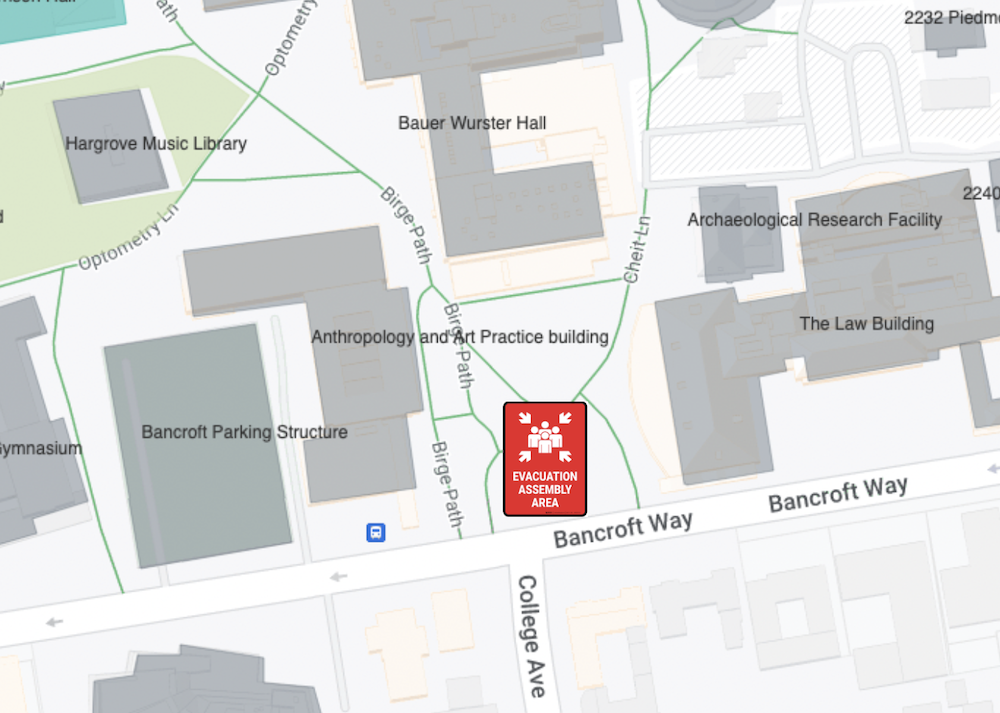 Fire
In the event of a fire, exit the building as quickly and as safely as possible. Avoid using the elevators and do not go "up" in the building for any reason. Once you exit the building, clear the area so emergency responders can easily access Bauer Wurster Hall.
Building occupants are required by law to evacuate the building when the fire alarm sounds. There may be instances where the building would be evacuated without a fire alarm sounding.
Earthquake
Duck under the nearest sturdy object and hold onto it until the shaking stops. If you are not near a sturdy object, make yourself as small as possible and cover your head and neck.

If you stand in a doorway, brace yourself against the frame and watch out for a swinging door, flying objects or other obstructions.

Avoid windows, filing cabinets, bookcases, and other heavy objects that could fall or shatter.

Stay under cover until the shaking stops, then leave the building and go to the emergency assembly area or another designated location. Report to your roll taker.

If safe, before evacuating, stabilize any laboratory procedure that could lead to further danger (e.g., turn off Bunsen burners or electrical equipment).
Active Shooter
We recommend signing up for crime alerts through NIXLE on the UCPD website. Alerts will be sent to your email and cell phone directly from UCPD in the event of any emergency.
Public Areas
Bauer Wurster Hall and CED welcome the public to come in and take advantage of areas such as our café, restrooms, library, lobbies, and hallways. Visitors, however, must be respectful of college business and refrain from entering private spaces including offices, classrooms, shops, and studios. For questions on what is public space in Bauer Wurster, please contact CED Facilities Manager Mike Bond.
Theft
As some of the areas in Bauer Wurster are open to the public, always make sure to lock your office
and ensure your valuables are never left in plain sight.
Accessibility
An evacuation assistance chair is located on the first floor. Waiting areas for those with disabilities are located on each floor and marked with appropriate signage. In the tower, waiting areas are located on each balcony. For more details, visit UC Berkeley's Disability Access & Compliance page.