[IN]CITY is an intensive six-week program designed to immerse students in city planning and urban design. By attending daily lectures and engaging in studio work, participants acquire the skills necessary to inform planning proposals. [IN]CITY assignments are based on real projects that represent a diverse group of stakeholder organizations in the San Francisco Bay Area. These organizations actively aim to influence sustainable planning policy at the local, county and regional levels.
[IN]CITY students develop in-depth recommendations, analyses and proposals for these projects, covering a wide range of planning practice: housing and design, bike mobility and transportation, public health and environmental justice, community development and gentrification, urban design, climate action and art in public spaces. In doing so, participants experience planning in the Bay Area by exploring institutional, political, social, economic and environmental policy challenges.
[IN]CITY is geared towards post-baccalaureate students who are considering graduate study in urban design and city & regional planning. Successful students will build a quality portfolio that can be used for further academic pursuits on a graduate level. No previous planning or urban design experience is necessary.
Course Elements
Studio work

Lectures

Readings

Media skills workshops

Professional presentations (guest lectures)

Student critiques, pin-ups & presentations
Student Work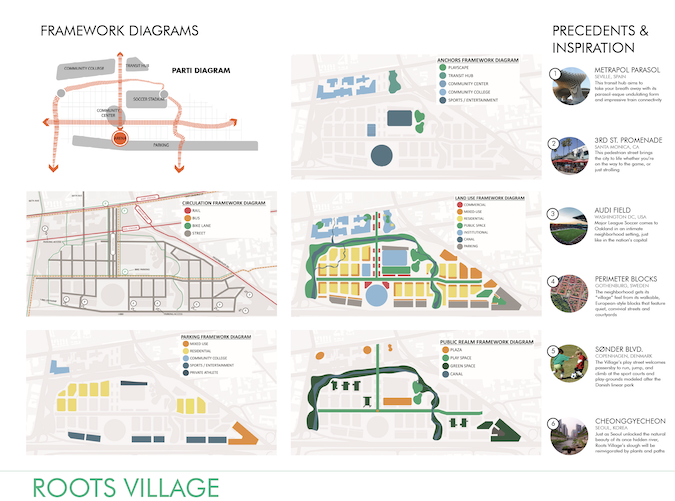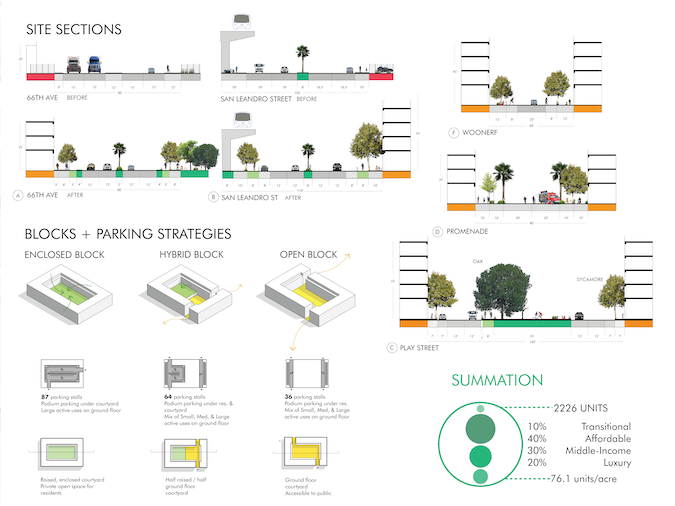 Instruction
The [IN]CITY Summer [In]stitute is designed to provide practical, hands-on experience. Projects might include actual sites owned by the City of Berkeley, City of Oakland, Kala Institute, and the Metropolitan Transportation Commission, among others. Instructors are selected to have many years of experience in planning, urban design and studio teaching. The studio is designed for students to explore key policy challenges and to develop tangible design and planning strategies. Some summer projects explore cutting edge urban problems. At other times, the projects help to inform municipal clients of innovative strategies that can then be explored in actual practice.
To develop these strategies, students conduct context-based analysis related to project sites and places impacted in studio work. Analysis typically involves: natural factors, infrastructure systems, circulation networks, land use, urban form, demographics, place history, economics, and topical issues; as well as policies, trends, limitations, and practices.
Within the structure of the morning schedule, we include: digital media instruction, topical lectures, readings and discussions, strategy sessions, collaborative work, guest lectures and tours of offices and sites. We don't expect our Summer [In]stitute students to have any built environment experience, save for an intense curiosity and a willingness to learn the disciplinary tools that will ready them for graduate school.
Within the structure of the afternoon studio sessions, the class will: distribute and discuss weekly assignments, provide instruction on how to complete assignments efficiently, provide examples; work collectively in smaller groups; and provide feedback prior to weekly presentations in pinup sessions. Associated with each assignment, expected deliverables, formats, drawing types, and substantive assignment content are discussed. The afternoon studio sessions are skill and methods-based instruction where instructors work with students collectively and individually to ensure comprehension and progress in developing student skills and capacities. Most work in the built environment professions is about communication of ideas through different media, whether this be written text and email contacts, graphics and drawings, annotations and specifications, oral presentations, body language, attitude and tone. These skills are crucial for successful careers in planning and the other built environment professions. Planning professionals spend just as much time communicating with other planners as they do with architects, landscape architects, real estate developers, city officials, infrastructure specialists and other project team members. Built environment practice is increasingly collaborative between professions, but also requires communication skills to work with politicians, community activists, local residents, and other place-based stakeholders.
The arc of this summer studio takes students through the various stages of a single project. While digging deep into the knowledge, readings, debates, case studies, status quo and innovative practice of the studio's topic during the morning sessions, students work concurrently on project assignments in the afternoons.
Site Analysis