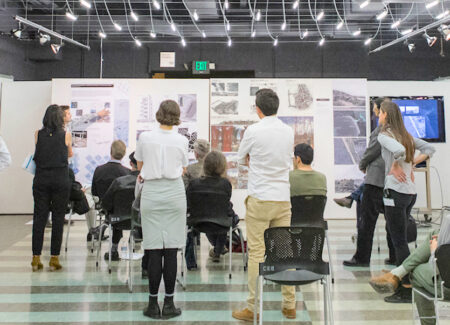 Summer [In]stitute in Environmental Design
An intensive six-week program, designed for college grads (post-baccalaureate), offering four different concentrations
July 3 - Aug 11, 2023
APPLICATIONS WILL OPEN MID DECEMBER 2022
Summer [In]stitute students explore the methods and theories of the field of environmental design, experience the culture of design and planning studios, and develop a portfolio for graduate school application with the expert guidance of faculty mentors.
Each program includes a lecture series, a design or planning studio, media workshops, and site visits. After fulfilling the program requirements, participants receive a certificate of completion and graded credit on an official UC Berkeley transcript. All classes are held in Bauer Wurster Hall, CED's home on the UC Berkeley campus.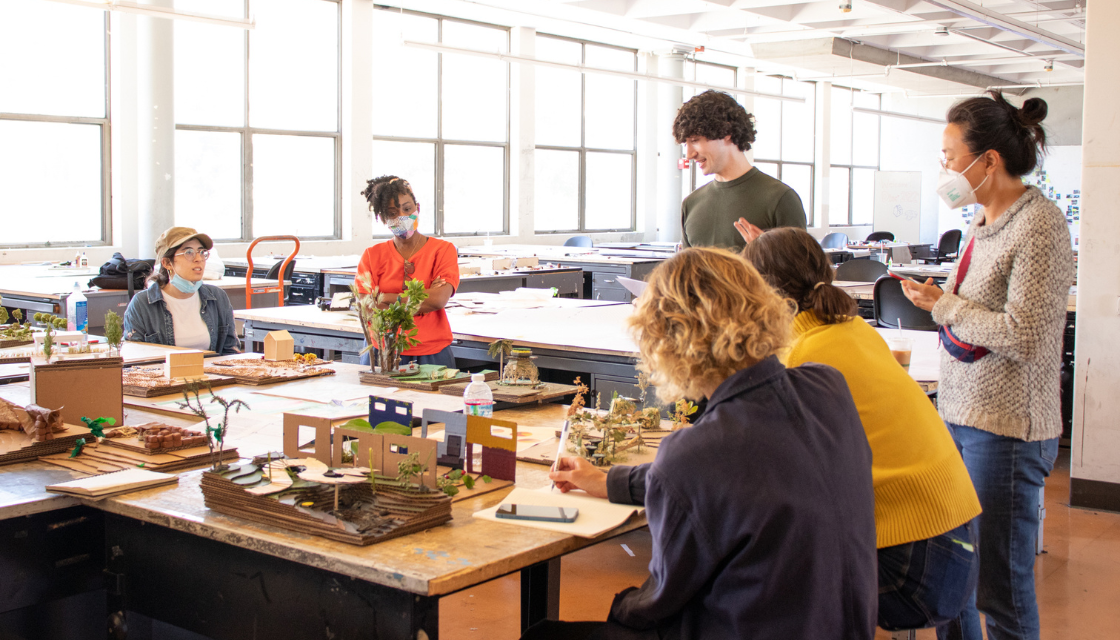 [IN]LAND mid-term review in studio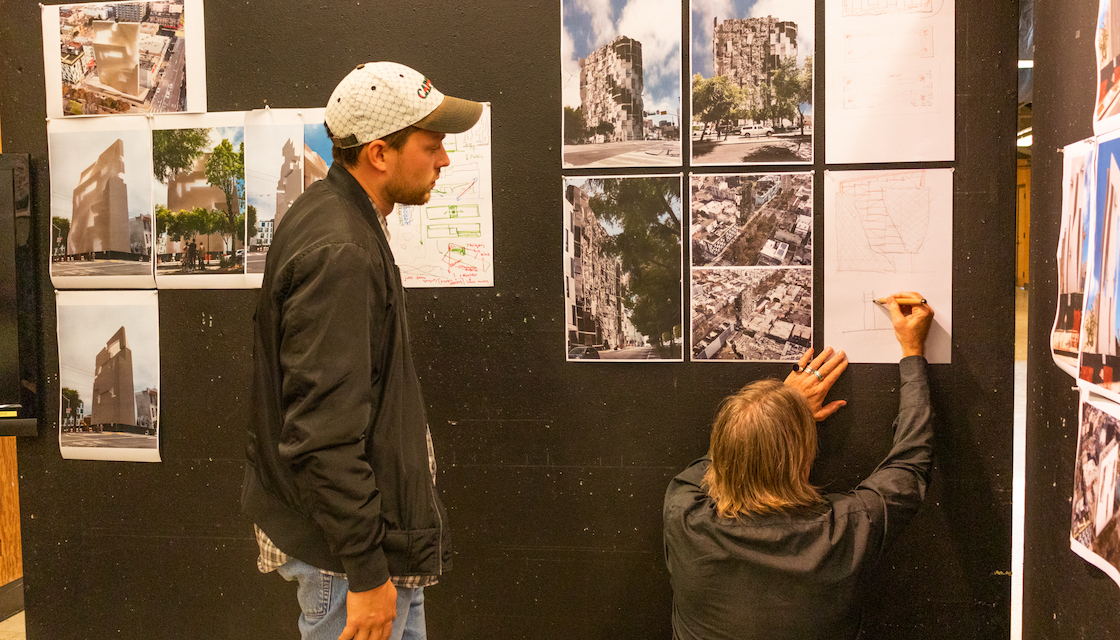 [IN]ARCH ADV mid-term review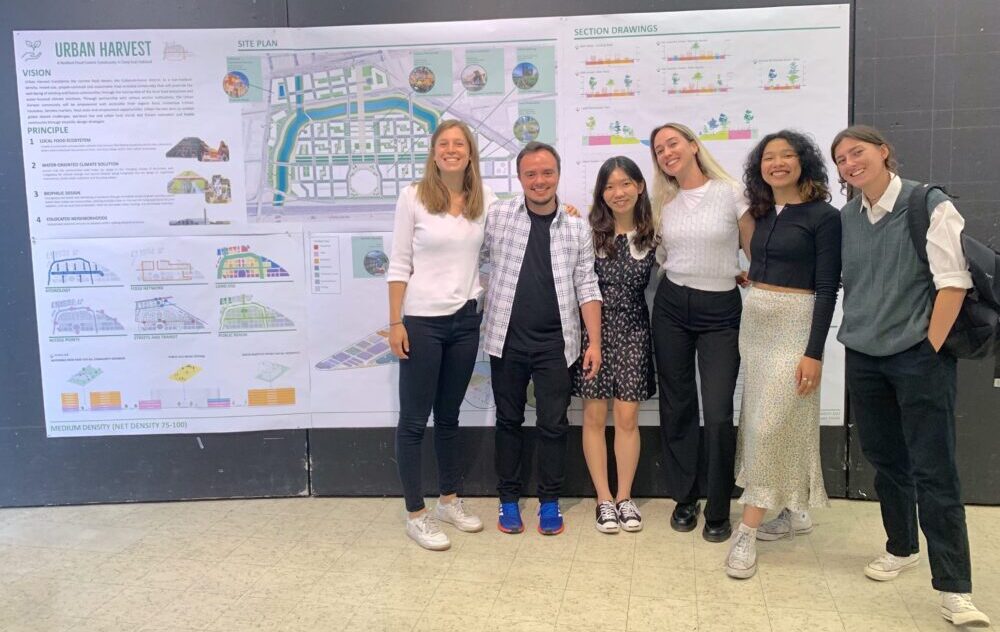 [IN]CITY: students are about to present their final design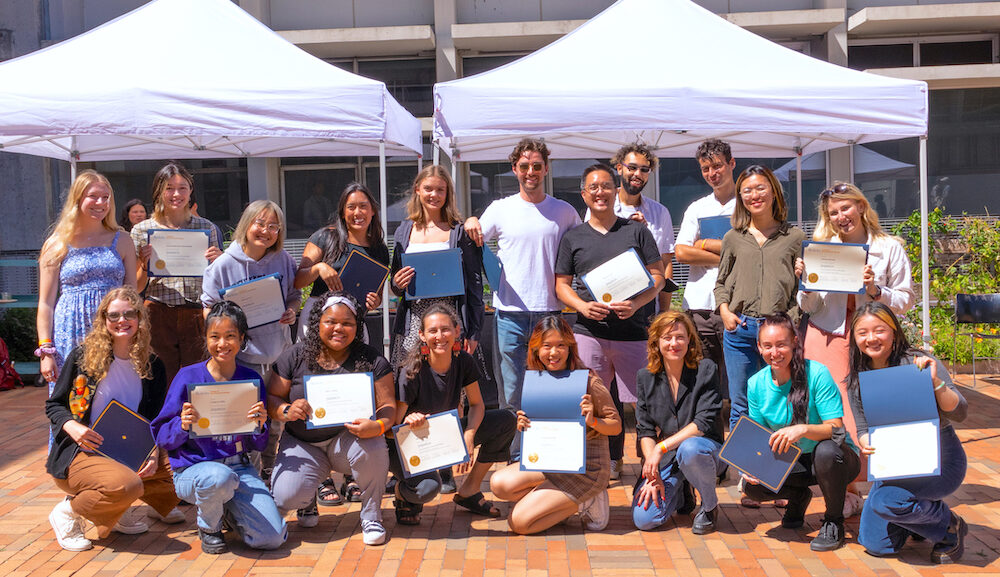 [IN]ARCH: students presenting their certificates on the final day
Benefits of Attending
Identify and explore the methods and theories of the field of environmental design
Experience the culture of planning and design studios
Develop a portfolio for graduate school application with the expert guidance of faculty mentors
Connect with a network of highly engaged peers, faculty and practitioners
Earn college-level credit on an official UC Berkeley transcript
Recent Summer [In]stitute alumni have been accepted to graduate programs at Harvard, University of Pennsylvania, Columbia, Rice, UC Berkeley, University of Michigan, MIT, University of Washington, University of Illinois, Princeton, Cornell, and Yale, among others.
4 Cohorts
Students choose 1 of the 4 cohorts
[IN]ARCH, an introductory program in architecture for post-baccalaureate students with no previous experience in environmental design.
[IN]ARCH ADV, an intermediate program in architecture for students who are in their final year of an undergraduate architecture program, or have already earned an undergraduate degree in architecture.
[IN]CITY, an introductory program in sustainable city planning for post-baccalaureate students with no previous experience in environmental design.
[IN]LAND, an introductory program in landscape architecture for post-baccalaureate students with no previous experience in environmental design.
[IN]ARCH
[IN]ARCH ADV
[IN]CITY
[IN]LAND
[IN]ARCH [IN]ARCH

[IN]ARCH is an intensive six-week program designed to immerse students in the foundational theories, philosophical principles and technical practices of architectural design. The program is structured as an introduction to studio culture and architectural discourse, and serves as a vehicle for further academic pursuits within the field.

The [IN]ARCH program is mainly comprised of two linked but distinct components: studio instruction and media instruction. These will be supplemented by a lecture series, field trips, readings and project reviews. 

The studio space in Bauer Wurster Hall is where students spend the majority of their time – both in class during studio instruction and independently developing projects. 

The media component of the course provides historical/conceptual context for, and a practical knowledge of, various modes of representation. These techniques are both analog and digital, covering two and three-dimensional representational concerns through drawing, modeling and presentation/portfolio development. 
[IN]ARCH ADV [IN]ARCH ADV

[IN]ARCH ADV is an intermediate architectural studio for current architecture majors or recent architecture graduates formulated to push the boundaries of architectural thinking and design. The studios are formal, intensive and structured for experimentation with physical ideas. Participants will make models (physical and digital), draw, photograph, collage, montage, diagram, print, scan, map and write as they work. The studio becomes a place for participants to transform thoughts and ideas into form.

Studio lessons establish and fortify links between architecture and the allied arts. While dealing with landscape, site, function and program, many pursuits reflect immediate and direct associations with music, painting, collage, literature, dance, theater, filmmaking and the human body, all of which exist in the sub-patterns of design.

The [IN]ARCH ADV studio places emphasis on an iterative process and deploys three recurring methods for making: analog drawing and photomontage, to connect the eye's critical observations to the hand's critical description; digital modeling, to explore conceptual ideas through 3D digital models; and physical modeling, to develop and embody material ideas in model form using the Digital Fabrication Lab.
[IN]CITY [IN]CITY

By attending daily lectures and engaging in studio work, participants acquire the skills necessary to inform planning proposals. [IN]CITY assignments are real projects with actual clients who represent a diverse group of stakeholder organizations in the San Francisco Bay Area. These organizations actively aim to influence sustainable planning policy at the local, county and regional levels.

[IN]CITY students develop in-depth recommendations, analyses and proposals for these client projects, which run the gamut of planning practice: housing and design, bike mobility and transportation, public health and environmental justice, community development and gentrification, urban design, climate action and art in public spaces. In doing so, participants have an opportunity to influence planning in the Bay Area by exploring institutional, political, social, economic and environmental policy challenges.

[IN]CITY is geared towards post-baccalaureate students who are considering graduate study in city and regional planning. No previous planning or design experience is necessary to be eligible.
[IN]LAND [IN]LAND

Students are introduced to the fundamentals of landscape architectural practice through the process of making and experimentation as research into site potentials. Initial ideas are developed and transformed through rigorous investigation in a collaborative studio environment. Students develop a landscape vocabulary that engages with the concepts of ecology, public space, sustainability and multiple scales of design.

Throughout the course, students learn to express a site in terms of it organizational and relational characteristics while investigating a range of potential conditions over time. Individually and collectively, students pursue inquiries that are agile and flexible, and experiment with various mediums to uncover hidden aspects of processes, spaces and materiality.
Student Experience
Watch a short video about the Summer [In]stitutes:
Faculty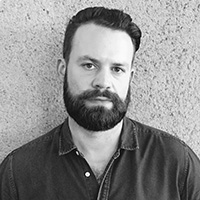 Continuing Lecturer in Architecture, Director of Summer Institute
David Orkand is director of Atelier DOA. David returned to California to set up his architectural practice after having spent four years living in Tokyo as a Monbukagakusho Fellow in the Tsukamoto Laboratory at the Tokyo Institute of Technology. During this time David worked with numerous Japanese architects, including Toyo Ito, SANAA, Atelier Bow-Wow, Junya Ishigami, and Go Hasegawa. David spent the two years prior to this living in Madrid, working for Mansilla+Tuñón Arquitectos.
David received his Master of Architecture and Graduate Certificate in Media and Modernity from the Princeton University School of Architecture, where he was awarded a Howard Crosby Butler Fellowship to conduct thesis research in Iceland. David studied at the Architectural Association in London and received his Bachelor of Fine Arts from Otis College of Art and Design, where he graduated as valedictorian of his class.
David has taught architecture and architectural theory at Princeton University, UC Berkeley, and California College of the Arts.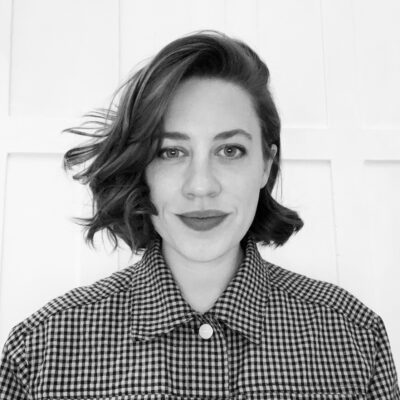 Betsy Clifton, [IN]Arch co-Lead
Betsy Clifton is an architectural designer, lecturer, and co-founder of the design studio Associates And. She has collaborated internationally on exhibitions and housing projects with Sam Chermayeff Office, SITE (James Wines), Norman Kelley, NEMESTUDIO, Studio Ames, among others. Betsy was an assistant curator for the Pavilion of Turkey in the 17th International Architecture Exhibition, La Biennale di Venezia (2021) and has acted as design lead for exhibitions at the Canadian Centre for Architecture, Cooper Hewitt Smithsonian Design Museum, and the Arthur Ross Architecture Gallery, Columbia GSAPP. Betsy has been a visiting lecturer at Syracuse University and Bard College, as well as an invited architectural critic at the Architectural Association, Columbia University GSAPP, University of Pennsylvania, Pratt, University of Texas at Austin, and Vassar College. She received an MArch from University of California, Berkeley and a BFA from the School of Visual Arts.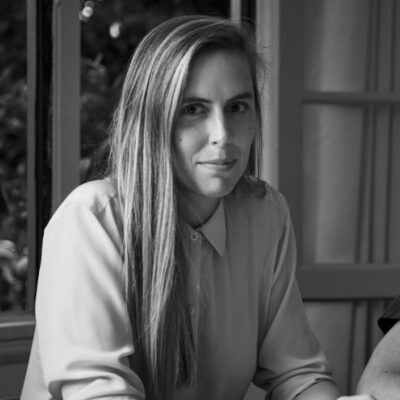 Brooke Hair, [IN]Arch co-Lead
Brooke Hair is an architectural designer with experience working with Gehry Partners, First Office, and Taalman Architecture. She calibrated on the design of Frank Gehry's Grand Avenue Project in Los Angeles, among others. She received a Bachelor of Arts in Studio Art from Brown University and a Master of Architecture from UC Berkeley, where she was the recipient of the Roselyn Schneider Eisner Prize, the John K. Branner Traveling Fellowship, and the AIA Henry Adams Certificate. In 2016 Wallpaper Magazine named her one of 20 top graduates in architecture from around the world. She has served as a critic at the University of Texas at Austin, the University of Michigan, Syracuse University, Woodbury University, and the University of Southern California.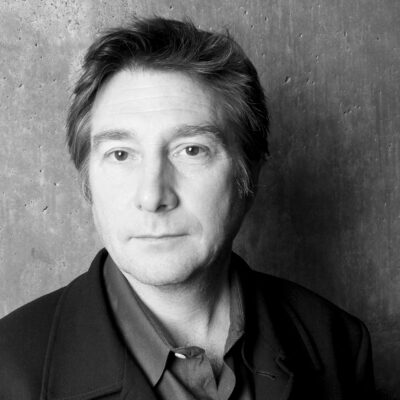 Continuing Lecturer in Architecture, [IN]ARCH ADV Lead
Professor Plymale is a continuing lecturer in architecture at UC Berkeley and founding partner of the San Francisco-based Volume21: Office for Architecture. V21 is a research office that makes speculative projects, constructs houses, and pursues international competitions. The architecture of V21 is propelled by studies in bodily proportion, built-in cabinetry, pre-fabrication, material technology, art, music, and the dwelling patterns of the 21st century. Research interests include: the body and architecture, construction and material technology, earthwork art/architecture, Native American architecture, Italian modernism, and the work of architect Leonardo Ricci. For ten years Professor Plymale worked with José Oubrerie, assistant to Le Corbusier at Atelier Rue de Sèvres 35. Professor Plymale received an AIA honor award for his work with Oubrerie on the Miller House, which is published extensively.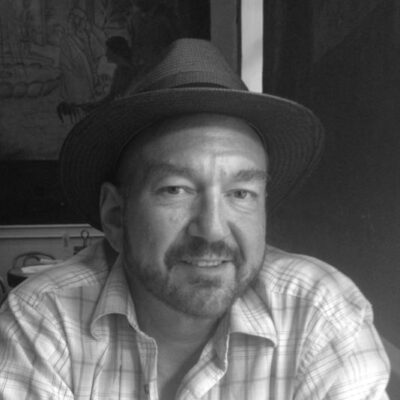 Lecturer in Architecture, City & Regional Planning, [IN]CITY Lead
Michael Larice is a designer and educator who teaches urban design and urbanism, applied theory, design methods, street and transit design, and progressive housing. Although he is an architect, city planner, and urban designer, he is primarily an urbanist. He takes a comparative, pluralist, and collaborative approach in teaching, research and practice to help students, professionals, and clients better transform their cities – how they can overcome struggle, how they can sustain themselves, and how they can thrive.
Over his career, Professor Larice has helped educate and place hundreds of forward-thinking planners and urban designers with firms and public agencies across the country. Professor Larice's professional and academic work focuses largely on the transformative urban design of livable places – and increasingly on how to manifest socially sustainable places. Previous research looked at dense urban neighborhoods, development approvals, slum upgrading, streetcar impacts on quality of life, urban arterial livability, and, the history and theory of livability thought. He continues working toward the professionalization of the urban design field, the democratization of planning, and the transformation of urban places.
Professor Larice is a son of California, who holds a PhD in City Planning from UC Berkeley, where his dissertation focused on the form and livability of high-density neighborhoods in North America. He has taught at the University of Pennsylvania, the University of British Columbia, the University of Utah, and the University of California, Berkeley. Most recently he directed the Graduate Certificate in Urban Design and the PhD Program in Metropolitan Planning, Policy and Design at the University of Utah. After serving in the US Peace Corps in Swaziland (Eswatini) from 1992-1995 in the Ministry of Housing and Urban Development coordinating the nation's largest slum upgrading project, he worked as a licensed architect for several years in California.
In 2009, Professor Larice was awarded the G. Holmes Perkins Award for Distinguished Teaching at the University of Pennsylvania. In 2012, he was named Professor of the Year at the University of Utah's College of Architecture + Planning. He and his urban design studios have won a number of competitive design awards and made lasting impacts on local municipalities and the public realm. For several years Professor Larice served as the Urban Design Track Chair for the American Collegiate Schools of Planning annual conference. In September 2019, he and Molly O'Neill Robinson signed a contract to author/edit The Routledge Handbook of Urban Design Practice, forthcoming Fall 2021.
In his free time, he is an avid soccer fan.
Hyunch Sung, [IN]LAND Lead
Hyunch Sung is an urbanist, artist, and teacher who has had the pleasure of working and learning from various underserved communities. She recently lead the design-build of Cafe Ohlone while at Terremoto. While at Mithun, she worked with Five Keys to create a landscape and garden for survivors of domestic violence who were wrongly incarcerated. Hyunch has lead and built residential, commercial and public landscape architecture projects in NYC, LA, and San Francisco. She has taught studios about political and underrepresented urban landscapes at Cal Poly Pomona and USC. Hyunch received a B.A. in Literature from Amherst College, and her M.L.A. from Rhode Island School of Design.
---