Arcus Social Justice Corps (ASJC) Fellowship
AWARDS, SCHOLARSHIPS + FELLOWSHIPS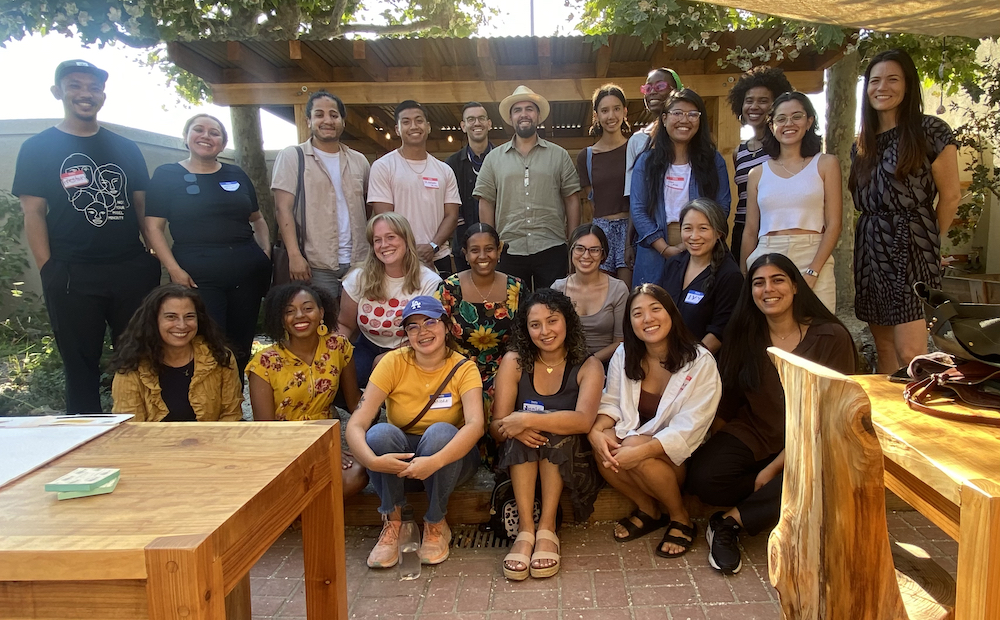 ABOUT THE FELLOWSHIP
The Arcus Social Justice Corps (ASJC) Fellowship offers significant tuition support to master's students in the College of Environmental Design who intend to focus on social justice work after graduation. The fellowship experience includes mentoring from social justice practitioners; internship opportunities; career planning support; opportunities to incubate new ideas; and community-building events.
The fellowship was established with the goal that Arcus Fellows will graduate with little or no debt, giving them the freedom to pursue careers that can make a big difference in society. The fellowship is open to students applying into any of CED's master's-level degree programs, including concurrent degree programs; support is offered each year for the duration of the degree program. Fellows pledge to work in the area of social justice for at least three years after earning their degrees.
SOCIAL JUSTICE AND ENVIRONMENTAL DESIGN
In the context of environmental design, social justice work is wide ranging: it can focus on housing policy, food accessibility, environmental justice, transportation planning, and more. Overall, it works to mitigate the impacts of social and racial inequities.
Arcus alums are active across a wide range of social impact fields. An alum of the MRED+D program works for Equity Community Builders managing real estate deals on behalf of nonprofit clients. An alum with a Master of City Planning degree is working to integrate DEIB frameworks into projects at Bennett Midland, a management consulting firm that works exclusively in the civic sector; he has worked with the New York City Mayor's Office for Child Care and Early Childhood Education to increase the city's support of small, home-based childcare providers.
A landscape architecture alum works for BASE Landscape Architects, where her projects include a social and racial equity plan for the City of San Francisco and a central kitchen, urban farm, and community garden for the Oakland Unified School District. An alum of the MDes program works for MacArthur Fellow Dr. Joshua Miele, a blind local inventor, on accessible, open-source projects such as making electronics kits like Arduino more accessible to blind users.
By working in nonprofits, NGOs, higher education, or government agencies, or by creating their very own forms of new radical practice, Arcus Fellows move the needle on essential social change.
The ASJC COMMUNITY
Arcus Fellows form a community within the CED community, linked by their shared commitment to social justice. While enrolled in different degree programs, Arcus fellows come together for special opportunities and events throughout the year. Talks from social justice practitioners who provide insight into what social impact work looks like in action are a highlight of the program every semester. Past speakers have included Fred Blackwell, San Francisco Foundation; Alvaro S. Sanchez and Molly Tafoya, Greenlining Institute; Candice Elder, East Oakland Collective; Vincent Medina and Louis Trevino, Cafe Ohlone; Chelina Odbert, Kounkuey Design Initiative; Danielle Rivera, Department of Landscape Architecture and Environmental Planning at CED; and André Jones, Bay Area Mural Program.
Arcus Fellows also play a role in shifting the culture at CED by integrating social justice concepts across the college — weaving these themes into undergraduate and graduate courses, across all of CED's disciplines, and among students who are planning more traditional career paths. We invite ASJC alums to return to CED to mentor future cohorts of students who want to pursue social impact work in the real world.
We seek to attract students with the most potential to make direct and transformational social change in the world through planning, research, and design.
The application for the 2023–2024 Arcus Fellowship cohort will open in the fall of 2023. Please check back for application updates.
Arcus Fellows are a selected by a CED committee that includes faculty, staff, and alums who are practitioners in social justice fields. 
You must be apply to a UC Berkeley College of Environmental Design master's program by the fall 2023 deadline 

You must be a U.S. citizen, have permanent residence, or have DACA or refugee status 

You must fill out the

FAFSA

by your intended program's deadline so that the UC Berkeley Financial Aid Office has your information on file

You must upload a current resume to the application
Varies per student, ranging from $20,500 to $45,000 per year. Funding is provided for each year of your program.