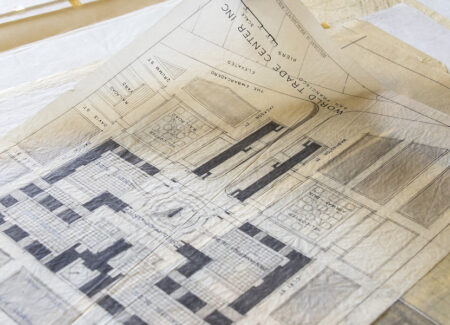 Research Fellowships
The Environmental Design Archives (EDA) is pleased to offer two short-term research fellowships to support scholars conducting interdisciplinary and innovative research on-site at the EDA, located in Berkeley, California.
Applications for these fellowships are due March 1, 2023.
Committed to raising awareness of the significant architectural and landscape heritage of Northern California and beyond, the Environmental Design Archives collects, preserves, and provides access to primary records of its built environment. Its collections represent more than 200 of the San Francisco Bay Region's most historically significant architects, landscape architects, and urban planners.
The two fellowships, the Waverly B. Lowell Fellowship and the Alice Ross Carey Fellowship, will each provide stipends of up to $5,000 to support travel to Berkeley to conduct research using the collections of the Environmental Design Archives. Fellowship recipients are expected to spend significant time researching within the collections.
Fellowship applicants are strongly encouraged to discuss research intent with the EDA curator prior to submission to determine how EDA collections can support research needs. Send a brief project description to edafellowships@berkeley.edu for a consultation.
Eligibility
The Alice Ross Carey Fellowship is open to doctoral students and emerging scholars in any related discipline. Students must be registered in an accredited graduate program and currently engaged in dissertation research. Other applicants may be academic or independent scholars.
The Waverly B. Lowell Fellowship is open to mid-career and senior scholars. Applicants may be academic or independent scholars.
Application Requirements
The following materials must be received by the deadline (March 1, 2023). For Carey Fellowship only, note later date for submission of recommendation letters.
An abstract limited to 150 words
A proposed list of materials to be examined during your fellowship including collection names
A curriculum vitae (3 pages max)
For Carey Fellowship only: contact information for two recognized scholars who you will ask to submit letters of recommendation
A budget establishing how fellowship funds would be used, including the estimated length of residence in Berkeley.
A project description (1,200 words max, not including citations) that outlines:

How your project will advance scholarship in your field and how it is positioned with respect to existing literature
In what ways the EDA's collection will support and advance your research project
A description of your anticipated outcome (e.g. dissertation or book chapter, article, exhibit, performance, etc.).
For Carey Fellowship only: Two letters of recommendation that speak to the impact of your research on your field must be received by March 15, 2023.
All materials, with the exception of the recommendation letters, should be assembled into a single PDF file and sent to edafellowships@berkeley.edu by 5:00pm PST on March 1, 2023.
For Carey Fellowship only: letters of recommendation should be sent directly from the recommender to edafellowships@berkeley.edu with "Recommendation for [your name]" as the subject line by 5:00pm PST on March 15, 2023.
Applications will be reviewed by a committee of faculty and archivists. Awards will be based on the potential for the proposed research to make significant contributions to scholarship. Successful applications will demonstrate strong familiarity with EDA collections and make a compelling argument for the importance of those collections to the proposed project.
Applicants will be notified of all decisions by April 20, 2023. Research is expected to be completed no later than August 20, 2024.