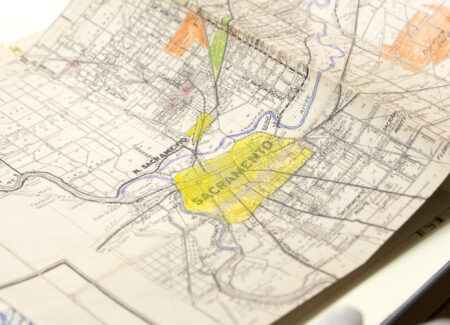 FAQ
Answers to all your questions about the offerings and services of the Environmental Design Archives
Can you tell me if the Archives has the records I want before I make an appointment?
Yes, it is always a good idea to discuss your research objectives with an archivist and determine if the collection has useful material before making arrangements to visit. Contact the archives for more information.
Can I stop by?
Because we have limited staff time and want to assure both our researchers and our records the attention they deserve, we are open by appointment only.
Where are you located?
We are located at 280 Wurster Hall on the University of California, Berkeley campus.
Do you only have records of famous architects or landscape architects?
No, we have records of many architects and landscape architects who practiced in the Bay Area. Much of the built environment of the area was created by prolific designers who are not widely known by name. Refer to our list of collections for specific individuals.
How can I find out if you have information on my house, garden, or other building I'm researching? Can you tell me if my property was designed by a famous landscape architect or architect?
We can check our database to see if we have records relating to a particular project. However, our project files are not always comprehensive lists of a landscape architect or architect's work. When contacting us, please provide us with the following information if possible:
Architect's or landscape architect's name
Original client or owner's name
Location (city) of project
Date of construction
I don't know the name of the architect who designed the building I'm researching. Can you help me?
Our collections are organized by architect (or landscape architect), so without that information, we cannot locate drawings and other material. We suggest you use some of the tools covered by this brochure.
Can I make copies of material?
We can make copies for you, but the size, condition, and medium of the material may limit what types of reproductions can be made. Items smaller than 11 by 17 inches, and drawings in good condition can be reproduced as full-sized copies. Almost all material can be reproduced digitally. You may also take snapshots with your own camera. For fees please contact us.
Will you research a topic for me?
Because of budgetary constraints, we must limit time spent on research requests to fifteen minutes. For more in-depth assistance, you may want to contact a professional researcher or architectural historian.
Can I check out material or get it through interlibrary loan?
Because our collections consist of irreplaceable original material, researchers may use items only in our secure reading room.
Do you have records relating to the College of Environmental Design?
The Archives has records relating to administrative activities, publications, and the records of Dean William Wurster. Although neither comprehensive or systematic, we also hold records for the Departments of Architecture and Landscape Architecture & Environmental Planning including student work and activities; publications, photographs, and departmental records. Teaching files can be found both in the Department records and in the collections of individual designers. The other repository for records related to the College or its Departments may be held by the University Archives, which is the official repository for the University's administrative records.
---
Please see our list of other resources for additional help. For information regarding our reproduction services and general policies please consult our visitation policies.