The 10.5-acre public garden, with its stunning hill views of the San Francisco Bay and the Golden Gate Bridge, is located four miles north of the Berkeley campus in the town of Kensington.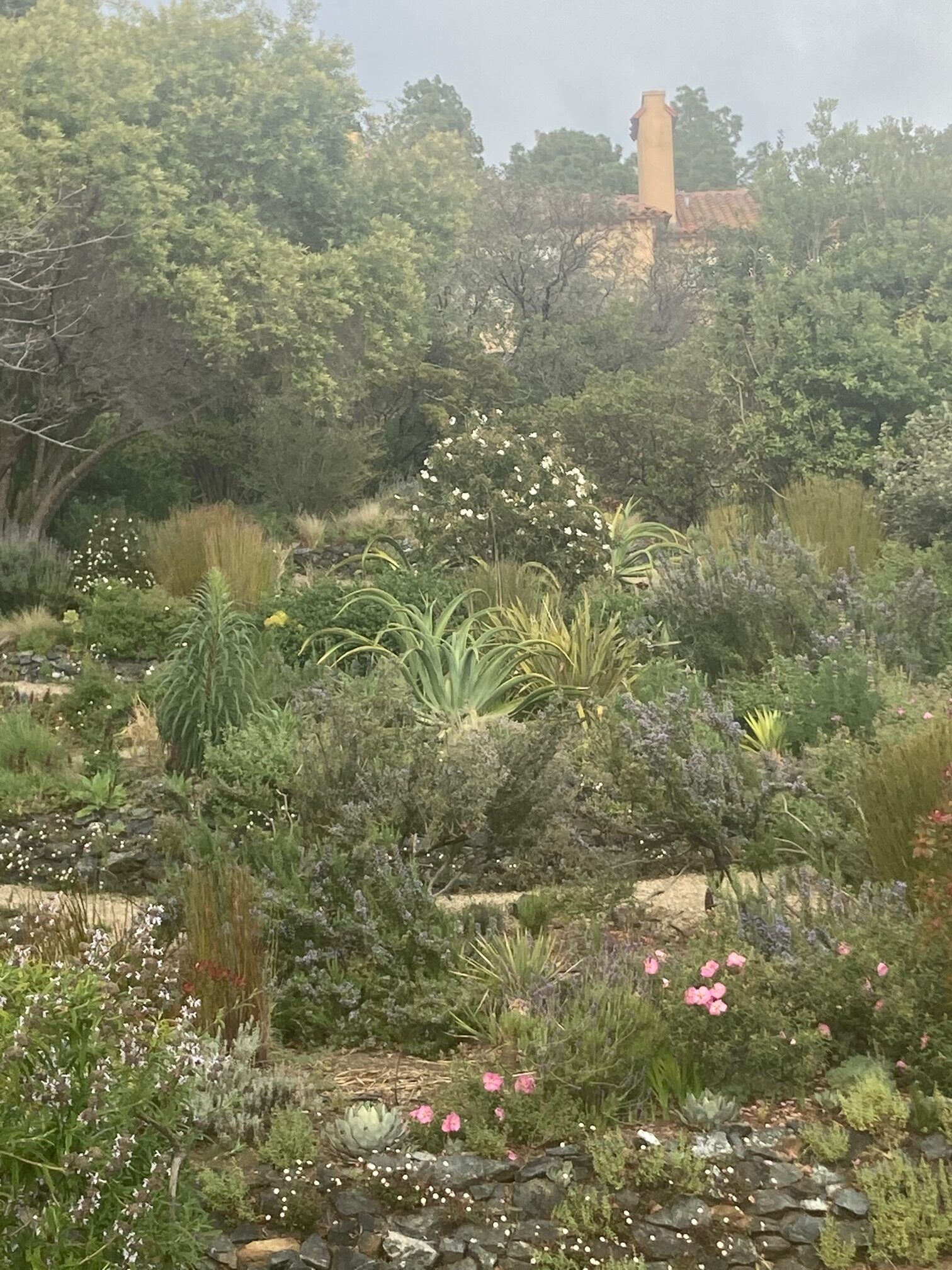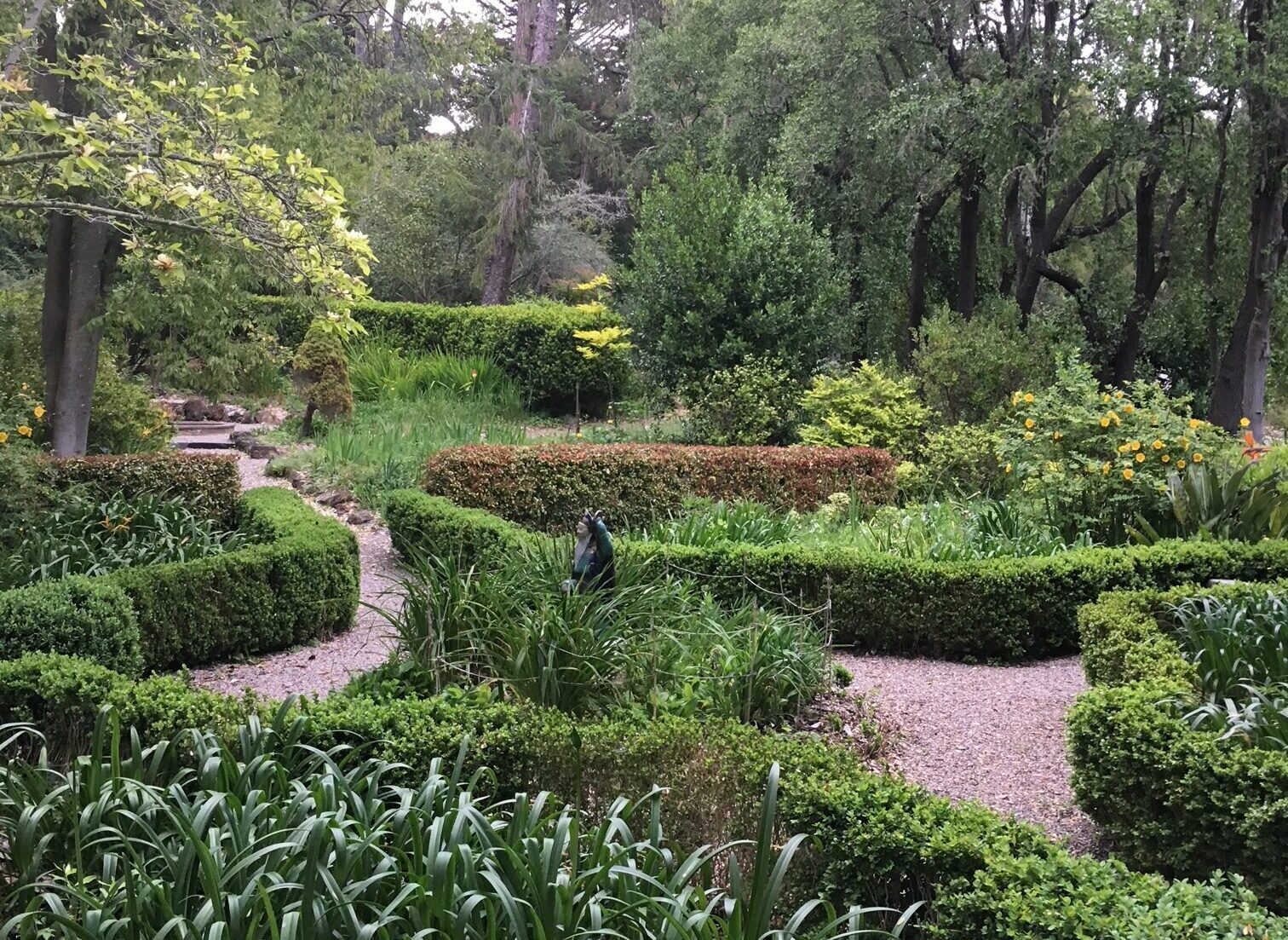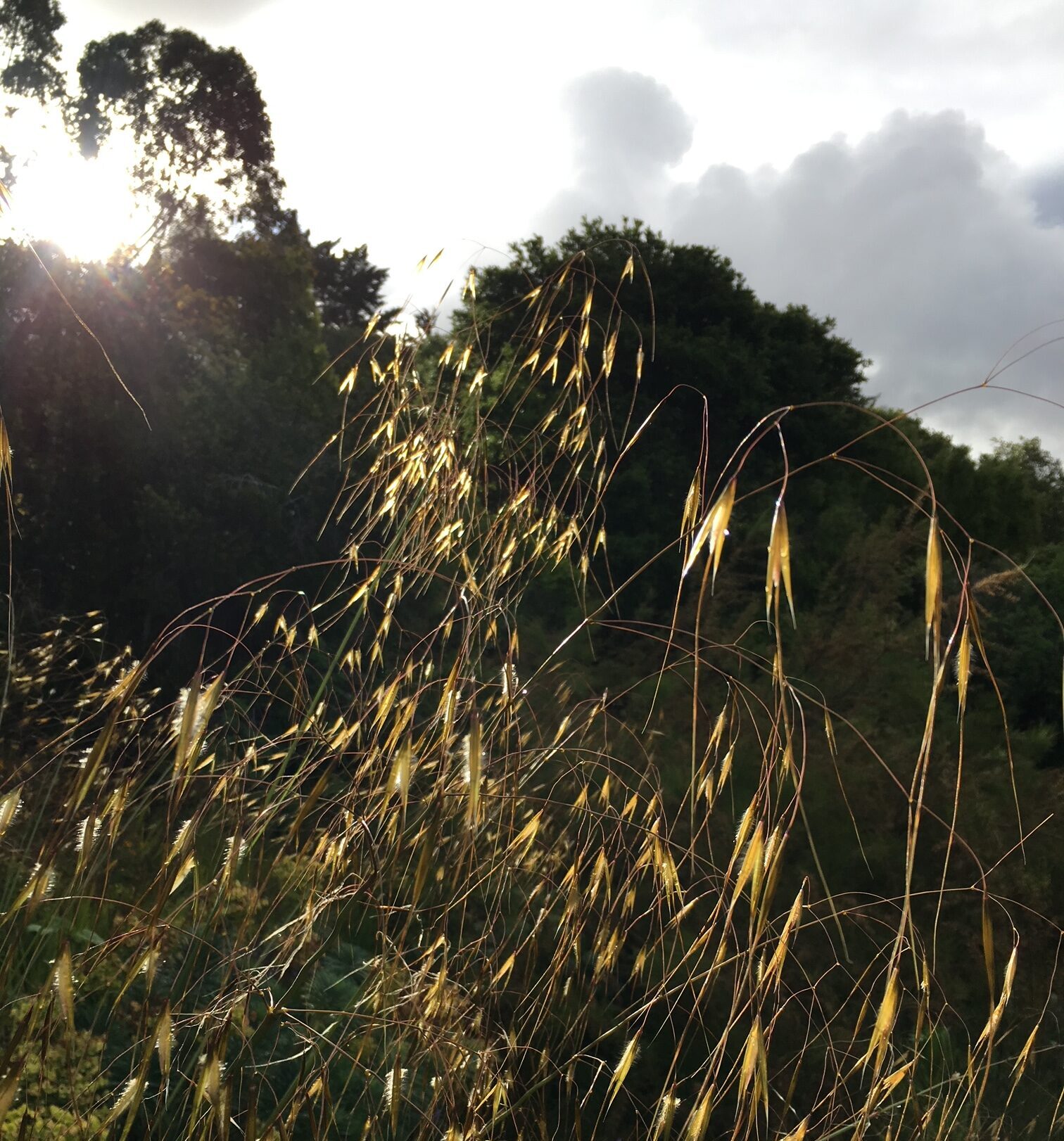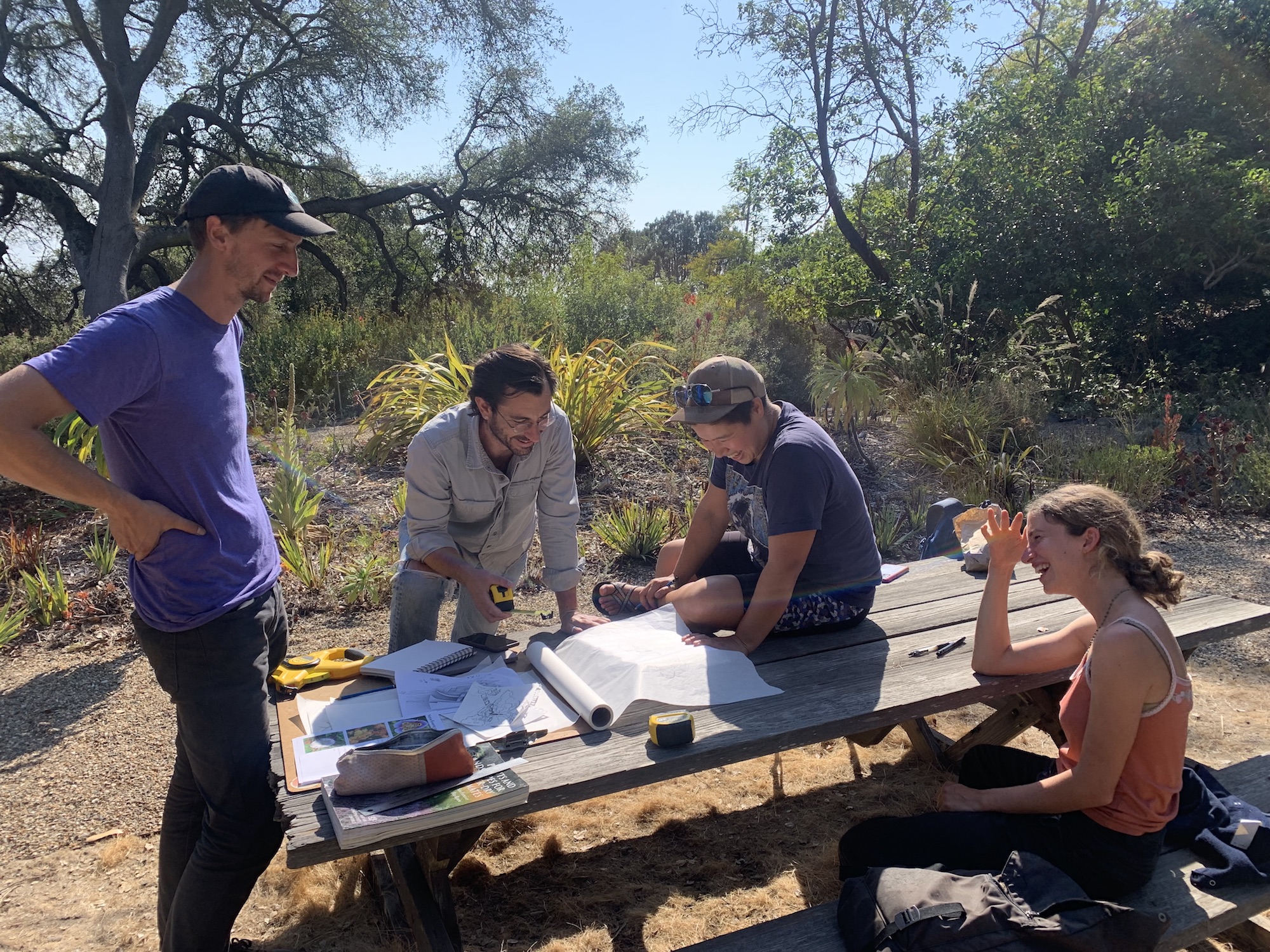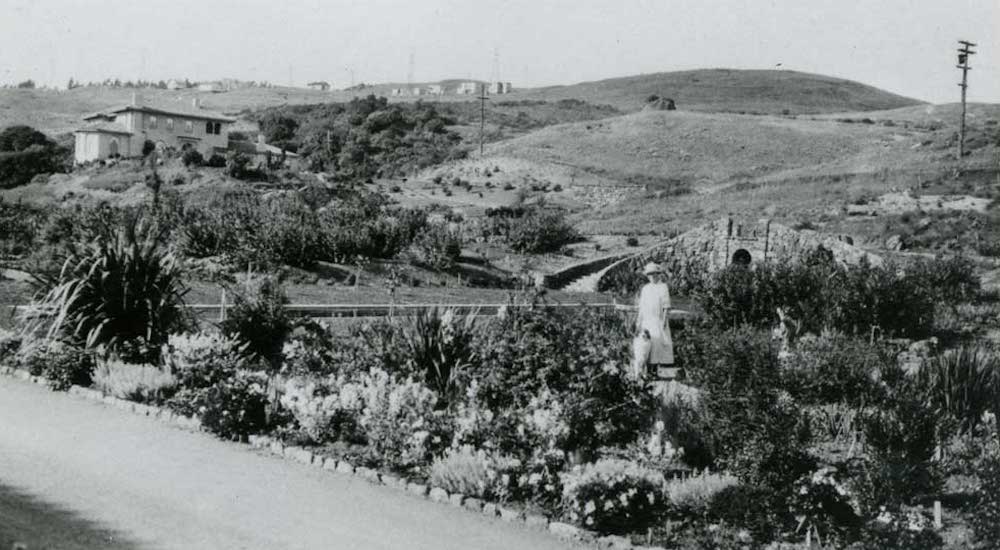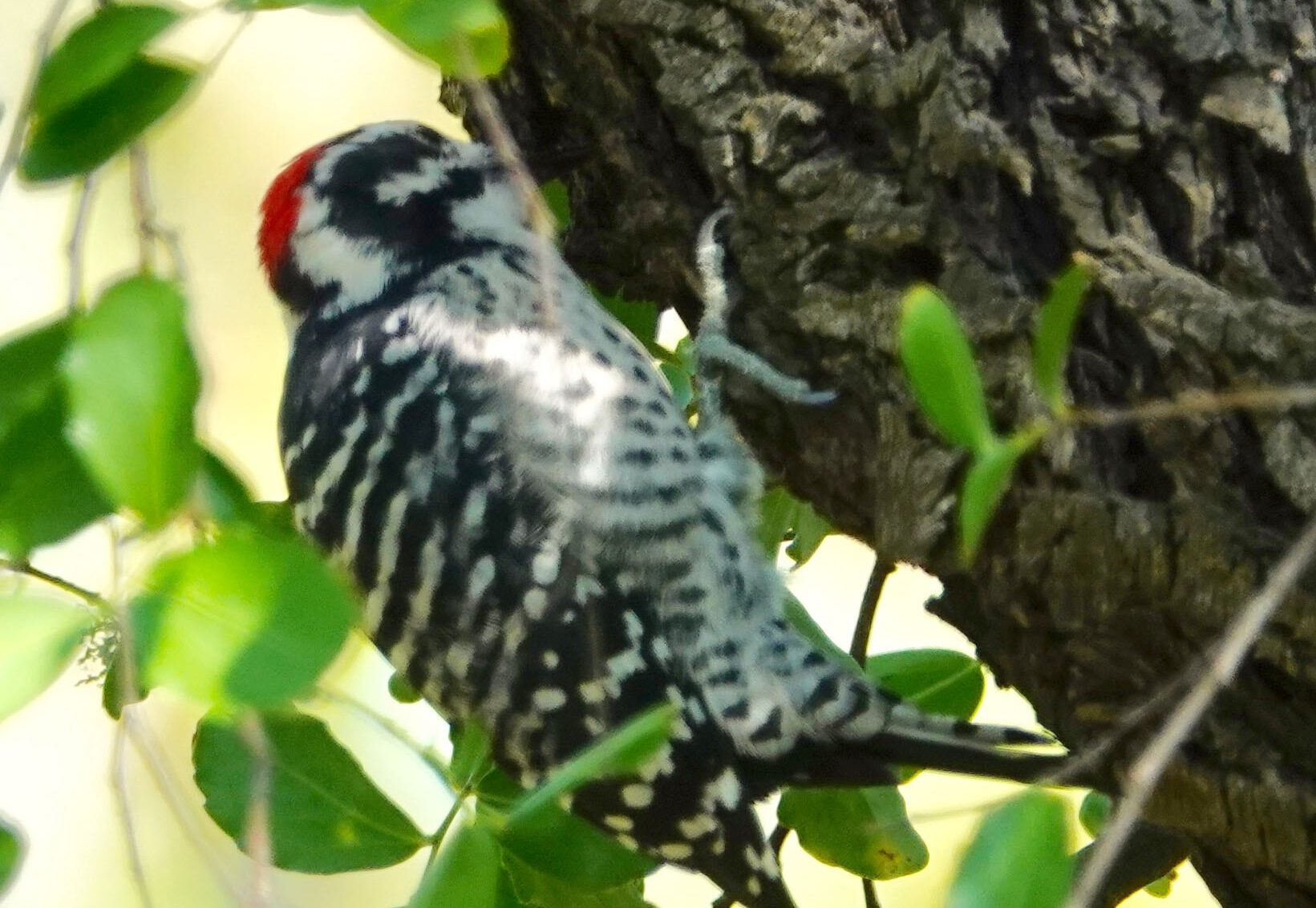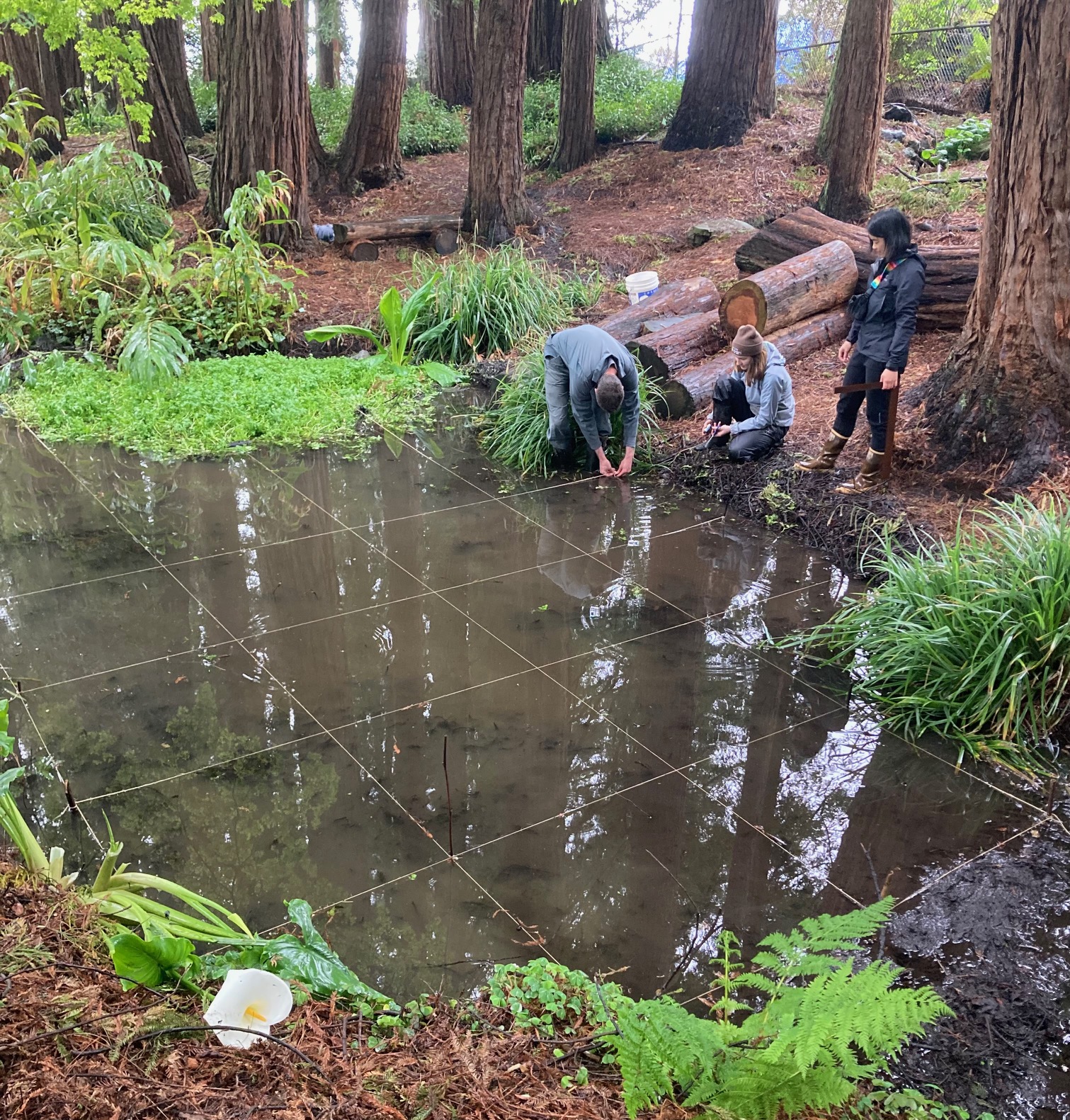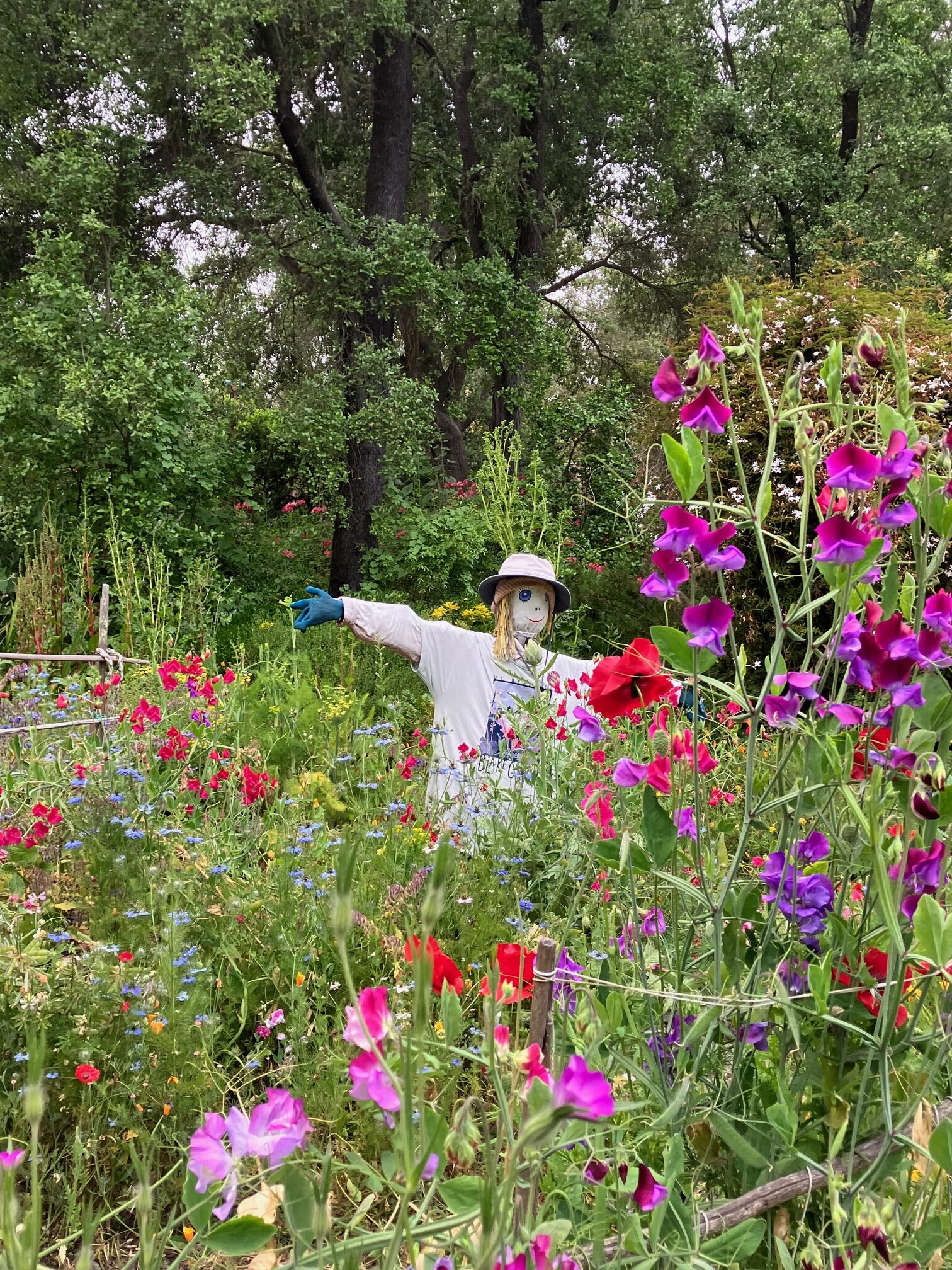 The garden contains a large diversity of plant materials that grow in our Mediterranean type climate and contains new and historic garden design and structures designed and built by CED professors, students, and the garden's staff.
Blake Garden encourages the development of the understanding and appreciation of nature in the garden environment. Our mission is to expand and sustain a well designed outdoor environment that supports teaching and research in landscape architecture and environmental planning.
Events
About
Hours + Visitor Information
Education
Volunteer Opportunities
Contact Us
Donate
About About

Blake Garden lies in Kensington, CA an unincorporated residential community of approximately 5,000 persons within the jurisdiction of Contra Costa County. The garden's main entrance is off Rincon Road, just northwest of Arlington Avenue, the primary north-south road leading from Berkeley's Marin Circle through Kensington, El Cerrito and into Richmond.

Like many Kensington sites, the Blake property offers a spectacular panoramic view of the San Francisco Bay and the Golden Gate Bridge. The 10.5-acre university property includes the Blake House, currently designated as the residence for the president of the University of California, and the Blake Garden, owned by the university and managed as a teaching facility by the Department of Landscape Architecture and Environmental Planning (LAEP). The garden is a regional resource that is open to the public on weekdays and known for its outstanding collection of plants assembled by the Blake family between 1922 and 1962 and augmented by the Department of Landscape Architecture and Environmental Planning (LAEP) since its acquisition in 1957.

This collection, created by the College of Environmental Design Archives is available online.
Hours + Visitor Information Hours + Visitor Information

Location:

70 Rincon Road, Kensington, CA 94707
Free parking is available.

Hours: 

Monday–Friday, 8 a.m.–4:30 p.m.
Saturday and Sunday, Closed

Closed the following holidays: 

Labor Day, Monday, September 4, 2023

Veterans' Day, Friday, November 10, 2023

Thanksgiving Holiday, Thursday & Friday, November 23 & 24, 2023

Winter Holiday, Monday & Tuesday, December 25 & 26, 2023

Tours:

Tours are available for groups of 10 and more. For arrangement, please contact Kathryn Lincoln at klincoln@berkeley.edu or 510.524.2449.

Dogs:

Well behaved dogs on leash are welcome in the garden.
Owners must clean up after their pets.

Trash: 

We ask you to take all your trash away with you.

Children: 

There are many wondrous things for children to look at and discover at Blake Garden. We ask parents and children to stay on the paths, not to throw anything into the pools, no picking of plants, flowers or fruits, no tree and rock climbing. There are several parks nearby with play structures. There are steep slopes in the garden, some with stairs but baby carriages can be used with caution.

Wheelchair Accessibility:

Blake Garden is built in the Kensington hills. There are steep slopes throughout the garden. Parts of the garden can be accessed by wheelchair. Please call or email Meghan Ray for more information about the garden's accessibility.

Materials: 

A trail map and brochure is available on line. Plant and bird lists are available at the greenhouse garden office.

Restrooms: 

Restrooms are located at the greenhouse.
Education Education

Blake Garden is a site for experiential learning for classes in landscape design, plant identification, environmental planning, painting and drawing, and photography, to name a few. As well as being a resource for the college, it serves various area colleges and schools, organizations and groups, and the community at large.

Blake offers work-study opportunities to UC Berkeley Students: 

Projects may include:
Invasive species identification and control
Planting and transplanting
Propagating plant material
Pruning trees and shrubs
Wall, path, and seating construction
Garden bed restoration
Composting and developing soil health
Integrated pest management
Water management
Kathryn Lincoln
Email: klincoln@berkeley.edu
Phone: 510.524.2449
Volunteer Opportunities Volunteer Opportunities

Blake Garden provides a wonderful opportunity to learn about plants while making a valuable contribution to the welfare of the garden. You can work in a beautiful environment and get to know people who are knowledgeable and passionate about the garden, its plants, and horticulture.

If you are interested please contact:

Kathryn Lincoln
Email: klincoln@berkeley.edu
Phone: 510.524.2449
Contact Us Contact Us

Blake Garden
70 Rincon Road
Kensington, CA 94707

Phone:
510.524.2449

Email:
Kathryn Lincoln
klincoln@berkeley.edu

Mail:
Blake Garden
University of California, Berkeley
Department of Landscape Architecture and Environmental Planning
202 Wurster Hall, #2000
Berkeley, CA 94720-2000
Donate Donate

Thank you for considering a gift to Blake Garden! Your gift will help support this unique resource.

If  you would like to send a check, please make funds payable to:
UC Berkeley Foundation
and send to:
University of California Berkeley,
Donor and Gift Services,
1995 University Avenue, Ste 400,
Berkeley, CA 94704-1070
Please put 'Blake Gardens Fund #FN7561' in the memo.

Or give online through our fund drive.
Staff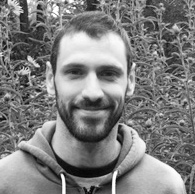 Museum Scientist-Horticulturist, Blake Garden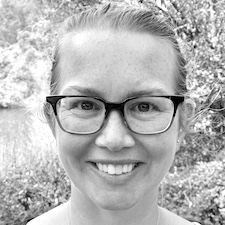 Museum Scientist, Blake Garden Horticulturist
History
The garden's development began in the early 1920s. Mr. and Mrs. Anson Blake, of Berkeley, sought a new site for their home to make way for the university's proposed football stadium to be built at the entrance to Strawberry Canyon. Although the site had previously been purchased as a potential quarry, they realized that its true value was in its richly varied terrain, unusual rock outcrops, and the spectacular views of San Francisco and the Bay Area.
The garden was important from the beginning. So much so that when the house was designed, the Blakes impressed on the architect, Walter Bliss, that it be sited to take advantage of the views and shelter a portion of the garden from western marine exposure. Groves of laurel, coast redwood, canary island pine, acacia, and lacebark were planted in exposed areas throughout the garden using this approach.
The property, originally 22 acres, was designed to incorporate two homes, one for each of the brothers, Anson and Edwin Blake. Mabel Symmes, one of the first students enrolled in the University of California, Berkeley's Department of Landscape Architecture and Environmental Planning, and her sister, Anson Blake, created the first garden plan.
Symmes and Blake created a progression of spaces by dividing the site into separate areas that reflected the varied topography and microclimates in the garden, linking them informally. Thus, the visitor could experience the garden's diversity and unique terrain in an intimate and logical way.
The garden is half its original size today. With Edwin's death in the mid 1950s, the 22 acre property was divided into two parcels. The Anson Blakes retained 10.5 acres around their house. Edwin's house retained a two acre parcel, leaving the remaining land to be divided into small housing lots. Eventually, Edwin's house was donated to the Roman Catholic Church, which established a Carmelite Monastery on the site.
In 1957 Mr. and Mrs. Blake deeded their house and garden to the University of California, "reserving unto themselves and the survivor of them the right to occupy the property for life." With the death of Mr. Blake in 1959 and Mrs. Blake in 1962, the house and garden passed to the University. The decision was made in 1967 that the house would be used as the official residence of the President of the University of California. The garden's management was given to UC Berkeley's Department of Landscape Architecture and Environmental Planning as a resource for its programs.
The garden has been used as an outdoor laboratory for plant identification, planting design, the study of problems in spatial relationships, and other studies in landscape architecture and environmental design since the 1960s. Under the guidance of succeeding directors, such projects as surveying, mapping, and photographing the site, as well as cataloging plants, have been undertaken.
Blake Garden continues to serve as an important resource for students studying plant identification and garden design. It is valued for its substantial collection of over 1,200 species of established plant material.  Blake Garden offers visitor access and volunteer programs for the general public, as well as work-study programs and internships through the Department of Landscape Architecture and Environmental Design.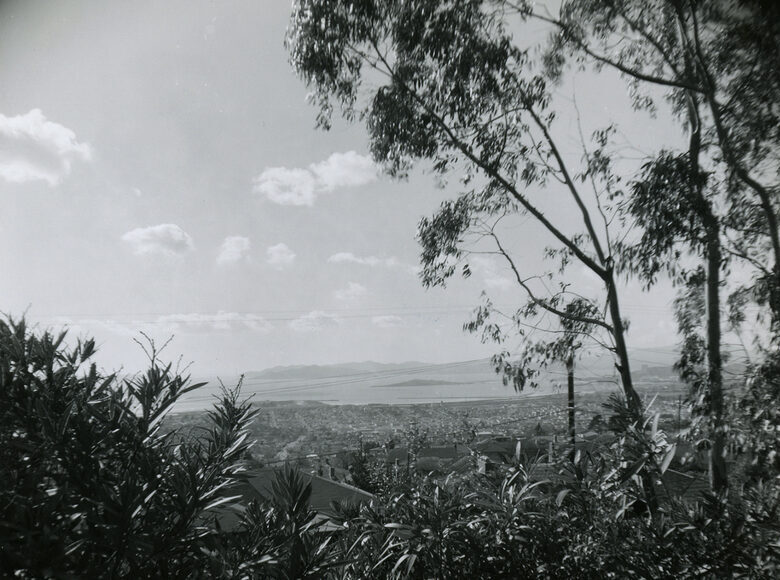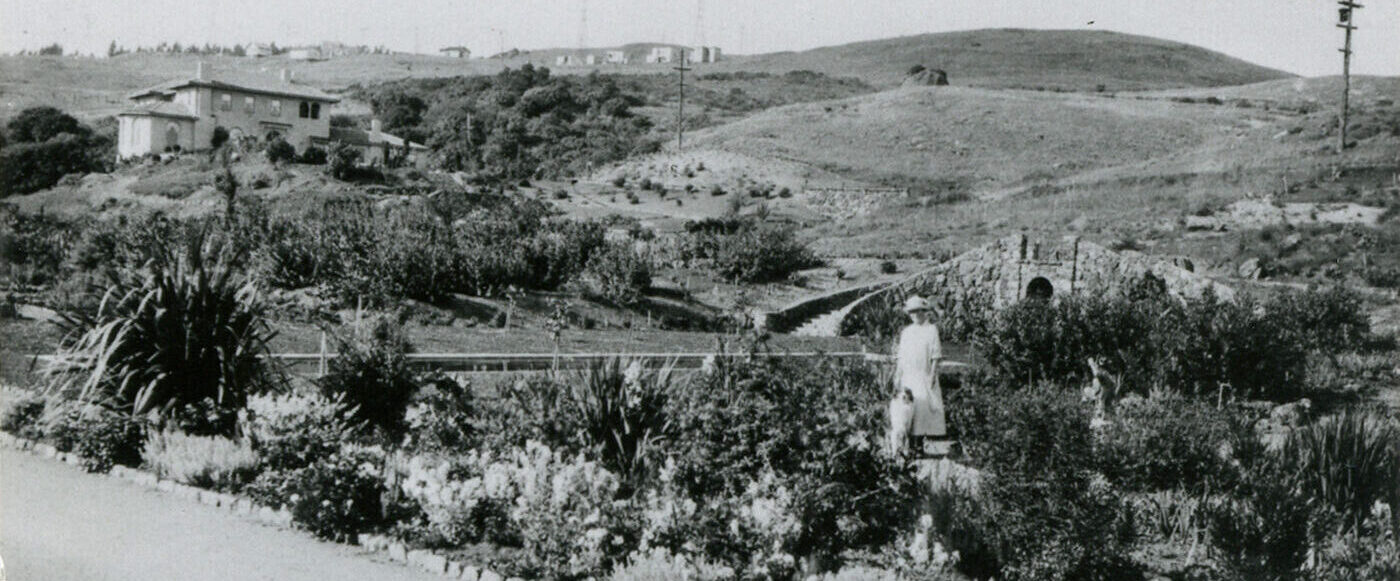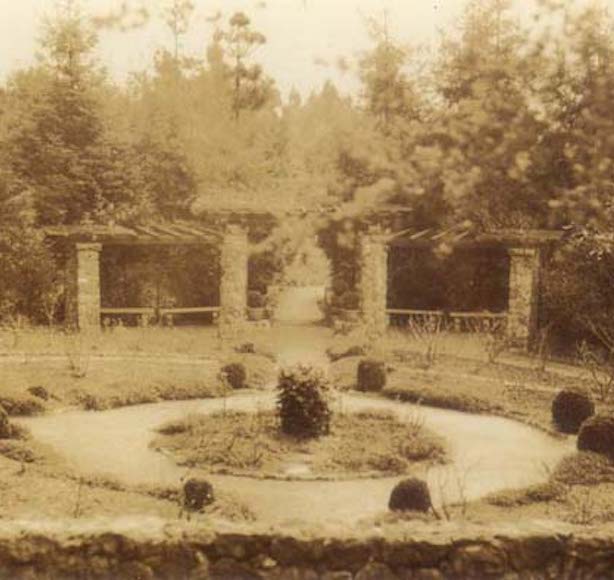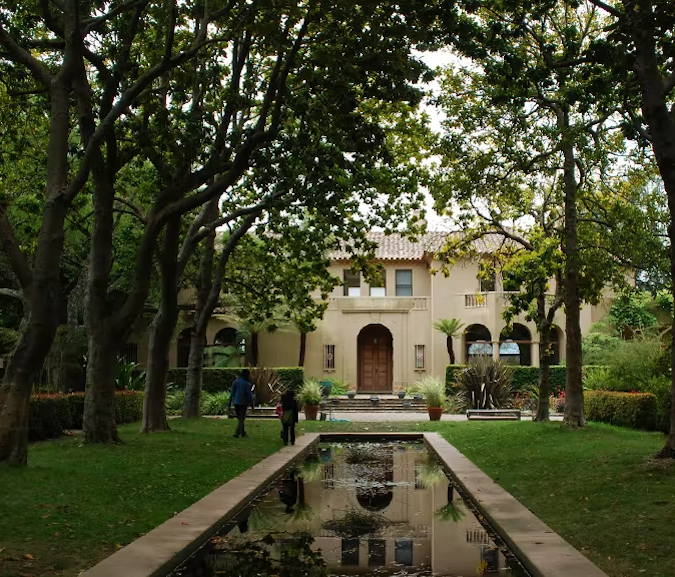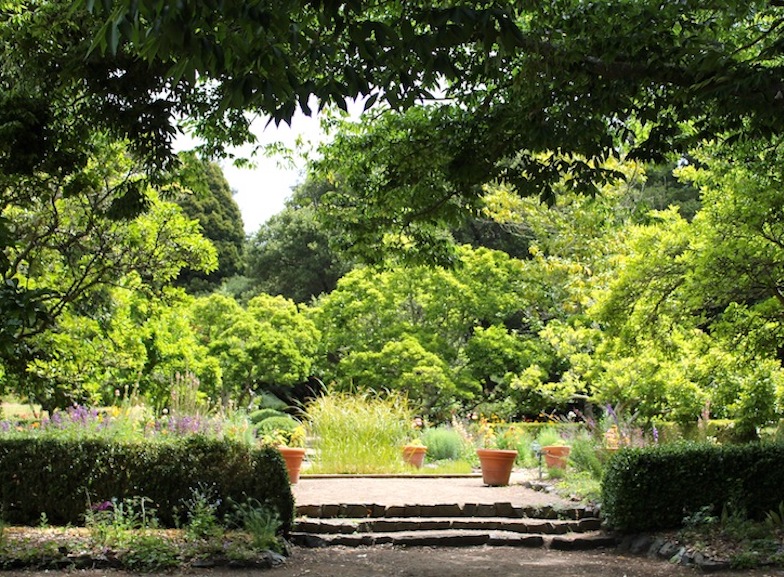 More Information
The Blake Estate Oral History Project was produced by the Bancroft Library & the Regional Oral History Office with interviews conducted by Suzanne B. Riess in 1986 through 1987.
The Blake Estate Virtual Collection, created by the College of Environmental Design Archives includes a number of historic images and maps of Blake Garden. It also includes a collection of photographs, documents, surveys and site plans, and landscape architecture students design projects documenting the gardent, and the estate's history as the private residence of Anson S. and Anita Blake and later as a teaching resource owned and managed by the University of California, Department of Landscape Architecture and Environmental.
The El Cerrito Historical Society has an article that discusses Anson Blake's quarrying activities in El Cerrito: El Cerrito Quarry History.
A brochure about the Blake House was created for Mrs. Hitch (wife of former UC President Charles Hitch, the first UC President to live in the House). The text for the brochure was prepared by Igor & Elizabeth Blake. Igor Blake is the son of Robert Pierpont Blake and nephew of Anson Stiles Blake. Currently, the Blake Estate does not serve as the residence of the UC President.