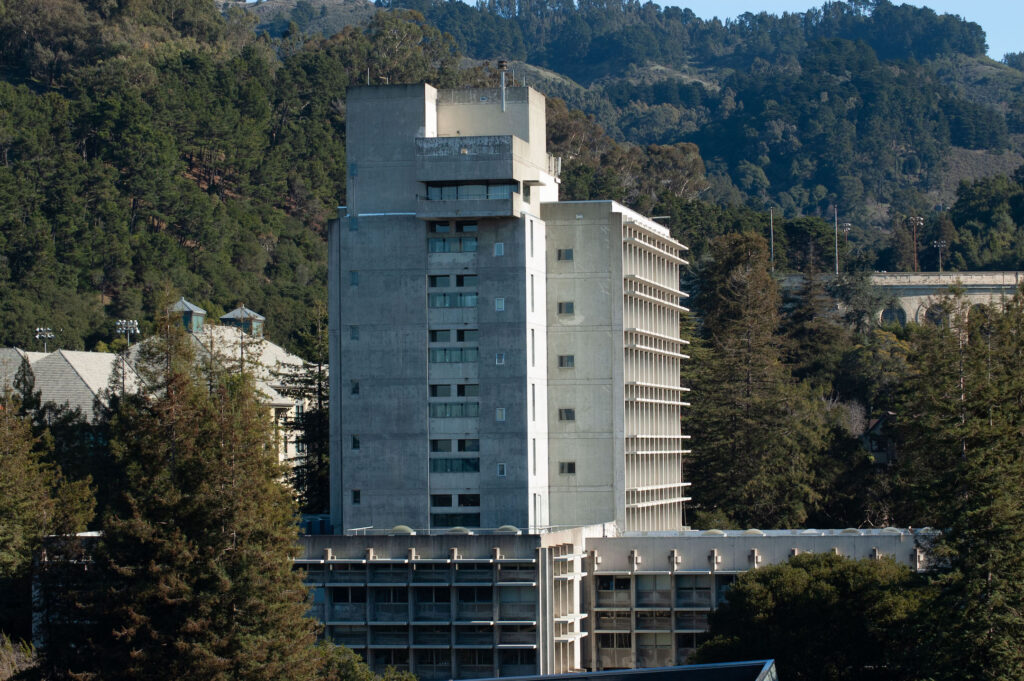 The College of Environmental Design (CED) is located in Bauer Wurster Hall on the UC Berkeley campus and operates the off-campus resources Blake Garden and Weston Havens House. These spaces for learning, experimenting, and socializing are central to the culture of the college and success of our students.
Bauer Wurster Hall
Iconic Bauer Wurster Hall (1964), designed by Vernon DeMars, Joseph Esherick, and Donald Olsen, houses the college. Famed for its use of raw concrete, the building is an ideal place for experimentation: the architects aimed to design a "finished-unfinished" building to encourage students to define their own spatial experiences and modes of self-expression. CED students spend most of their time on campus in Bauer Wurster Hall, studying, making, and relaxing in its classrooms, tower studios spaces, library, fabrication shops, computer labs, and outdoor spaces. CED students have 24-hour keycard access to the building.
Design Studios
Six floors of open design studios, bathed in natural light, are located in Bauer Wurster Hall's landmark tower. All students taking a studio course are assigned a workspace that becomes their home away from home. Alive with creativity 24 hours a day, studios foster community and collaboration. Studio floors are equipped with computers, laser printers, wide-format inkjet printers (aka plotters), and flatbed scanners.
Computer Labs
Two dedicated labs in Bauer Wurster Hall with more than 80 desktop computers are available to CED students 24/7 (when the lab is not otherwise booked for a class). Preinstalled software includes titles from Adobe and Autodesk, as well as access to other services, including the Render Farm for Rhino + V-Ray rendering in the cloud. Labs also house black-and-white and color laser printers, wide-format inkjet printers (aka plotters), and flatbed scanners.
Fabrication Shop
The 4,000-square-foot industrial wood and metal shop has soaring ceilings and an enormous wall of windows. Equipped with table saws; a jointer and planer; welding, machining, and casting equipment; an outdoor shop yard; and a walk-in spray booth, the shop enables CED students to fabricate models and other 3D projects.
Digital Fabrication Lab
CED students have access to the latest 3D printing technology — including six Universal laser cutters, a Techno Isel 3-axis CNC router, eighteen Prusa 3D printers, and a Zund S3 cutting system — in the Digital Fabrication Lab. 
Materials Store
The nonprofit Materials Store provides access to premium materials at reasonable costs. The store stocks wood, plastic, paper, metal, blades, and router bits, as well as CED-branded mugs, water bottles, and more. Located at the entry of the Fabrication Shop, it provides convenient access to hand-picked materials that can be used in both the Fabrication Shop and the Digital Fabrication Lab.
Environmental Design Library
In one of the premier architecture, landscape architecture, and city planning libraries in North America, CED students can explore a collection of more than 210,000 volumes and 500 serials, reserve a group study room, and discover unique treasures in the Sigrid L. Rupp Rare Book Vault. You'll also find a rotating series of exhibitions in the library, often featuring one-of-a-kind materials from the Environmental Design Archives.
Environmental Design Archives
The collections of more than 200 of the Bay Area's historically significant architects, landscape architects, and planners are at your fingertips in the Environmental Design Archives. Students use this amazing resource, which includes drawings, plans, specifications, photographs, audio recordings, personal papers, artifacts, and more, when doing research for design studios and other courses.
Student Technology Center
The Student Technology Center (STC) is the college's one-stop-shop for CED-specific tech services and support. Located in Bauer Wurster Hall's South Tower, the STC also houses a self-serve photo-quality wide-format inkjet printer and wide-format sheet-feed scanner.
Ong&Ong Plaza
CED students often gather in this welcoming plaza in front of the main entrance to Bauer Wurster Hall. With benches and tables, it is a great place to eat lunch or drink coffee under the dappled shade of coast live oak trees.
East Courtyard
The serene, sunny courtyard behind Bauer Wurster Hall often hosts activities sponsored by student clubs as well as other CED events. Its brick paving is an homage to the courtyard of North Hall (the "Ark"), the original home of the Department of Architecture before the construction of Bauer Wurster Hall.
Gender Inclusive Restrooms
Bauer Wurster Hall offers two gender inclusive restrooms, one on the first floor and one on the fourth floor.
Blake Garden
The 10.5-acre Blake Garden, located four miles north of campus, is a site for experiential learning for the Department of Landscape Architecture & Environmental Planning. With stunning hill views of the San Francisco Bay and the Golden Gate Bridge and a renowned collection of plants suited to our Mediterranean climate, the public garden is also a popular spot for walks, picnics, and exploring.
Weston Havens House
Perched on Panoramic Hill above the UC Berkeley campus, the Weston Havens House, a masterpiece of 20th-century California modernist architecture, is used as a residence for distinguished visiting CED professors and as a site for studio investigations and projects.