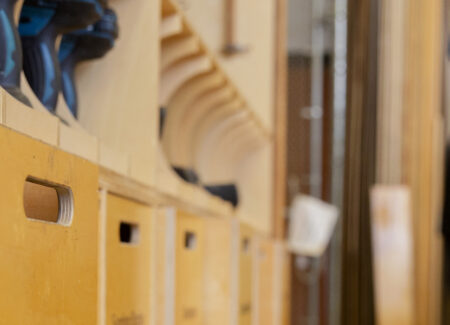 Storage
Storage space in the Fabrication Shop is extremely limited. All students must make arrangements with shop staff to store materials.
All items should be identified with:
Owner's name

Course number

Section

Date
Any item not bearing this information is subject to removal or disposal. Materials may NOT be stored leaning against walls, stacked on floors, or in any unsafe manner. Shop staff reserve the right to remove or dispose of materials stored in this way.
There is insufficient storage space for models in progress; these items must be removed from the shop daily.
Lockers
A limited number of smaller-sized lockers in the hallway outside the shop entry are available for student use.

Lockers are available free of charge and are distributed on a first-come, first-served basis. Locker registrations can be completed in the Fabrication Shop.

Students may register one locker per term.

Unregistered lockers are subject to disposal of contents.

Lockers must be emptied by the last day of the term.