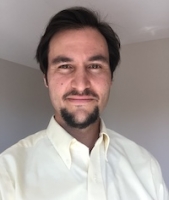 Alan E. Waxman
Ph.D. Student - Landscape Architecture & Environmental Planning
Email
alan.e.waxman@berkeley.edu
Research Interests/Specializations
Landscapes of health, embodiment, ecosocial theory, big data systems and cryptography, hotspots and real time adaptive management, landscape painting, urban rhythms, tactile immersive wet environments, dance, humor, interspecies communication, psychology of space, toxic/ sacred spaces.
Degrees
MLA Harvard Graduate School of Design
BA Anthropology major, Japanese minor Whitman College
Biography
Alan Waxman MLA (Harvard GSD, 2014) works with high risk groups to improve health outcomes. His agency AWED (awecosocial.com) has conducted studios to prevent violence through place-based data integration with poetry, dance, meditation, and landscape architecture; working with Mark Morris Dance Group, Center For Court Innovation, Storefront For Art and Architecture, Columbia U, and U of Oregon. He has worked for Sorkin Studio, SWA, QRP, and Everdell. He is from the East Bay, CA.
Courses Taught
2020 Larkin St Homeless Transitional Youth Center, mindfulness room design (4 week studio)
2019 – 2016 Storefront For Art and Architecture, "Sanctuary in Brownsville, Brkln" (1 year studio) NYSCA, Brookdale
2018 – 2015 Mark Morris Dance Group and Center For Court Innovation, "Urban Rhythms" (2.5 year studio)
2017 John Dewey HIgh School, NYC, mindfulness room design (1 year studio)
2016 University of Oregon/ Myoshinji Temple, "Kyoto Urban Design Program, Fushimi Inari" (5 week intensive)
2016 Center For Court Innovation, Brownsville Builders, (10 week studio)
2016 Brownsville Academy High School, mindfulness room design (10 week studio)
2015 University of Oregon/Myoshinji Temple, "Kyoto Urban Design Program, Central Market and Shimabara" (5 week intensive)
2015 Columbia U/Center For Court Innovation, Urban Rhythms Plaza (10 week studio)
2015 Center For Court Innovation Advertising Studio BBDO, Police Foundation (10 week studio)
2014 Harvard GSD Project Link (Career Discovery) program Malden focus (4 week)
2013 Harvard GSD Project Link (Career Discovery) program Inman Square focus (4 week)
Awards + Recognition
Arch Out Loud, "Sonar Monument to Human Trafficking," Director's Choice 2017
Times Square Heart, "Beyond The Cell-fie," Finalist, 2017
Urban Design Forum, Forefront Fellow, inaugural fellowship 2016
Storefront For Art and Architecture, independent project sponsorship winner 2016
New York State Council of the Arts, arts grant winner "Wilderness and Sanctuary" 2016
China Academy of Art West Lake Sculpture Competition winner Sinking Gardens 2012
His landscapes have appeared in Landscape Theory In Design, ASLA The Dirt, Architect's Newspaper, New York Magazine, Time Out New York, AM New York, Curbed NY, 6 Sq Ft, QNS, Queens Chronicle,
cont. Landscape Architecture Magazine, Bowery Boogie, New York YIMBY, Amsterdam News
Work Images