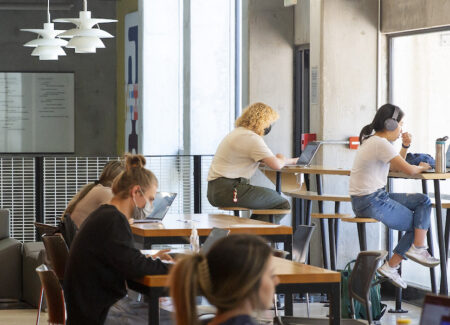 Financial Aid
Federal and University loans are available to students through the Office of Financial Aid, 201 Sproul Hall, University of California, Berkeley. U.S. federal financial aid is not available to students who are not citizens or permanent residents of the United States.
Fellowships at CED
Each year, CED provides a limited number of merit-based and need-based fellowships for domestic and international students. Fellowships may cover all or part of the registration fees and/or Professional Degree Supplemental Tuition. CED does its best to allocate fellowship funds equitably, keeping both student need and merit in mind. Some fellowships are by faculty nomination only.
Each CED department is able to offer a small amount of financial aid & fellowships to continuing graduate students based on merit and grades. The Department of Architecture requires a separate form, The Department of Architecture: Application for University and Departmental Fellowship, to be completed and returned by the Friday of the first week of the spring semester.
The University also awards, through competition, a limited number of merit-based and diversity fellowships each year. International students are eligible for most UC fellowships; however, they have special requirements for obtaining visas and entry to the U.S. and must show proof of funding for a minimum of one year. The Berkeley International Office offers comprehensive advising services to international students on obtaining visas, financial aid, housing etc.
It is beneficial for applicants to seek financial support independent of university sources. International students may look for fellowships from their home countries or through international agencies.
Student Employment
Graduate students may apply for graduate student instructor (GSI) and graduate student researcher (GSR) appointments, which may reduce registration fees. GSI and GSR positions are announced every semester. Though incoming students are eligible to apply, these positions are competitive and preference is often given to continuing students who have demonstrated their proficiency in the course subjects. Please contact the student affairs officers with any questions. For open positions, head to GSI/Reader Positions. The GSI Teaching and Resource Center also provides more information on required courses and the first-time GSI conference, and tracks eligibility.
Faculty hire GSRs based on available research funding throughout the year. GSR appointments may be short term or up to a year in length, and may or may not include a fee remission. Salary is based on the complexity of assigned work and skill-set of the student. As faculty grants are approved at various times during the year, we encourage students to contact faculty directly and to pay attention to email notices of new GSR appointments. The vast majority of GSR appointments are through one of the campus ORUs (organized research units), such as the Institute of Urban and Regional Development (IURD) in CED. More information on GSR appointments can be found on the Graduate Division website.
Work-study is a federally-subsidized hourly wage job program for undergraduate and graduate students. Contact the Work-Study Program Office via their website or in-person at 212 Sproul Hall for more information on work-study opportunities at UC Berkeley.
Prizes and Awards
CED and its departments offer a number of number of nominative and competitive awards, scholarships, and fellowships for undergraduate and graduate students. We recommend you check with your department advisers to find out more about specific offerings and deadlines.
Reporting
All U.S. citizens and residents who are in receipt of any type of financial aid or fellowships MUST file the FAFSA.