The [IN]DESIGN Summer [In]stitute cohort is an intensive architectural studio and taught on an entirely remote basis. This program is for students to engage in the study of architecture as an interface to the environment, landscape, and urbanism. Lectures, studio and design assignments are taught on Zoom and visual reviews with the additional use of a Miro virtual gallery board. A series of assignments is developed cumulatively into one building / landscape project sited along the San Francisco waterfront. Foundational lessons include history, theory, methodology, and analysis, to establish a knowledge base for the architectural design process. The studio ends with a final review and a portfolio workshop for graduate school applications.
[IN]DESIGN is geared towards post-baccalaureate students who are interested in graduate school and career options in the environmental design disciplines of architecture, landscape and urbanism. Successful students will build a quality portfolio that can be used for further academic pursuits on a graduate level. No previous design experience is necessary.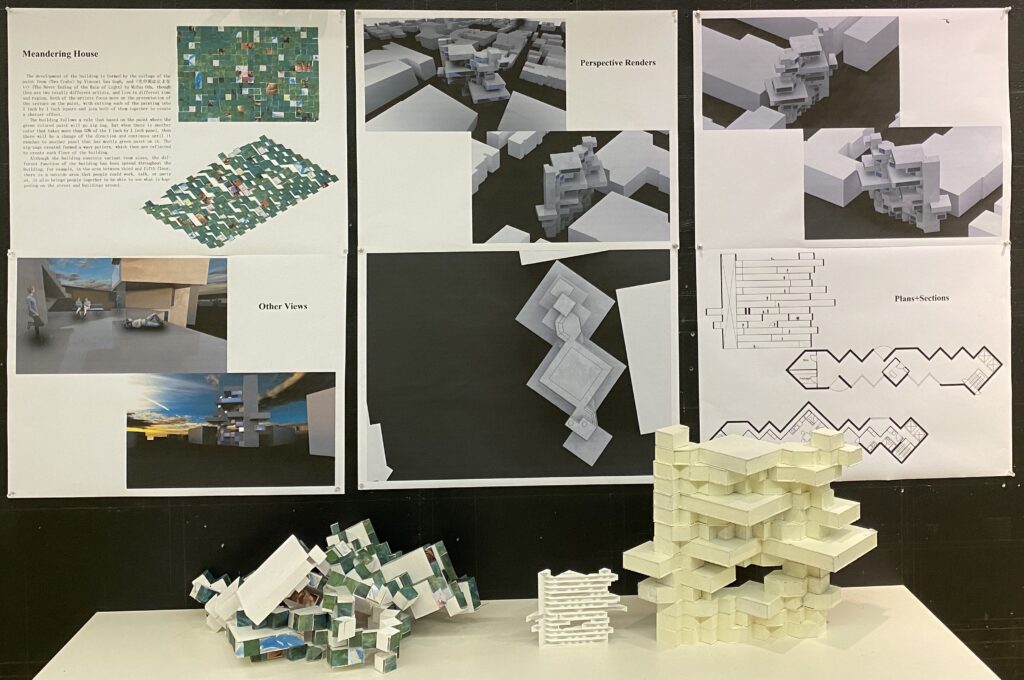 Pedagogy
The studio begins with an analytical study of the San Francisco Bay estuary, urban, land, and water network. A combination of analytical urban mappings, films, and online environmental resources, the studio traces the origins and evolution of the San Francisco Bay Area, an ambiguous living water landscape, that over time has been transformed into a history of fragmentsand microcosms.
With the environmental analysis as a basis, students make architectural models (physical and digital) focused on spatiality and light. Project development will lead to a body of representational renders, collages, models, and orthographic drawings resulting in a portfolio of work. The iterative design process will give students the opportunity to develop a series of project-based artifacts that ultimately lead to the production of a portfolio of architectural projects for graduate school applications.
The topical structure of five assignments = one project
The eight-week program consists of five focused assignments that build-up to one larger architectural project. The process is supported by the series of lectures and workshops and culminates in an architectural project sited on the San Francisco Bay's waterfront estuary. The project assignments involve steady production to keep momentum and weekly project reviews. During class meetings students will engage in immediate and intense exercises to propel the work forward quickly. The assignments are a continuous sequence, that build iteratively upon one another.
Digital workshops integrally support the studio assignments by providing methodological lessons that advance spatial/material exploration and representational skills (both digital and analog) using Rhinoceros modeling software, and the Adobe suite to assemble presentation and montages of diverse research content. The digital workshops are designed as representation support and will be delivered as part of the lecture component twice a week.
Invited guests will participate in the online program: CED professors, practicing professionals, and graduate thesis students will engage the studio as critics, exposing the discussion of the work to a larger academic discussion regarding contemporary issues of architecture, art, urbanism, landscape, and the world environment.
Key assignments
Assignments will typically be given following a lecture describing and framing the work to be pursued. Key assignments cover:
Earthworks, mappings, edges, and the Bay Area

Spaciality, modeling, and seeing

Folding and landscape

Tectonics, matter, and building design

Portfolio, juxtaposition, framing, and aperture
Online project reviews
Design assignments are taught through 'salon-style'group pinups and discussions. Projects will continually develop with work outside of class meetings. Students will develop their critical thinking by engaging in live, interactive discussions of each other's work. New work (drawings, models, writings and images) will develop and be discussed in group critiques. These formative discussions are substantiated and supported by the lectures and readings. Students will engage conversations as active critics to reveal formal qualities and possibilities in the work.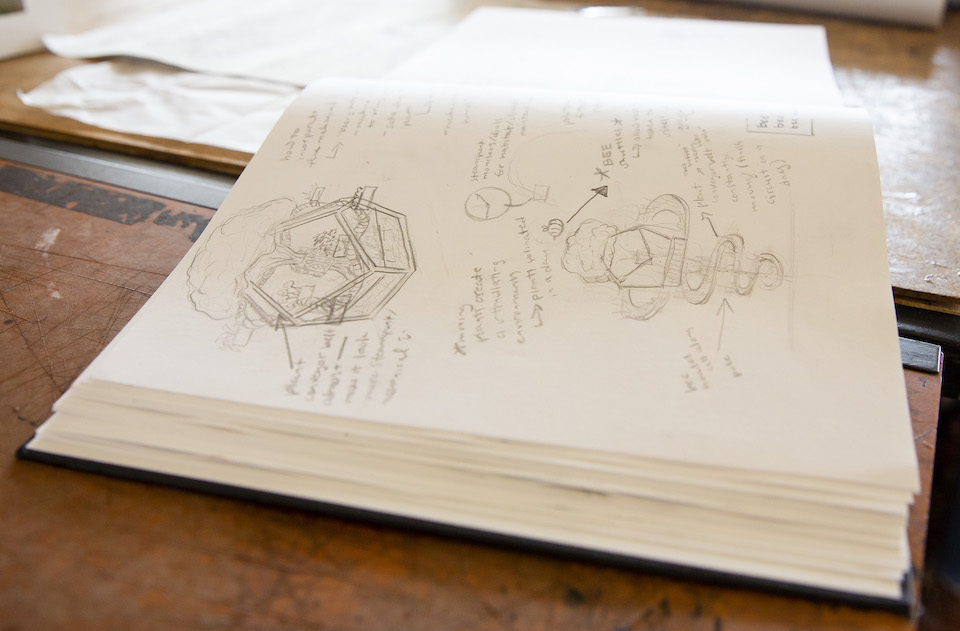 Keeping a notebook of ideas
Students actively work, write, and draw in a notebook several times a week. Drawing, recording ideas, sketching, and informally tracking research in a notebook is a timeless action. Illustrated discussion notes, reading notes, thumbnail sketch diagrams, lecture notes, and internet / off site library research will be included.
Attendance
Consistent attendance is necessary to accomplish the goals of the program. Thus, attendance in all class meetings is mandatory and recorded. Students are to log-in on time to sessions and be present throughout all group working meetings in studio and group reviews. Making others wait, leaving early, arriving late or being absent will negatively affect their performance.
All students are expected to attend the entirety of assignment reviews and project presentations for each phase of the course. These final presentations are often the most productive learning experiences in studio courses, as they will allow students to quickly learn many perspectives and ideas from both classmates and reviewers in each project context.
Schedule
We strongly recommend that participants reduce work hours substantially as the program is intense and a significant amount of work is required outside of class meetings. One set of [IN]DESIGN meetings are in the afternoon and evening Pacific Time to accommodate students located along the Pacific rim, in Asian countries, and professionals who are working during the day in the U.S. time zones. A second set of meetings for the European cohort will meet in the mornings (Pacific Time - which are evening meetings in the European time zone), and will sometimes utilize recorded lectures with added live discussion and Q&A.