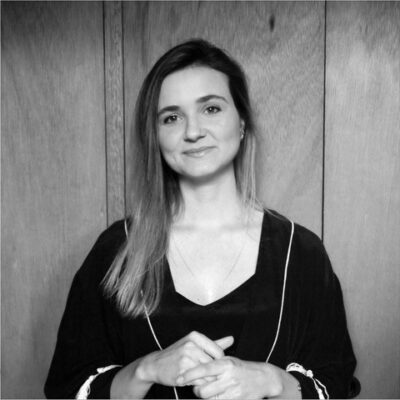 Maria Paz de Moura Castro
Lecturer in Architecture
EDUCATION
Master of Architecture - Cornell University
BIOGRAPHY
Maria Paz King is the founder of Brazil-based firm Rizoma and Bay Area-based firm PMCKM. Between the two practices, Maria has designed and built in a diverse range of scales, contexts and typologies, including art pavilions, showrooms, restaurants, single family houses, bus stations, institutional buildings, among others.
King's primary interest lies in the relationship and possible intersections between art and architecture, particularly in the implications the built space has in the construction of the art experience. She
 has designed several art pavilions at contemporary art museum and botanical garden, Inhotim, for artists such as Anish Kapoor, Michael Heizer, Yayoi Kusama, Lygia Pape, Ernesto Neto, and Tunga.
Maria Paz King's designs have been exhibited in Brazil, Germany, Italy, France, the United States, Argentina, and Denmark, in venues such as the Venice Biennale, the Deutsches Architekturmuseum, Yale University, the Carnegie Museum, among others. Her work has been published in the Financial Times Magazine, Wallpaper, Casabella, L'Architecture D'Aujurdhui, to name a few. King received several awards and was featured as one of the best architects in the world under 30 by Casabella Magazine.
King is a member of the International Council of Madame Architect, helping to find and spread the stories of many talented women architects around the world, especially those from Latin America.
AWARDS & RECOGNITION
PARTICIPATION AS GUEST SPEAKER/CRITIC IN SEMINARS, LECTURES, JURIES, AND REVIEWS:
Nominator Mies Crown Hall of Americas Prize Cycle 2022 (Chicago, IL) Nov/2021
Jury for AIANY Design Awards (NY, NY) Jan/2021
Final Review Undergraduate Design Studio Texas Tech University (Lubbock, TX) Dec/2020
Guest Speaker for AYA-NY at the Center for Architecture - "Outside the Boundary" Panel (NY, NY) Jul/2018
Lecture at Universidad Politécnica de Madrid (Madrid, Spain) Apr/2017
Lecture at Bienal de Arquitectura Latinoamericana (Pamplona, Spain) Apr/2017
Lecture at AAU (San Francisco, CA) Out/2016
Final Review MSAAD Columbia University (NY, NY) May/2016
Nominator of the Mies Crown Hall Americas Prize Dec/2017
Nominator of the Mies Crown Hall Americas Prize Dec/2016
Final Review Undergraduate Design Studio Cooper Union (NY, NY) Nov/2015
Lecture at UFPR (Curitiba, Brazil) Sep/2015
Seminar at CONARQ (Maceió, Brazil) Aug/2015
Final Review B.Arch Universidade FUMEC (Belo Horizonte, Brazil) Jun/2015
Final Review MSAAD Columbia University (NY, NY) May/2015
Lecture at Universidade Mackenzie (Sao Paulo, Brazil) Oct/2014
Lecture at Deutsche Architekturmuseum (Frankfurt, Germany) Sep/2013
Lecture at Art-Rio (Rio de Janeiro, Brazil) Sep/2013
Lecture at CES (Juiz de Fora, Brazil) May/2013
Lecture at Columbia University's Studio X (Rio de Janeiro, Brazil) Mar/2013
Lecture at Instituto Tomie Ohtake (Sao Paulo , Brazil) Feb/2013
Roundtable at Universidade de Yale (New Haven, CT) Feb/2013
Lecture at Universidade Fumec (Belo Horizonte, Brazil) Feb/2012
MAIN EXHIBITIONS:
Museo de Arquitectura y Diseno - Buenos Aires - Young Architects in Latin America Apr/2019
Arc en Rêve Bordeaux - Young Architects in Latin America Dec/2018 to Feb/2019
Venice Architecture Biennale - Young Latin American Architects Competition May to November/2018
Bienal de Arquitectura Latinoamericana - Pamplona, Spain 2017
Venice Architecture Biennale - Exhibition at the Brazilian Pavilion 2014
Exhibition Brazilian Architecture 2003-2013 - HTWG Konstanz (Konstanz, Germany), IUAV (Venice, Italy), Bauhaus (Germany) e Royal Danish Academy of Fine Arts (Copenhagen, Denmark) 2013
Exhibition "Neun Neue: Emerging Architecture from Brazil" at the Deutsches Architekturmuseum Sep/2013
Exhibition "Neun Neue: Emerging Architecture from Brazil" at Instituto Tomie Ohtake Sep/2013
Exhibition "White Cube, Green Maze" at Yale School of Architecture Feb/2013
Exhibition "White Cube, Green Maze" at the Carnegie Museum of Art in Pittsburgh Sep/2012
PRIZES AND HONORS:
Second Place at Competition to design the Memorial of Mina Corrego do Feijao March/2020
Honorable Mention at "XVII Premiação de Arquitetura – IAB MG" Dec/2015
Finalist at "O Melhor da Arquitetura" 2015 Nov/2015
1st Place at "O Melhor da Arquitetura" 2014 Nov/2014
Nominated for the Mies Crown Hall Americas Prize 2014
Finalist at the Prêmio Akzo Nobel Mar/2014
Casabella Architects up to 30 years old –Especial Edition 85º Anniversary Dez/2013
Finalist at "O Melhor da Arquitetura 2013" Out/2013
Prize Revelation Young Architect "XIII Premiação de Arquitetura – IAB MG" Dec/2012
1st Place "XIII Premiação de Arquitetura – IAB MG" Dec/2012
Honored Mention at "XIII Premiação de Arquitetura – IAB MG" Dec/2012
Finalist at "O Melhor da Arquitetura" Oct/2012
Honored Mention at "XII Premiação de Arquitetura – IAB MG" Dec/2011
Honored Mention at Concurso "XII Premiação de Arquitetura – IAB MG" Dec/2011
1st Place at "O Melhor da Arquitetura" Oct/2011
1st Place at "Prêmio Projetando com PVC" Aug/2010
Scholarship for the March II program at Cornell University – Value US$30.150,00 May/2010
Second Best Student at the Bachelor of Architecture and Urbanism at Fumec University 2009