Friedman Visiting Professorship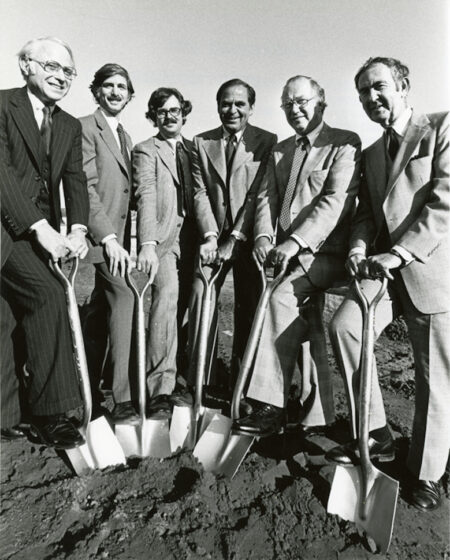 Howard Friedman, first from right
Howard A. Friedman, FAIA, graduated from UC Berkeley in 1949 (A.B. Architecture). He joined the architecture department in 1966 as a lecturer after building a distinguished private architectural practice in the Bay Area. In 1979 he became a full-time member of the CED faculty while continuing his private practice, and served as chair of the architecture department from 1986 until his death in 1988.
To celebrate Professor Friedman's commitment to the University of California and his contributions to the architectural profession, his wife Phyllis Friedman established the Howard A. Friedman Visiting Professorship in the Practice of Architecture Fund. Since 1991, income from the fund has brought distinguished practitioners of architecture to teach at the College of Environmental Design. Holders of the visiting professorship teach and counsel students and enhance the liaison between the college and the profession.
The visiting professorship intends to advance Professor Friedman's values and philosophy of "humanistic architecture." Specifically, holders contribute to increased understanding of the building delivery system and its relationship to design, function, technology, time, money, and cultural and social responsibility. The visiting professorship promotes Professor Friedman's belief that architects need to acquire a broad base of knowledge in order to contribute effectively to the construction industry and ensure an ever-improving practice of architecture.
Recipients
Year
Fall Semester
Recipient(s)
Spring Semester
Recipient(s)
2022-23
Weijen Wang, Rossana Hu, Lyndon Neri
2021-22
Tatiana Bilbao
Henry Siegel + Larry Strain
2020-21
Hassan Ally + Eli Gottlieb
2019-20
Doreen Heng LIU
Adriana Cuellar + Marcel Sanchez Prieto
2018-19
Mark Cavagnero
Marsha Maytum + William Leddy
2017-18
Frida Escobedo
Mabel O. Wilson
2016-17
Andrew Zago and Laura Bouwman
Laurel Broughton
2015-16
Mark Smout + Laura Allen
2014-15
Mark Smout
Michael Bell
2013-14
Ray Gastil, Jason Young
Elena Manferdini
2012-13
Edwin Chan
Mason White
2011-12
Wes Jones, Eric Kahn, Gary Paige
Benjamin Aranda + Christopher Lasch
2010-11
Francisco Pardo
Amale Andraos + Dan Wood
2009-10
Stephen Cassell
Greg Otto
2008-09
Mary Griffin + Eric Haesloop
William H. Fain, Jr + Scott Johnson
2007-08
Kang Kiang, Zoe Prillinger + Luke Ogrydziak, Brett Terpeluk
Margaret Crawford, Kevin Daly
2006-07
Solano Benitez, Angelo Bucci, Rafael Iglesia
Tim Culvahouse, Hassan-Uddin Khan, Frederik Schmidt
2005-06
Michael Maltzan, Stephen Shortridge, Robert Swatt
Hitoshi Abe, Mark Dytham + Astrid Klein, Takaharu Tezuka + Yui Tezuka
2004-05
Fred Dust
Wes Jones
Tom Wiscombe
Eric Bunge + Mimi Hoang, John Frane + Hadrian Predock, Sulan Kolatan + William MacDonald, Marcelo Spina + Peter Zellner
2003-04
Anne Fougeron
Isaac Broid, Sheila Kennedy + Frano Violich, Byron Kuth + Liz Ranieri, Larry Scarpa
2002-2003
Brad Cloepfil
Jan Wampler
2001-2002
Marsha Maytum
2000-2001
Buzz Yudell
Sarah Graham
1999-2000
James Cutler
Charles Correa
1998-1999
Rob Wellington Quigley
Carlos Jimenez
1997-1998
Frances Halsband
Sam Mockbee
| Year | Fall + Spring Semester Recipient(s) |
| --- | --- |
| 1996-97 | George Homsey |
| 1995-96 | Richard Keating |
| 1994-95 | Allison Williams |
| 1993-94 | Cathy Simon |
| 1992-93 | Don Hisaka |
| 1991-92 | Gyo Obata |