Esherick Endowed Professorship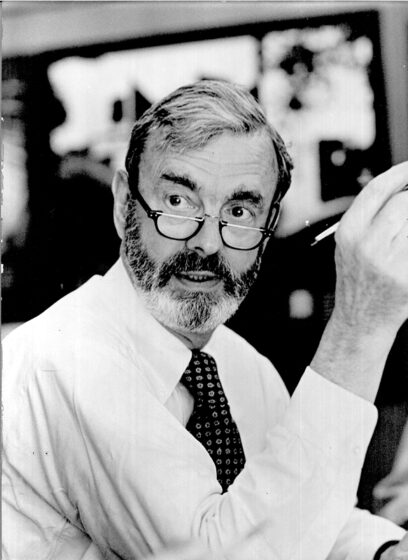 Professor Emeritus Joseph Esherick was born in Philadelphia, Pennsylvania in 1914. Graduating from the University of Pennsylvania in 1937, Esherick moved to the San Francisco Bay Area. He opened his own architectural practice in 1946.
In addition to his work with his firm, Esherick was an educator and consultant. He taught at the University of California, Berkeley from 1952-1985 and served as the Chair of the Architecture department from 1977-1981. He passed away in 1998.
The College of Environmental Design (CED) was initiated in 1959 by William Wurster. That same year Wurster selected Joseph Esherick, Vernon DeMars and Donald Olsen as the design/build team for the new building to house the Departments of Architecture, Landscape Architecture, Planning, and Decorative Arts.  Although Esherick, DeMars and Olsen were all on the faculty, only Esherick had a firm large enough (Esherick, Homsey, Dodge, and Davis now known as EHDD) to undertake all the elements for the construction of such a large project. His firm became the architect of record.
Upholding the Bay Area architectural tradition of figures like Bernard Maybeck and William Wurster, Esherick's designs for hundreds of houses through his career centered on attention to regional traditions, site requirements, and user needs. Esherick received the highest honors of the American Institute of Architects: the Gold Medal and the California Council's Maybeck Award. Esherick's firm built many impressive large buildings including the Monterey Bay Aquarium which won a twenty-five year award from the American Institute of Architects.
The Joseph Esherick Endowed Fund was established in 1997 in recognition of Esherick's exemplary role as an architect and educator. The fund is a continuance of the Walter T. Steilberg Fund established in 1983 that encouraged activities focused on the melding of technology and design.
Since 2004, the endowment has supported a visiting professor to the College of Environmental Design in architecture. The position is open only to architects with a distinguished background in practice and significant contributions to the making of buildings that integrate the influences of building technology with their design outcomes.
Esherick Professors
Term
Recipient
Fall 2022
Michael Young
Fall 2021
Fernando Martí + Prescott Reavis
Fall 2020
Allison Grace Williams
Spring 2020
Mary-Ann Ray
Fall 2018
Neeraj Bhatia
Fall 2017
Mary-Ann Ray
Fall 2016
Craig Scott
Spring 2015
Jim Jennings
Stanley Saitowitz
Fall 2013
David Baker
Fall 2012
Koji Tsutsui
Fall 2011
Jordi Truco
Fall 2010
Carrie Meinberg Burke, AIA
Kevin Burke, AIA
Fall 2009
Frederic Schwartz
Fall 2008
Peter Testa
Fall 2007
Neil Denari
Fall 2006
David Erdman
Fall 2005
Tom Wiscombe