Environmental Design Archives
The Environmental Design Archives are located on the second floor of Bauer Wurster Hall, Room 280; open Monday-Thursday by appointment only. The collection is open to all members of the University of California community, as well as scholars, architects, landscape architects, preservationists, and the general public.
About
The Environmental Design Archives (EDA) is a non-profit research facility within the College of Environmental Design at the University of California, Berkeley committed to raising awareness of the architectural, landscape, and design heritage of Northern California and beyond, through collecting, preserving, and providing access to primary records of the built and designed environment.
The work of many San Francisco Bay region's historically significant architects, landscape architects, planners, and designers are represented in collections of more than 200 individuals and firms. These collections contain drawings, plans, specifications, photographs, audio-tapes, personal papers, business records, furniture, art, models, and artifacts.
The EDA provides access to primary source material for scholarly research, teaching support, curatorial use, preservation, and public service, and actively encourages and promotes the use of its collections.
History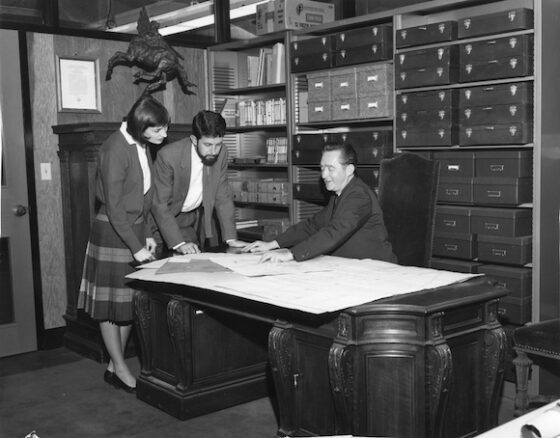 William W. Wurster founded the Environmental Design Archives (then the Architectural Archives) in 1953 as a teaching collection, following the recommendation of eminent architectural historian Henry Russell Hitchcock. The personal papers and project records of Bernard Maybeck comprised the inaugural donation.
In 1973 the Department of Landscape Architecture combined its collections with the Architectural Archives prompting the College of Environmental Design to adopt the name "Documents Collection." The collection became the Environmental Design Archives in 1999 in response to the establishment of a formal archival program. The Archives has become Northern California's premier collection of historic architecture and landscape architecture records.
Since its founding, the Archives has been directed or supported by faculty members. Architect Kenneth Cardwell (1953-1972) was initially responsible for managing the archives followed by Architectural Historian Stephen Tobriner (1973-2003). Designer/ author Marc Treib (2004-2014) served as the Faculty Curator following the establishment of the EDA by Curator Waverly B. Lowell (1998-2018) the first professional archivist.
Planning Your Visit
Directions
Tours
Before Your Visit
Visitation Policies
Directions Directions

Parking
Underhill Parking Facility is the closest University Lot that is available to the public. Meter machines located on each floor take exact change or credit card.
Metered parking along College Ave. Longer term (8hr maximum) meter parking is available along College Ave between Durant Avenue and Haste Street. Parking spots fill quickly.
A comprehensive map of at UC Berkeley's public parking lots can be found here: (http://pt.berkeley.edu/parking/visitor) along with lots and pricing.
Public Transit
AC Transit Bus Lines: AC Transit bus service provides transportation for commuters to and from San Francisco and throughout Alameda and Western Contra Costa County. There are several AC bus lines that stop at the campus at the intersection of Bancroft Way and Telegraph Avenue such as lines: #1; #1R; #7; #49; #51B; #52; and F. For additional lines and information, call 511 and say "AC Transit".
BART: Bay Area Rapid Transit (BART) trains operate from Fremont, Richmond, Bay Point/Concord and San Francisco/Daly City and include service to San Francisco International Airport as well as Oakland International Airport. A map indicating the route and stops of each train is located at each BART station. The Downtown Berkeley BART station is just 1½ blocks west of the Berkeley campus.
Tours Tours

The Archives arranges tours of the Collection for classes, organizations, and other groups by arrangement.
Before Your Visit Before Your Visit

Before coming to do research, it helps if you can supply a list of items you would like to view during your visit. To find this information, consult the following resource.
Visitation Policies Visitation Policies

Holdings of the Environmental Design Archives are available to faculty, staff, students, and the public for research, within conditions imposed by donor agreements and institutional policy. Researchers are also required to comply with access rules designed to protect archival material for use by future generations.

Researchers are required to complete a registration form and to furnish personal photographic identification, such as a valid driver's license, college or university identification, or an employer's identification card. The registration form includes a statement of agreement to abide by the Environmental Design Archives regulations, which researchers are required to read and sign before gaining access to collections.

Stack areas are closed to the public. Materials cannot be removed from the Archives. Researchers are not allowed to take coats, briefcases, backpacks, handbags, books, etc., to the research tables. We provide an area for the storage of such items. No pens, food, or drinks, are permitted.

Personal computers, cameras, and tape recorders may be used for taking notes provided that their use does not disturb other researchers. The use of such equipment is subject to approval by the staff. Scanners are not permitted.

Access to collections does not constitute procurement of permission to publish, reproduce, exhibit, broadcast, or electronically disseminate Environmental Design Archives materials.  Researchers must obtain permission for these activities by separate agreement with the Archives. Researchers are responsible for observing all U.S. and international copyright regulations.

There is no research fee for students, faculty, or staff of the University of California, Berkeley. An hourly research fee for using the collections is required for outside researchers. Reproduction, publication, and exhibition of images from the Archives are also subject to fees.

**Please note that if you are more than thirty minutes late for your appointment the EDA will consider your appointment canceled. If you are running late or cannot make it please call us at 510-642-5124.