NEWS
The chair everyone wants to sit in: Competition call for entries
Oct 25, 2023
Want to design a comfortable place to read – or just hang out or even take a nap! –  for the Environmental Design Library? We invite you to enter the Environmental Design Archives' chair competition, Form Follows, for a chance to have your design fabricated and then installed in the library. The top three entries also win cash prizes! Entries due February 20, 2024.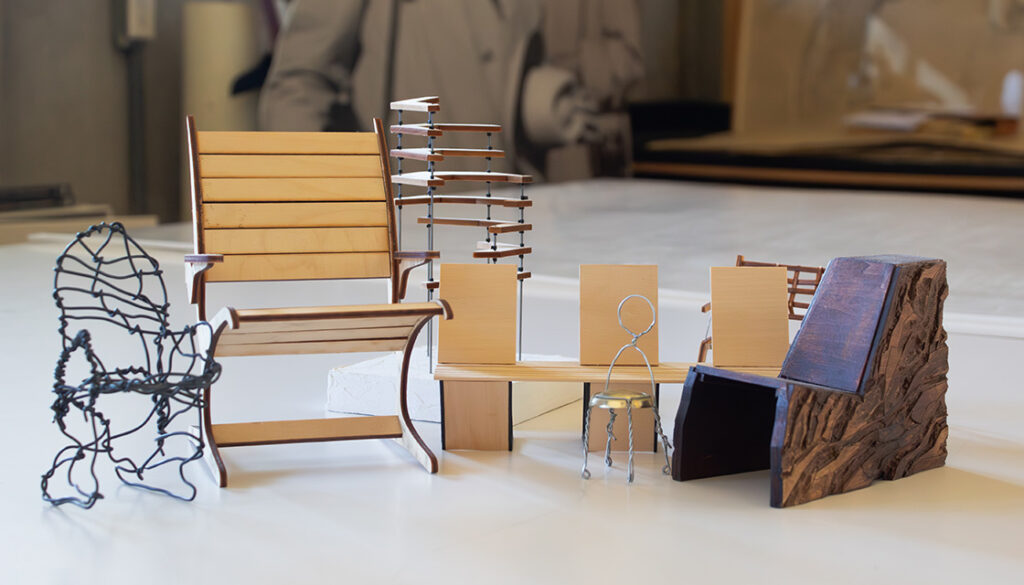 David Eifler, the head librarian of Environmental Design Library, is seeking a chair or other creative seating element for the northeast corner of the library next to the periodicals stacks. Your design should be for a functional piece of furniture for one or more people. Ideally, says Eifler, it should become "the chair everyone wants to sit in."
As in past years of the competition, designs must be related to materials in the Environmental Design Archives. This year, entries should draw inspiration from drawings and photographs selected from the archival collections of architects Joseph Esherick, Vernon DeMars, and Donald Olsen, architects of Bauer Wurster Hall.
The winning design will be manufactured at full scale by the CED Fabrication Shop staff, using materials common to the shop (wood, metal, acrylic, etc.); other materials may be considered in consultation with shop staff. The competition winner will consult with the fabricators on issues of constructability, material quality, and cost. The completed seating element will be featured at Cal Day in April and placed for permanent use in the Environmental Design Library.
Entries are due on Tuesday, February 20, 2024. All entries will be displayed in the Environmental Design Library at the end of February.
Eligibility
Form Follows is open to all students in the College of Environmental Design. All entrants must visit the Environmental Design Archives to review selected collection materials to inform their chair design.
Prizes
First place: $500 + fabrication of your design by CED Fabrication Shop staff
Requirements
Entrants must visit the Environmental Design Archives (280 Bauer Wurster Hall) at least once between October 30 and December 15, 2023, to view the selected archival materials. You can drop in Mondays through Fridays, 9 a.m. to 5 p.m. (closed 12 to 1 p.m. for lunch), or make an appointment by emailing designarchives@berkeley.edu.
Registration
There is no fee for entering, but please register by December 1 using this Google form.
Entry Materials
Two 11" x 17" presentation boards with drawings and explanatory text
A small physical model of any material, no larger than 7" x 7" x 7"
Criteria
Entries will be evaluated by a jury of design professionals, CED faculty and staff, and Environmental Design Library staff. Your presentation boards should show:
how the design connects to the archival project(s)/materials that inspired it

an analysis/understanding of the site for the chair

the relationship between the design, its setting, and the user

the physical and emotional effects of the seating element
Important Dates
All entries must be submitted in person by Tuesday, February 20, 2024, at 5 p.m. to the Environmental Design Archives in Room 280 Bauer Wurster Hall.

Oct. 30–Dec. 15, 2023: View archival materials
Feb. 20, 2024: Competition entry boards/models due
Feb. 22–29, 2024: Boards and models on view in the Environmental Design Library
Mar. 1, 2024: Reception and announcement of winning designs
Mar. 4–22, 2024: First-place winner consults with Fabrication Shop staff
Mar. 25–28, 2024: Fabrication Shop staff builds winning design
Apr. 13, 2024: Winning design featured at Cal Day
Questions?