EVENTS
Lauren Bon | Un-development: Unsealing the Earth and Letting Her Breathe
Wednesday | Sep 20, 2023
6:30pm - 7:30pm
112 Bauer Wurster Hall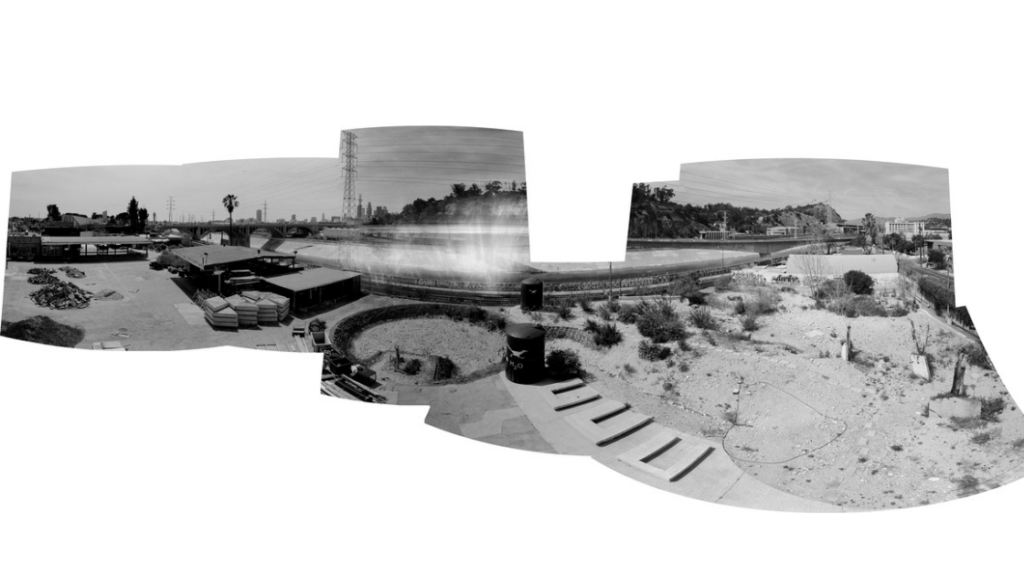 Lauren Bon and the Metabolic Studio's ongoing project Un-development 1 is unsealing tarmac, dismantling concrete, and letting the land breathe on a one-acre vacant lot adjacent to the Los Angeles River. Through the concept of un-development, the project proposes breaking away from conventional urbanization practices and dismantling structures that suffocate living systems.
The work harvests rainwater from the industrial rooftops on site and uses solar energy to power its pumps, offering an alternative city utility system. Salvaged logs from the Los Angeles Forest and floodplain material from the LA River have been spread on the unsealed ground, effectively recreating the former floodplain. By recognizing the power of a violent flood as a transformative disturbance, the project emphasizes the sediment, organic matter, and life that settle in basins as a result.
Un-development creates a space that not only addresses ecological reparation but serves as a platform for community engagement and healing on this vacant lot on the edge of train lines, river, and city center. It envisions a city that embraces the natural processes of decay, abundance, and interconnectedness, revitalizing the relationship between the city and its environment.
About the speaker
Lauren Bon is an environmental artist. Her practice, Metabolic Studio, began with Not A Cornfield (2005–2006), which transformed a brownfield into a 32-acre cornfield, now the Los Angeles State Historic Park. Bending the River, currently in construction, moves water from the Los Angeles River through a network of pipes being laid underneath the concrete. BTR will convey cleansed waste water to the park where Not A Cornfield was, utilizing Los Angeles's first private water right in this first adaptive reuse of the infrastructure of the LA River since it was built in the 1930s. The project will be completed in 2025.
About the series
Living With — and Without — Water
On transforming our built environment to survive a changing climate
As our climate changes, our cities and infrastructure are faced with having too much and/or too little water. Water shortages, drought, sea level rise, and flooding are among the most pressing environmental challenges of our times. In the College of Environmental Design lecture series Living With — and Without — Water, invited speakers investigate the theme of water and the built environment from multiple perspectives and disciplines: architecture, environmental engineering, city planning, landscape architecture, art, and ethnography.
Free and open to the public.
If you require accommodation to fully participate in this event, please email ceddean@berkeley.edu at least 10 days prior to the event.