EVENTS
Exhibition Reception | Finished-Unfinished: The design of Bauer Wurster Hall
Thursday | Sep 7, 2023
4:00pm - 6:00pm
Environmental Design Library, Bauer Wurster Hall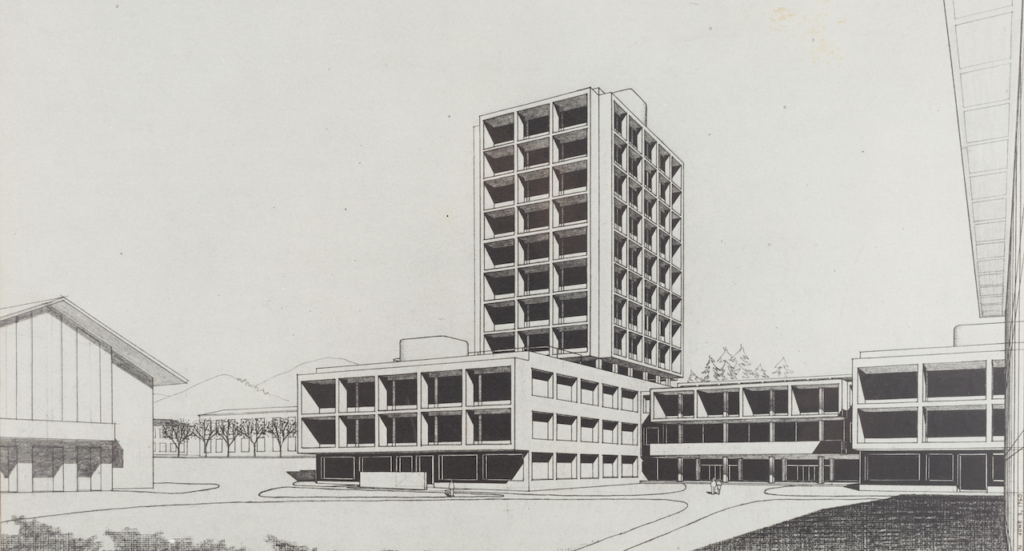 The Environmental Design Archives hosts a reception to celebrate the exhibition Finished-Unfinished: The design of Bauer Wurster Hall. Join us for refreshments and remarks by former campus architect Emily B. Marthinsen and architectural historian and Professor of Architecture Greg Castillo.
About the exhibition
Find out how the architects of Bauer Wurster Hall, Joseph Esherick, Vernon DeMars, and Donald Olsen, fulfilled Dean William Wurster's directive to create "a ruin that no regent would like." The exhibition tells the story of Bauer Wurster Hall's design: how it came to be and how it was imagined to persist into the future. It traces the building's history from initial conceptual designs to the 2014 addition of the Digital Fabrication Lab through sketches, architectural drawings, and photographs.
On view in the Judith Stronach / Raymond Lifchez Exhibit Cases in the Environmental Design Library through October 8.
About our guests
Emily B. Marthinsen served as UC Berkeley's assistant vice chancellor, physical & environmental planning from 2005 to 2018 and campus architect from 2014 to 2019. She was responsible for implementing UC Berkeley's 2020 Long Range Development Plan and other strategic design plans including campus/city planning and real estate development initiatives. Marthinsen has also worked with design and planning firms in San Francisco; Washington, D.C.; Alexandria, Virginia; and Berkeley. Her private practice work focuses on pre-design planning and programming for community and nonprofit clients and for public agencies.

UC Berkeley Professor of Architecture Greg Castillo, who is also a research associate at the United States Studies Centre at the University of Sydney in Australia, specializes in the architectural history of interwar and postwar America and Europe. His course offerings include seminars on spaces of consumption, countercultural design in the 1960s, transatlantic transfers of architectural practices, a global survey of modernist architecture, architectural history research methods, and a writing and publication workshop. Greg received his doctoral degree in architectural history (2000) and a master's degree in architecture from the University of California at Berkeley (1995). He also holds a bachelor of fine arts degree in photography from the Rochester Institute of Technology.
‌
‌
If you require accommodation for effective communication or information about campus mobility access in order to fully participate in this event, please contact Betsy Frederick-Rothwell at betsyfr@berkeley.edu at least 10 days prior to the event.