NEWS
Summer at CED
Aug 11, 2022
After two summers of virtual instruction, students returned to Bauer Wurster Hall for CED's summer programs and an immersion into an assortment of environmental design fields. Three comprehensive programs —the Summer [In]stitute for post-baccalaureate students, DISC for college students, and the embARC Academy for high school students— provided first-hand design school experiences. Over the course of four to six weeks, students joined a multifaceted design community in which they rigorously explored the theories and methods of architecture, design, and planning.
Summer [In]stitute
The Summer [In]stitute is a career discovery program for post-baccalaureate students and college seniors offering distinct courses in landscape architecture, introductory and advanced architecture, and sustainable city planning. Each course includes a lecture series from top faculty and practitioners, a design or planning studio, media workshops, site visits and a reading seminar or a studio technology course. Students culminate their time with a final portfolio project.
[IN]LAND
This year's theme of the [In]stitute's Landscape Architecture course was "Landscape as lived Experience."
"I created it for students to understand landscape architecture in a way that connects it to the human and community scale, addressing the layers of cultural history that exist in a site," said Hyunch Sung, summer lecturer for the course.
The final project was a landscape design for the Hacienda Peralta, a community park and historical center in Fruitvale, Oakland. Drawing on extensive research and their work on other community gardens, each student created a spatial experience that addresses the site, neighborhood, and creek ecology.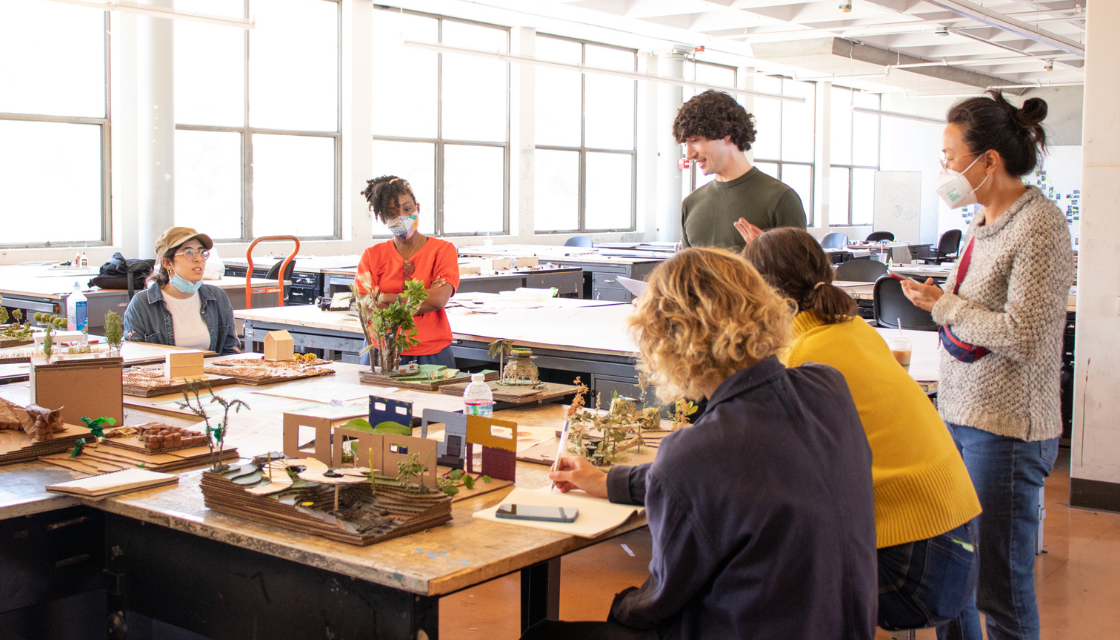 Students present their models for Hacienda Peralta. Next, they will create technical drawings and cross-sections detailing the soil, specific plants, and how they change with the seasons.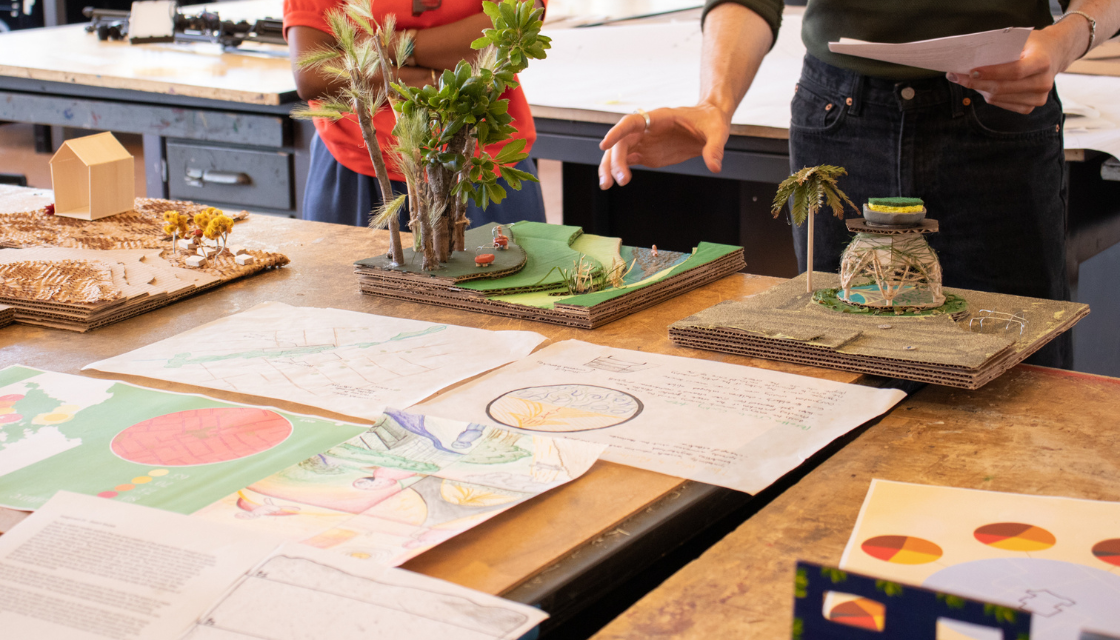 Noting the area's low amount of green and private space per capita, Kristal Çelik crafted a dedicated space for people of all ages to process grief. Her design incorporates a tree canopy with shaded benches and mycelium to absorb sound pollution. Mounds of earth can be climbed up for seating and have inserts where people can leave a note to a loved one. Mirrors underneath create a dapple effect from the trees and reflect light. "That change in perspective can help to feel like you're in another place." said Çelik, a Berkeley graduate in mechanical engineering. Çelik joined the course to explore landscape architecture as a career path before applying to graduate programs.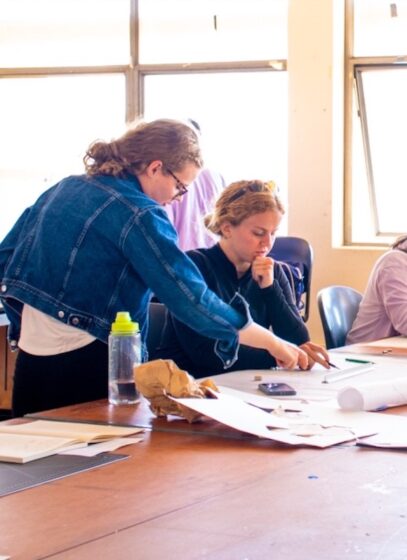 [IN]ARCH Students in architecture studio: Learning orthographic projections, hand and digital drawing techniques, students work on plans, sections, elevations, axonometrics, oblique projections and physical models.
[IN]ARCH
This six-week course introduces basic principles, ideas, and practice of architectural design. Students interested in pursuing the fundamentals of architecture worked through different modes of representation through a series of focused design exercises, lectures, and discussions.
The studio unpacked theories and techniques of orthographic projection and model making, explored methods of architectural representation and collage, and in the final project, applied and expanded these concepts to an architectural site, program, and design in the Bay Area.
Students learned to balance the role of program and site with new understandings of formal space making. Their intensive workshops expanded skills in Rhino, Photoshop, Illustrator, In-Design, and V-Ray software.
[IN]ARCH ADV
Led by Keith Plymale, students in the advanced architecture studio studied the urban fabric of San Francisco in order to design a building on the Octavia Street Corridor, a notably narrow site. Student Anastasia Fedotova draped her residential building in a translucent cloth. Johannes Bierbrauer's building includes an inner steel-frame structure covered by a concrete patchwork façade and features an active fire escape as the focal point in the programming. Dwellings within the steel core are pulled in or pushed out to allow light to enter the corridors, referencing Corbusier's Unite d'Habitation.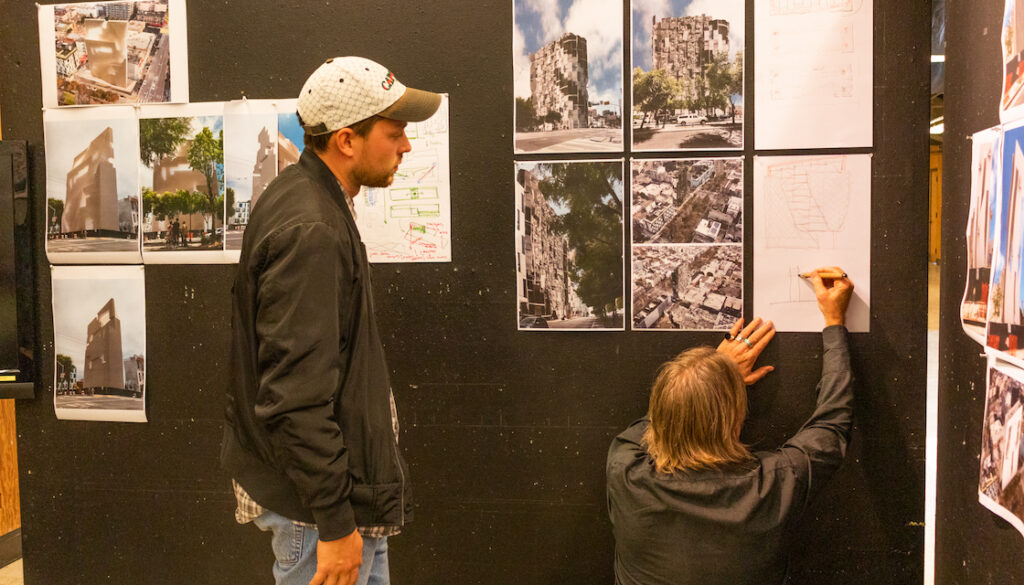 The vivid renderings evidenced the course's emphasis on connecting architecture to critical thought, theory, and the allied arts. Student designs and programming consider the surrounding city and the world today, but as Plymale points out, "You may need to build taller."
"What will San Francisco be like in 20 or 50 years? How will we live then?" "You are the architect," he reminded them, "but you also can do all of this work and then need to reconsider." An undying factor in architecture, the course's iterative design process emphasized and enabled students to remain flexible to ever-present city and societal evolution.
[IN]CITY
IN[CITY] is a comprehensive introduction to the study and practice of city planning and urban design through the lens of sustainability, resilience, and social justice. For the course's culminating project, students proposed their own redevelopment of the Oakland Coliseum and Arena into a mixed-use Community of Tomorrow. "How can we repurpose, perhaps preserve, and redevelop the site for a new community of residents, merchants, visitors, and Oaklanders, that will connect the city?" asked head studio instructor Michael Larice.
Students studied precedents in visionary communities, alternative development models, housing typologies, and street design. In teams of six to seven, students combined site-based research, urban data, observation, and various site analysis techniques to present a vision statement, principles, and program for the site. Presented to the class and guest critics, each group addressed a range of densities, creating four proposals and site plans based on different scenarios, such as whether the stadium will be retained or not.
DISC: Design & Innovation for Sustainable Cities
DISC targets college students interested in the challenges of sustainability and global cities. "It is a truly multi-scalar and interdisciplinary approach to architecture and planning," said Gabriel Kaprielian, co-program lead with Ghigo DiTommaso.
Over the years, the duo has led 248 students from 30 countries through a curriculum focusing on urban innovation and design thinking against the larger social and environmental happenings. "It is the course we wished we had," said Kaprielian.
This year students combined principles and methods of urban planning and architecture to design Transit Oriented Developments for the parking lots at the West Oakland and El Cerrito BART stations. After analyzing their site, students devised plans based on different resilience strategies and scenarios. One group had incorporated the possibility of sea-level rise, turning the paved areas that run through the West Oakland site into active canals. Another group's model focused on bringing the vibrant jazz scene that had once thrived in the neighborhood back to life, putting the train underground and replacing its infrastructure with an array of buildings and green and public spaces. Their final step was an urban simulation model testing one scenario against different stressors and stakeholders in a long-term resilience strategy.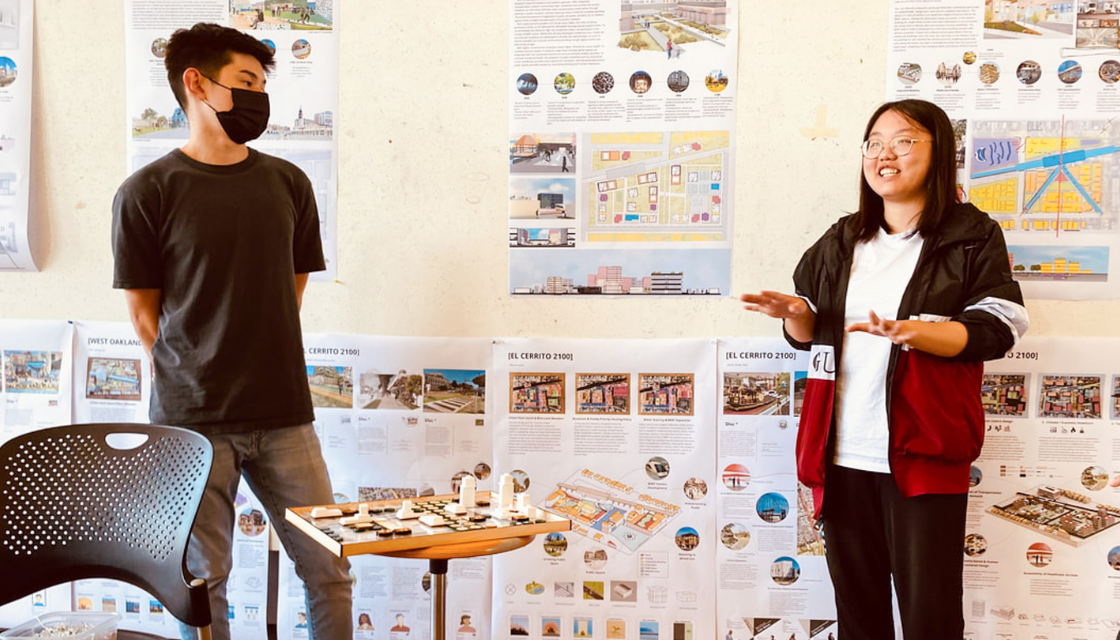 DISC review in action - Students present detailed site analyses and resilience scenarios and the final model and plan these studies led to for the class and critique by their lecturers.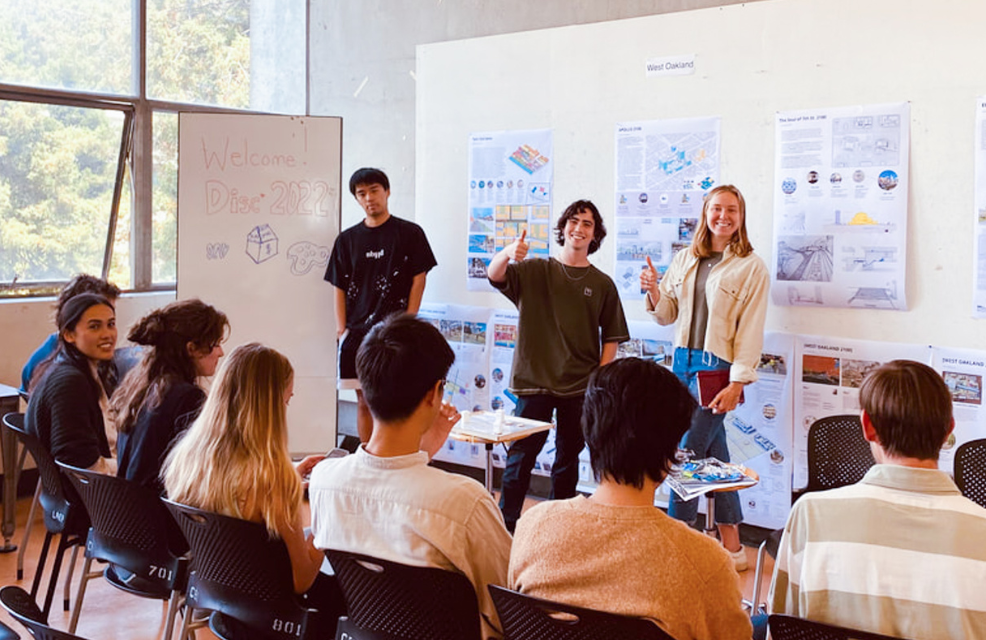 embARC Summer Design Academy
Every weekday morning high school juniors and seniors in the embARC Summer Design Academy attended an architecture and urban design studio followed by an afternoon of workshops in materials, digital design, and sustainable city planning. Studios focused first on sketching and composition before implementing these skills into digital orthographic projections, analytical drawings and their final project: a pavilion in the UC Berkeley Botanical Garden.
In a field trip to the gardens, students chose a plant to draw and abstract into a diagram for their pavilion. One student based his picnic area on the venus fly trap, placing the table and benches within the leaves that could raise up to cover them. Another designed observatories arranged in a manner reflecting the movement of bees and butterflies between plants. From these diagrams, students built foam-core models and then used Rhino to draft the floor and site plans digitally.
In the materials exploration workshop, students designed tiny homes, learning how a full building comes together. Aly Ard, a designer-fabricator based in Richmond, California, led them through the process, asking what materials to use and how they should come together.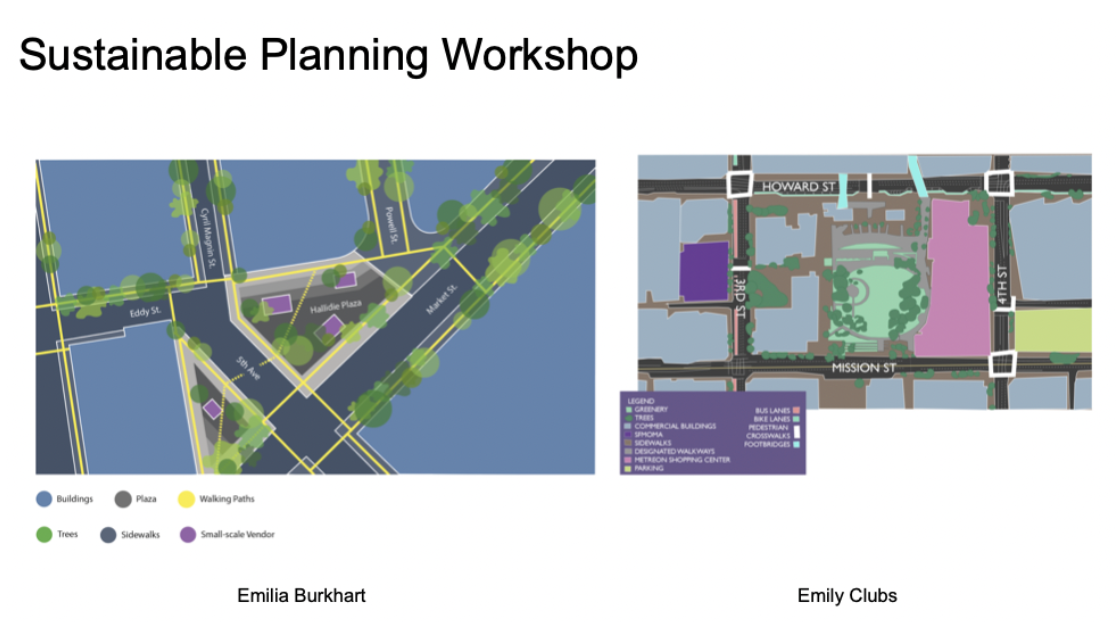 Applying both analog and digital design techniques they learned, embARC students create projects for each program workshop.