NEWS
In Remembrance of Martin Wachs
Apr 21, 2021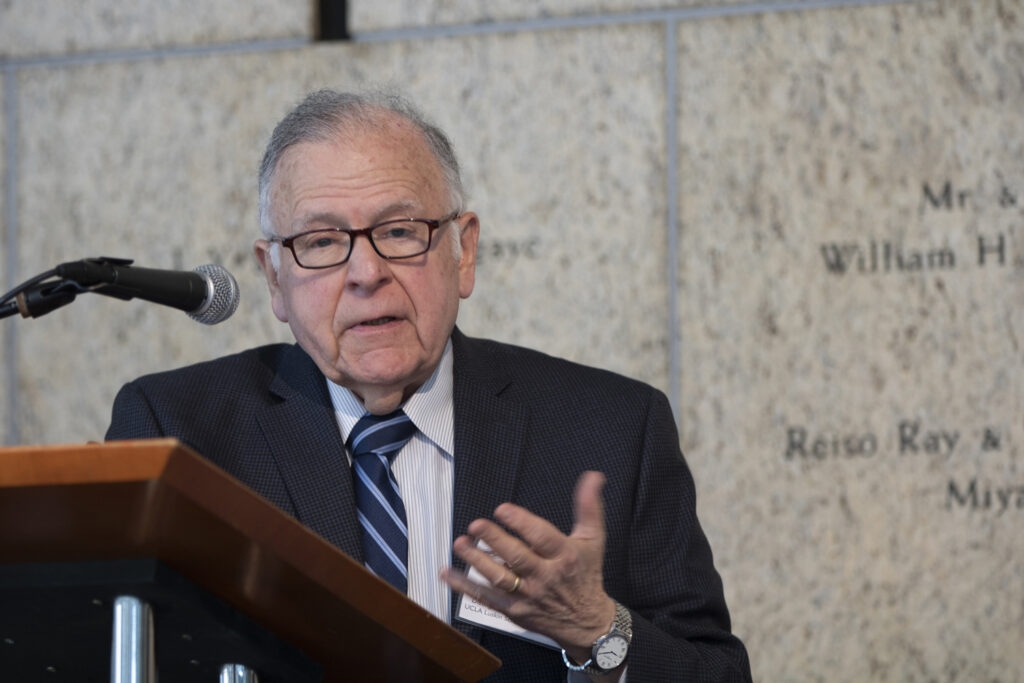 The College of Environmental Design (CED) mourns the loss of Martin Wachs, beloved and celebrated professor of City and Regional Planning and of Civil and Environmental Engineering at UC Berkeley, where he directed the Institute of Transportation Studies. Having authored hundreds of articles and four books, Wachs transformed the field of transportation as we know it and taught thousands of students over the course of his 50 year career. He passed away last Sunday at the age of 79.
Previous to his tenure at UC Berkeley, Wachs spent 25 years at the University of California, Los Angeles, where he was Chairman of the Department of Urban Planning for 11 of those years. After leaving the university in 1996, Dr. Wachs became the Director of the Transportation, Space, and Technology Program at the RAND Corporation in Santa Monica.
In 2012, the Department of City & Regional Planning together with his students honored his retirement with the annual Wachs Distinguished Lecture in Transportation. In its inception, the lecture rotated between Berkeley and UCLA, the campuses at which Marty taught.
Wachs' commitment and integrity as a scholar, professional, and educator have profoundly affected his students, peers, colleagues and friends. He will be sorely missed. The College of Environmental Design sends condolences to his wife Helen, his family, his friends, and peers and students around the world.
Rembrances
---
"Marty Wachs was a distinguished scholar and an extraordinarily gifted teacher. He also was a stalwart mentor and friend to many of us," said Elizabeth Deakin, Professor Emerita of City and Regional Planning. "His delight in learning, his integrity, his concern for the less fortunate, and his belief that we could make the world a better place set an example for everyone who had the good fortune to know him."
"Another thing about Marty: he was complete, by which I mean that he was not only the consummate professor but also a committed and loving family man, a sports fan, a gardener. He helped his students and colleagues realize that it was possible to excel at work and still have a flourishing personal life."
Deakin worked closely with Wachs during his tenure at UC Berkeley as a Professor of Civil and Environmental Engineering (CEE) and City and Regional Planning (DCRP) from 1996-2006, Director of the University of California Transportation Center from 1996-1999, and Director of ITS Berkeley from 1999-2006. She also wrote a Wachs tribute for the Berkeley Planning Journal.
---
Professor of Urban Studies and Planning at Portland State University Jennifer Dill had the privilege of being a student of Wachs' first at UCLA in the masters program and then, a decade later, as a Ph.D. student ('01) at UC Berkeley.
"The impact he's had on my and many others' careers is impossible to measure. Of course, he taught me a lot about transportation and planning – things that I still use regularly (even just yesterday!). But what I value the most is his role as an advisor and mentor," says Dill. "Marty had an ability to be warm and compassionate, but also clear and direct. He welcomed you into spaces and connected you with people that a grad student would never expect. While as a student we were not equals, you felt respected and valued. He cared about you—your life and your work—and that did not stop after graduation."
"Whenever I was making big career decisions, Marty was there to advise and support. But he was also there to talk about baseball, life, and family. I will miss him dearly and strive to channel him in my role as a teacher, advisor, and mentor."