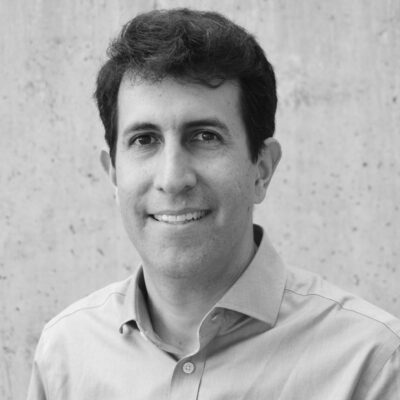 Daniel Rodríguez
Chancellor's Professor of City & Regional Planning
Address
313C Wurster Hall
Address
313C Wurster Hall
Email
danrod@berkeley.edu
SPECIALIZATIONS
Transportation Policy and Planning and Environmental Planning and Healthy Cities.
EDUCATION
PhD, University of Michigan, Ann Arbor, 2000
MS, Transportation., MIT, 1996
BS, Business Administration, Fordham University, 1994
BIOGRAPHY
Daniel A. Rodríguez is Chancellor's Professor of City and Regional Planning and Director of the Institute for Transportation Studies. His research focuses on the relationship between transportation, land development, and the health and environmental consequences that follow.
Current projects include:
Examining the mortality consequences of past extreme heat events; whether green spaces and air pollution ameliorate or exacerbate those effects; and how mortality will change as heat events increase under high and low global emissions scenarios for the midcentury.
Impacts of land development and transportation policies on urban health and urban inequalities in medium to large Latin American cities. See project description here

.

Effectiveness of cyclist education programs on cycling safety. See a policy brief here

, a knowledge synthesis 

here

, and a research report

here

.

Validating cyclists' level of traffic stress indicators with user crowdsourced data, and comparing agreement across widely used indicators.
A majority of Professor Rodríguez's work is driven by practical problems and finding solutions for planners and policy-makers. Working with researchers in health, economics, engineering, geography and public policy, he has examined how changes to the physical attributes of the environment, such as the location of bus routes, rail lines, supermarkets and trails, are related to changes in the built environment, individual behavior, health, and air quality. His work also examines how land management tools can be used to encourage transit development and recapture property value increases by public action.
Prior to joining Berkeley, Rodriguez served in the faculty of University of North Carolina, Chapel Hill, where he was Distinguished Professor of Sustainable Communities in the Department of City and Regional Planning. He is a faculty fellow of the Lincoln Institute for Land Policy, and has been a consultant to the Inter-American Development Bank, Andean Development Bank, and the Clean Air Institute.
Inquiries from prospective doctoral students are welcome.
COURSES TAUGHT
CP 190 Sustainable Mobility
CP 201B Planning Methods
CP 216 Planning for Active Transportation
CP 217/CE250 Transportation Policy and Planning
CP 213 Transportation and Land Use
CP 290A, Special Topics: PR/CR/Thesis Workshop
AWARDS & RECOGNITION
Best paper of the year, awarded by Risk Analysis, 2015
Excellence in Safety Research Poster Award, given by Active Living Research and the Robert Wood Johnson Foundation, in conjunction with the CDC National Center for Injury Prevention and Control (with Bushell, M., Poole, B., and Zeeger, C.)
San Diego, CA Transportation Research Board's Fred Burggraf Award recognizing excellence in transportation research by researchers 35 years of age or younger, 2000.
Publications
Transportation and Land Use
Avila-Palencia, I., Sarmiento, O.L.,  Gouveia, N. Jáuregui, A., Mascolli, M.A., Slovic, A.D., Rodriguez, D.A. (2023). Bicycle use in Latin American cities: Changes over time by socio-economic position, Frontiers in Sustainable Cities, 5, https://www.frontiersin.org/articles/10.3389/frsc.2023.1055351/full
Delclòs-Alió, X., Kanai, C., Soriano, L., Quistberg, D. A., Ju, Y., Dronova, I., . . . Rodríguez, D. A. (2023). Cars in Latin America: An exploration of the urban landscape and street network correlates of motorization in 300 cities. Travel Behaviour and Society, 30, 192-201. https://www.sciencedirect.com/science/article/pii/S2214367X22001053
Vergel-Tovar, C. E., & Rodriguez, D. A. (2022). Bus rapid transit impacts on land uses and development over time in Bogotá and Quito. Journal of Transport and Land Use, 15(1), 425-462. https://www.jtlu.org/index.php/jtlu/article/view/1888
Delclòs-Alió, X., Rodríguez, D. A., Medina, C., Miranda, J. J., Avila-Palencia, I., Targa, F., . . . Quistberg, D. A. (2021). Walking for transportation in large Latin American cities: walking-only trips and total walking events and their sociodemographic correlates. Transport Reviews, 1-22. https://www.sciencedirect.com/org/science/article/pii/S0144164722004019
Wang, X., Rodriguez, D. A., & Mahendra, A. (2021). Support for market-based and command-and-control congestion relief policies in Latin American cities: Effects of mobility, environmental health, and city-level factors. Transportation Research Part A-Policy and Practice, 146, 91-108. https://www.sciencedirect.com/science/article/pii/S0965856420307977
Health
Bakhtsiyarava, M., Schinasi, L. H., Sánchez, B. N., Dronova, I., Kephart, J. L., Ju, Y., . . . Rodríguez, D. A. (2023). Modification of temperature-related human mortality by area-level socioeconomic and demographic characteristics in Latin American cities. Social Science & Medicine, 317, 115526. https://www.sciencedirect.com/science/article/pii/S0277953622008322
Anza-Ramirez, C., Lazo, M., Zafra-Tanaka, J.H., Avila-Palencia, I., Bilal, U., Hernández-Vásquez, A. Knoll. C., Lopez-Olmedo, N., Mazariegos, M., Moore, K., Rodriguez, D.A., Sarmiento O.L., Stern, D., Tumas, N., Miranda, J. (2022). The urban built environment and adult BMI, obesity, and diabetes in Latin American cities, Nature Communications, 13, 7977. https://www.nature.com/articles/s41467-022-35648-w
Avila-Palencia, I., Sánchez, B., Rodriguez, D.A., Pérez-Ferrer C., Miranda, J., Gouveia, N., Bilal, U., Useche, A.F., Wilches-Mogollón, M.A., Moore, K. , Sarmiento, O.L., (2022). Health and Environmental Co-Benefits of City Urban Form in Latin America: An Ecological Study, Sustainability, 14(22). https://www.sciencedirect.com/science/article/pii/S2542519621000917
Kephart, J. L., Sánchez, B. N., Moore, J., Schinasi, L. H., Bakhtsiyarava, M., Ju, Y., . . . Rodríguez, D. A. (2022). City-level impact of extreme temperatures and mortality in Latin America. Nature Medicine, 28(8), 1700-1705. https://www.nature.com/articles/s41591-022-01872-6
Quistberg, D. A., Hessel, P., Rodriguez, D. A., Sarmiento, O. L., Bilal, U., Caiaffa, W. T., . . . Roux, A. V. D. (2022). Urban landscape and street-design factors associated with road-traffic mortality in Latin America between 2010 and 2016 (SALURBAL): an ecological study. Lancet Planetary Health, 6(2), E122-E131. https://www.sciencedirect.com/science/article/pii/S2542519621003235
Gouveia, N., Kephart, J. L., Dronova, I., McClure, L., Granados, J. T., Morales Betancourt, R., . . . Diez-Roux, A. V. (2021). Ambient fine particulate matter in Latin American cities: Levels, population exposure, and associated urban factors. Science of the Total Environment, 772. https://www.sciencedirect.com/science/article/pii/S0048969721001017
Urban Science
Bilal, U., de Castro, C. P., Alfaro, T., Barrientos-Gutierrez, T., Barreto, M. L., Leveau, C. M., . . . Diez Roux, A. V. (2021). Scaling of mortality in 742 metropolitan areas of the Americas. Science Advances, 7(50), https://www.science.org/doi/10.1126/sciadv.abl6325
Li, M., Sheng, H., Irvin, J., Chung, H., Ying, A., Sun, T., . . . Rodriguez, D. A. (2022). Marked crosswalks in US transit-oriented station areas, 2007–2020: A computer vision approach using street view imagery. Environment and Planning B: Urban Analytics and City Science, 50(2) https://journals.sagepub.com/doi/full/10.1177/23998083221112157
Peng, K., Rodriguez, D. A., Hirsch, J. A., & Gordon-Larsen, P. (2021). A method for estimating neighborhood characterization in studies of the association with availability of sit-down restaurants and supermarkets. International Journal of Health Geographics, 20(1). doi:10.1186/s12942-020-00257-7 https://ij-healthgeographics.biomedcentral.com/articles/10.1186/s12942-020-00257-7
Sarmiento, O. L., Useche, A. F., Rodriguez, D. A., Dronova, I., Guaje, O., Montes, F., . . . Roux, A. V. D. (2021). Built environment profiles for Latin American urban settings: The SALURBAL study. PLOS ONE, 16(10). doi:10.1371/journal.pone.0257528 https://journals.plos.org/plosone/article?id=10.1371%2Fjournal.pone.0257528