NEWS
Sub-Saharan studio: ARCH 100D takes 3D-printed homes to Kenya
Jun 16, 2017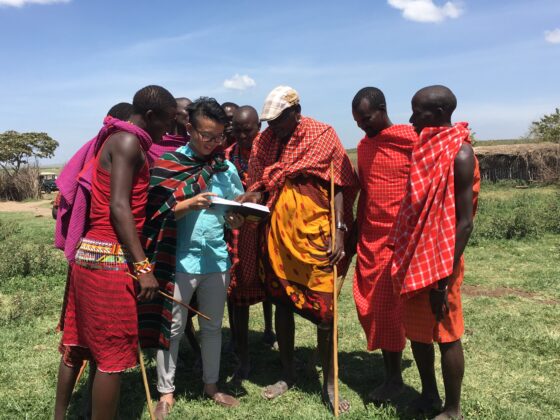 Photo courtesy William Brown
Students in Professor Rael's ARCH 100D design studio finished off the semester with a field trip to Kenya, where they gained insight into the concepts they learned back at CED.
While spring break is traditionally a time for architecture students to unwind, relax and take a break from studio life, a group of students at the College of Environmental Design moved their studio halfway across the globe to Kenya for the field study of a lifetime.
Thirteen students from Associate Professor of Architecture Ronald Rael's ARCH100D architectural design studio transformed a site in Vipingo, Kenya into a living laboratory for innovation as part of their semester-long research into the design of 3D printed houses for BetterPlace International, an organization founded by Yuri Millo, who sponsored the design studio. BetterPlace International is an organization dedicated to providing sustainable and high-tech healthcare in remote and underserved areas in Sub-Saharan Africa.
"The trip's purpose was to visit a site in Kenya to gain an understanding of the site, climate, traditional building practices, available materials, culture, and to be inspired by the country," explained Professor Rael. Rael's expertise in 3D printing and earthen architecture helped inform the course's ambitious design proposal.  "Along with hospitals, they wanted to provide a high-tech solution to housing to attract surgeons to volunteer their expertise. The housing is intended for the hospital staff and surgical specialists."
Seniors in Professor Rael's class spent the spring semester 3D printing, researching housing types, studying contemporary design projects in Africa, and learning techniques in design and 3D modeling tools to prepare for their trip to Kenya. Their field trip was intended as an exploration and tour of the landscape, ecology, people, and culture in Vipingo, as well as an opportunity to view the building site where 280 homes are proposed to be built through 3D printing by 2018.
"What's unique about this project, and the housing being proposed, is that the organization wants the housing to be a mix of local traditional influences and high technology; they want to explore the housing being 3D printed out of local materials, specifically out of clay," said Professor Rael.
Students were challenged to design for a western audience while incorporating traditional materials and local architectural styles in their designs. With limited resources and amenities available in such a remote part of Kenya, the students had to reconsider traditional design conventions and norms and learn how to adapt them to the project.
For senior William Brown (BA Arch '17), visiting the proposed site for the project helped solidify, and in many ways re-shape, the design ideas he and the rest of his studio proposed before visiting Kenya. From interviewing local nurses and doctors at the nearby hospital, to observing the colors, styles and materials used in traditional Kenyan architecture, working alongside his peers in the field helped him better understand how to design for the proposed site.
"Being on site, we were able to get a much better understanding for issues such as the temperature," he said. "Kenya is right on the equator so the cardinal directions are different. It was really interesting to analyze designs in the field by doing interviews, looking at site conditions, and cataloging local colors."
Senior Arvin Tanu (BA Arch '17) also said that weather informed much of his design process as well, "from the humidity to the insects." He explained that many of the standard amenities incorporated into architectural design in the west — such as running water, electricity and air conditioning — do not exist in Vipingo. His designs, too, shifted to reflect a different way of living based on his field work. "We designed a model for a mud house, which is a really thick building material, with no air conditioning. Electricity and water are hard to get, so we had to consider designing a building that was sustainable and connected to the location," Tanu said.
Since returning from their 10-day excursion, Professor Rael's students have worked collaboratively to combine the different aspects of the site they observed and prepared a final design to present to BetterPlace International.
For Professor Rael, introducing his students to the field design process speaks to the nature of the Architecture program, which encourages students to leave Wurster Hall to interact with the environment, conduct site analyses and fieldwork to inform their overall design process. Watching his students interact with Kenyan natives, such as the Maasai villagers, and connect with the universal language of creativity and design was one of the most rewarding aspects of the trip.
"There was an amazing moment when Arvin, who had drawn several incredible sketches, began sharing them with the Maasai people during a visit to their village. Not long after we arrived, he was soon surrounded by several villagers with whom he shared his drawings," he explained. "That was a moment of cultural exchange where language and cultural barriers were immediately overcome by an act of drawing — it was pretty amazing."