NEWS
Inaugural Lau Grants for Just Climate Futures awarded
Sep 27, 2023
Funded projects forge innovations in climate resilience through explorations in building technologies and materials, housing security, water access, and community-based climate visualizations.
The College of Environmental Design (CED) announces the recipients of the inaugural Lau Grants for Just Climate Futures. Teams led by Mark Anderson, Neyran Turan, Zachary Lamb and Zoé Hamstead, and Margaret Crawford received accelerator grants for summer research. A two-year translational grant went to a 12-person interdisciplinary team led by Kristina Hill, director of the Institute of Urban & Regional Planning.
This new grant program supports cross-disciplinary projects led by CED faculty that aim to reduce the impacts of climate change. All projects incorporate community engagement to ensure equitable and actionable solutions. The findings of this first slate of projects will be disseminated through public forums and exhibitions in April 2024.
Climate change, caused primarily by human activities and exacerbated by building and construction, is rapidly altering our planet's ecological balance. Rising temperatures, extreme weather events, and shifting precipitation patterns are just a few visible signs of this phenomenon. The effects of climate change extend beyond these manifestations, permeating our communities and exacerbating existing inequities while creating new ones.
"With researchers and designers in the fields of architecture, city and regional planning, landscape architecture, environmental planning, and urban design, CED is ideally suited to spearhead groundbreaking new practices for just climate futures," says William W. Wurster Dean Renee Y. Chow.
In each of the first two years of the grant program, $125,000 will be distributed to recipients of accelerator grants and $150,000 will go to translational grantees. The number of awards may vary each funding cycle.
In this first year, projects include prototyping low-carbon housing construction systems and materials; investigating the impact of climate change on residents of manufactured home parks; design solutions that balance agricultural and public access to water in the Salinas Valley; and creating a robust dynamic digital tool that visualizes and analyzes the Bay Area's infrastructure, air, and water systems. These projects stood out from the field of applications for their impact on underserved communities and their capacity to have actionable environmental outcomes.
Accelerator grants seed promising explorations into climate change mitigation and resilience
CED awarded four accelerator grants this cycle, with funds directed to projects led by faculty from the Departments of Architecture, City & Regional Planning, and Landscape Architecture & Environmental Design, and the Master in Urban Design program. Awarded annually, the accelerator grants seed the discovery of innovations for a more resilient built environment. They support design, construction, data analysis, mapping, and fieldwork by research groups comprising one to two faculty members with graduate students.
Rebuilding after wildfires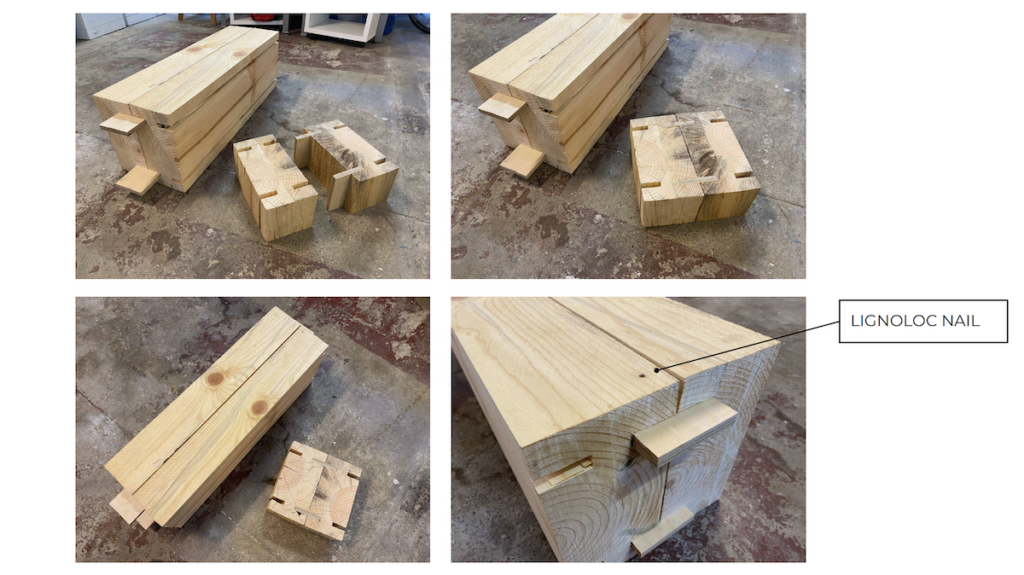 Rough Timber, full-scale mockup showing Lignoloc wooden nail. Courtesy Mark Anderson.
Professor of Architecture Mark Anderson's project, Rough Timber, is based on his experience working with communities recovering from the 2021 Dixie Fire, one of the most destructive wildfires in California history. It proposes to prototype a low-carbon, low-technology DIY housing construction system for post-wildfire housing solutions, in close collaboration with the Dixie Fire Collaborative and the community of Greenville, California. Anderson's Rough Timber prototype aims to harness the potential of wood construction to sequester carbon and reverse climate change while offering contextually appropriate forms and assemblies that are robust, fire-resistant, easily modifiable, and of the place. This rapid-response building system is broadly applicable for future fire sites, not only in California forests but in many regions of the world with timber resources.
Mainstreaming hemp construction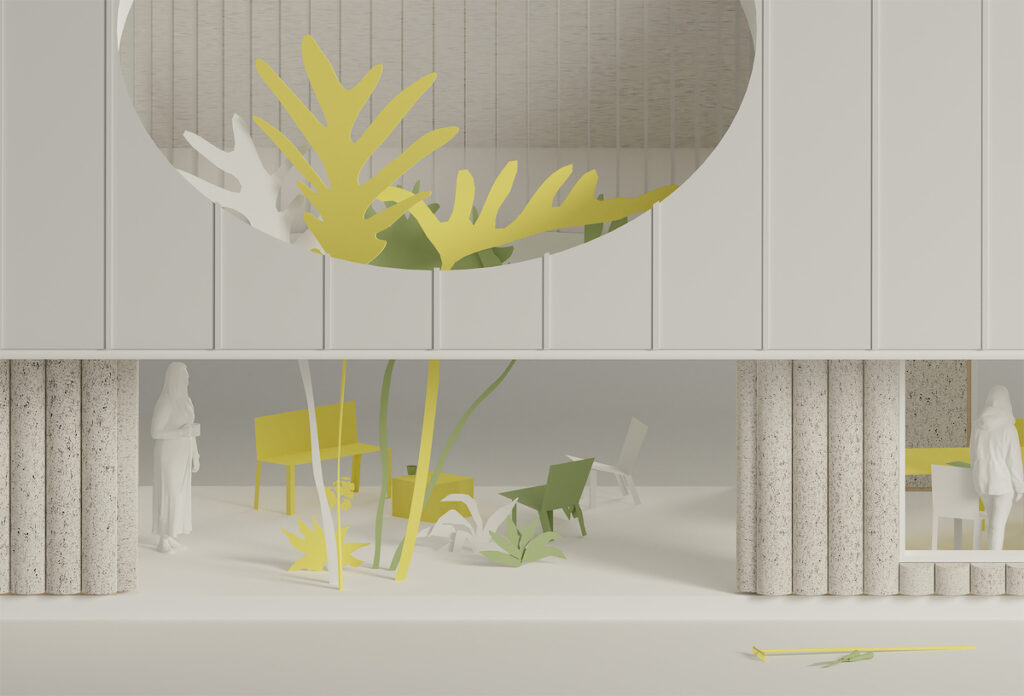 Neyran Turan, Hempo House, 2023, close-up view. Image courtesy of NEMESTUDIO.
Another Imagination, Another Practice, led by Associate Professor of Architecture Neyran Turan, also investigates low-carbon methods of housing construction. The project proposes the research and design of a code-compliant small house in California built with a panelized hempcrete assembly system. Hempcrete, a relatively new construction building material made from a hemp curd mixture, has just been approved for use in housing in the U.S. Turan's project, which will culminate in a demonstration house, aims to mainstream hempcrete, accelerating the widespread adoption of this promising carbon-negative biomaterial. The project models the integration of bio-based materials into architectural construction through partnerships with government agencies, trade associations, and local hemp farmers and processors.
Building social equity in the Salinas Valley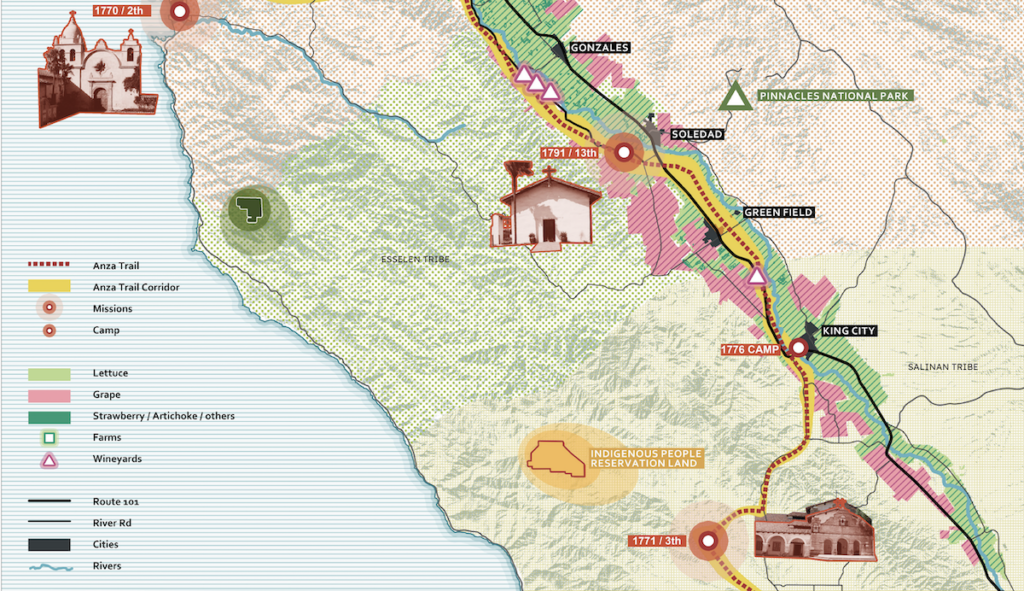 A section of the Anza Trail in the Salinas Valley.
Redesigning the Salinas River Corridor connects environmental remediation with social and economic equity in California's Salinas Valley. It builds on a proposal initiated in a fall 2022 Urban Design studio and on the community partnerships that the studio established with various stakeholders in the valley. It is led by the cross-disciplinary team of Professor of Architecture and Urban Design Margaret Crawford and Lecturer in Urban Design and Landscape Architecture & Environmental Planning Scott Elder. The project is a comprehensive agricultural and public visitor plan for the Salinas River Road that expands the riparian zone, creates a floodway park, and facilitates public river access. The design will also incorporate the Anza and Wine Trails to revive ecology, promote knowledge, and redistribute economic benefits.
Alleviating climate vulnerability in manufactured home parks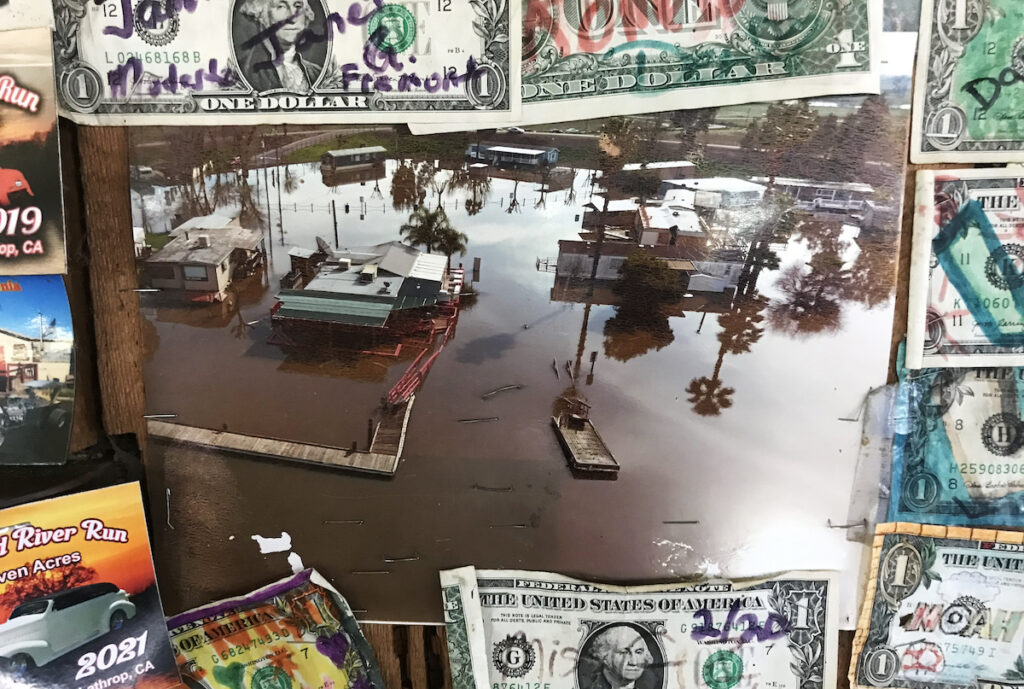 Dollar bills and photographs of past flooding events adorn the walls of a restaurant in the Sacramento-San Joaquin delta outside of Stockton.The restaurant and the surrounding manufactured home park have flooded three times since 1997, including during the winter rains of 2023. Photo: Zachary Lamb.
Zachary Lamb and Zoé Hamstead, both assistant professors in the Department of City & Regional Planning, lead a project focusing on manufactured housing in Stockton, California. Seventy-five thousand people there live in manufactured homes, one of the highest rates in the state. Using geographical information systems (GIS) and state and federal hazard assessments, they are mapping patterns of exposure to climate risks — fire and smoke, drought, heat, and flooding — in the area's manufactured housing parks. Their analysis also assesses how different ownership models shape vulnerability, responses, and adaptation to the effects of climate change. A second phase of the project focuses on the lived experiences of residents through case studies to determine the factors that can reduce climate change displacement; this phase includes surveys and participatory design workshops with residents as well as park owners. A final phase will develop policy, planning, and design recommendations to alleviate the displacement risk and climate vulnerability of residents of manufactured home parks.
Translational grant project tackles environmental justice in the Bay Area
For the translational grant, CED selected The Bay Twin: A Climate Justice "Digital Twin" for the San Francisco Bay Area. The translational grant — a two-year award designed to translate research into real-world solutions — supports a community-based project that advances environmental justice through changes in  policies and practices. 

The Bay Twin proposes to bundle live data streams, static map layers, and projective dynamic models to create a dynamic visualization, or "digital twin," of the Bay Area. It draws on the expertise of the multidisciplinary project team: Charisma Acey, Gail Brager, Luisa Caldas, Iryna Dronova, Carlos Duarte Roa, Marta Gonzalez, Zoé Hamstead, Kristina Hill, Margaretta Lin, Danielle Rivera, Daniel Rodriguez, and Kyle Steinfeld.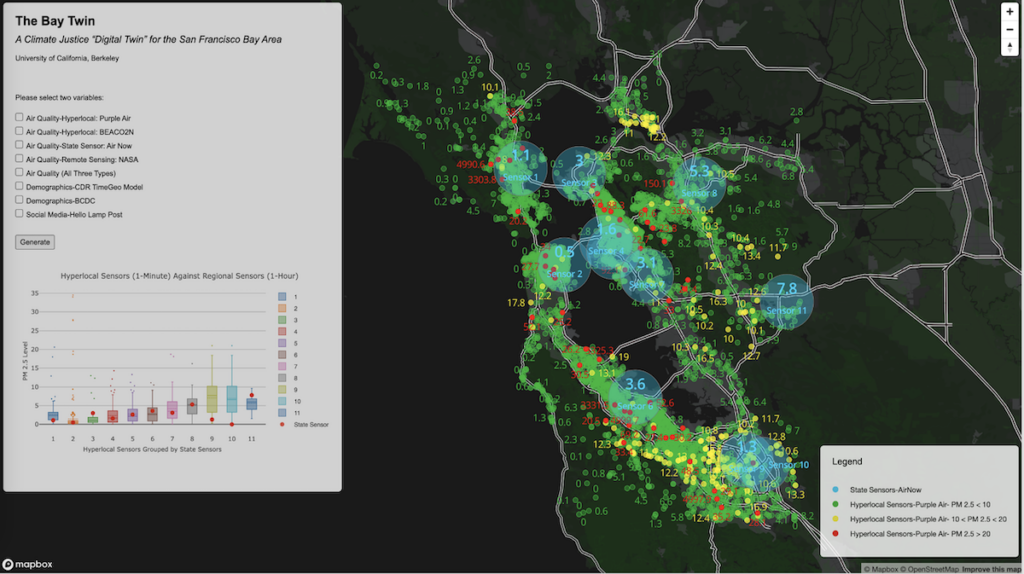 The Bay Twin allows people to compare private Purple Air numbers to state sensors that are better calibrated but are not as widely distributed, leading to new research questions.
This powerful digital tool will inform policy decisions by representing the past, present, and future interactions of people, built infrastructure, air, and water. By using machine learning to study the temporal and spatial patterns in these data, the Bay Twin will reveal the lasting impact of racial exclusion and show how new strategies for land use, traffic, and ventilation might affect people's health. Cities in Asia and Scandinavia are already implementing digital twins to pursue low carbon emissions goals and improve environmental quality.
The Bay Twin will be the first digital twin to link environmental and racial justice data. It will be codesigned with community and government partners, who will help determine which datasets to prioritize so that the site will visualize the data they need most for policy, planning, and design decisions.
In addition to providing policy-makers and community activists with visual evidence and analytics that can inform their decisions, the project website will empower the public to engage with the datasets. The project team will publicize the Bay Twin website widely through social media campaigns and QR codes placed in neighborhoods and community spaces. The website will feature live streamed visualizations to help Bay Area residents make real-time decisions about their lives, such as which playground to go to on a given Saturday for the best air quality, and will invite them to share their experiences. 
At the conclusion of the translational grant period in the spring, CED will host a series of public discussion panels and interactive projections of the Bay Twin.
"Our college has long stood as a beacon for environmental and ecological equity," says Chow. "These grants provide us with an amazing opportunity to amplify our efforts toward just climate futures."