NEWS
EDA utilizes NEH Grant to celebrate Professor Walter Hood's work
Jul 8, 2019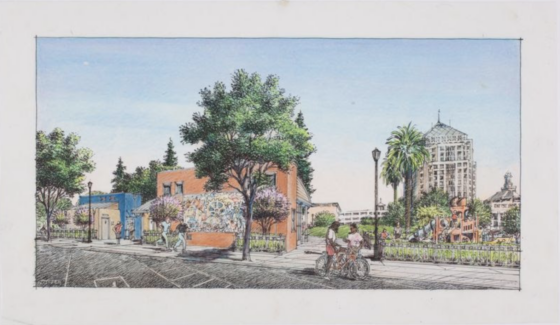 Lafayette Square Park Presentation Drawing, Oakland, CA
With a $95,000 grant from the National Endowment for the Humanities: Collections and Reference Resources Grant (NEH), the Environmental Design Archives (EDA) has gained enough funding to organize, process, and include the work of professor and former chair of Landscape Architecture, Walter Hood, in their collection.
The EDA functions as a non-profit, self-supporting research unit housing one of the largest archival repositories of its kind west of the Mississippi. The EDA collects a variety of significant first-hand artifacts, documents, and collections, like Hood's.
The EDA is making an effort to preserve Hood's work — including projects, drawings, films, portfolios, born-digital design files, models, and personal sketchbooks — to match the increasing educational interest in the impact of designers in reshaping cities, and in Hood's case, the forgotten edges of urban environments. With the endowment, Hood's born-digital records will be retrieved from obsolete, proprietary removable computer media and later made accessible for study on campus and other online databases like the EDA website. Additionally, all materials processed in this project will be available for study on-site.
Hood is Creative Director and Founder of Hood Design Studio in Oakland, CA. The studio's award winning work has been featured in publications including The Wall Street Journal, The New York Times, Architectural Digest, and Landscape Architecture Magazine. The studio practice is noted for creating sculpted expressions of familiar public elements that explore site specific social and environmental processes.
---
There are 6 days left in the EDA campaign to fund Edith Heath: Philosophies, an in-depth, richly illustrated book on Edith Heath and the history of Heath Ceramics. Nearly $30,000 has been raised so far! Donate today!
Click here for more information of the use of funds, donor gifts, and the story of Edith Heath.