NEWS
Announcing Lisa Iwamoto as the new David K. Woo Chair
Aug 19, 2022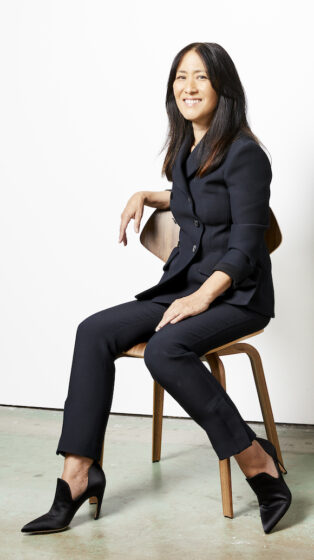 Lisa Iwamoto, Professor and Chair of the Department of Architecture, will be the next David K. Woo Chair at the College of Environmental Design. She succeeds Walter Hood, Professor of Landscape Architecture, in holding the position.
David K. Woo, a 1967 graduate of the Department of Architecture, founded the Chair to support the work of an eminent faculty member at the College of Environmental Design for five years.
Since joining the department in 2002, Professor Lisa Iwamoto has defined an avenue of design research that has evolved into her practice today. Along with pioneering material exploration and digital fabrication in architecture, her firm, IwamotoScott Architecture, is considered one of the pre-eminent architecture firms operating in this region and is nationally and internationally recognized.
Their work—including adaptive re-use tech headquarters, ground-up bio-tech buildings, institutional and cultural centers and multi-family housing—extends Iwamoto and Scott's research in bringing together humanistic concerns around tactility, social interaction and well-being with architectural interests in light, structure, material and geometry.
Professor Iwamoto's work has garnered over a hundred awards, including the Cooper Hewitt/Smithsonian National Design Award (interiors), Interior Design Magazine Hall of Fame, Design Vanguard, Architectural League's Emerging Voices, and numerous AIA awards. In 2019, Iwamoto was named Next Generation Leader in Architectural Record's Women in Architecture Awards and a Leading Woman in Architecture by California Home + Design.
She was recently profiled in The Women Who Changed Architecture, which documents the triumphs and challenges of female architects and their impact on the built environment. Iwamoto is the author of Digital Fabrications: Architectural and Material Techniques, published by Princeton Architectural Press in 2009, and held the Malo Collegium Chair in Design from 2013-2018.
Concurrent with her architectural practice, Professor Iwamoto has been an engaged teacher at both undergraduate and graduate levels. Her design studios impart students with a strong architectural foundation, artfully and meaningfully addressing societal, cultural, and environmental issues. During this time, she also taught a series of design-build digital fabrication seminars, which established and extended the dialog of economic material use through innovative structural and constructional methods.
"Architecture and its allied fields are the only disciplines and professions that are tasked to synthesize critical yet often competing concerns of society, culture and climate in a way that equitably and aesthetically shape the built environment," said Iwamoto upon her selection to lead the department.
"Berkeley has long been recognized as a center of excellence in the areas of social historiography and sustainability. The time is right for Berkeley to leverage its strong foundations and be at the forefront of design that is both beautiful and meaningful in our contemporary context."
As Woo Chair, Professor Iwamoto will help lead the school and CED in establishing design excellence for the 21st century.