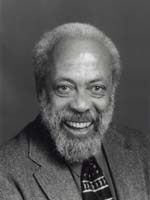 William Ellis
Professor Emeritus of Architecture
BIOGRAPHY
William Ellis joined the UC Berkeley Department of Architecture in 1970 where he taught, researched and innovated in the intersection of sociology and architecture. He became a strong voice at the university in support of diversity.
He was raised in Los Angeles, graduating from Compton High School and earning his B.A. at UCLA. While at Berkeley, Ellis served as Vice Chancellor of Undergraduate Affairs and Faculty Equity Association. He was also director of the Institute for the Study of Social Change, a research center dedicated to understanding the processes of social change and contributing to the transformation of conditions of inequality.
In 2003, Ellis participated in a series of interviews conducted by the Regional Oral History Office to document the experiences of African American faculty and senior staff at UC Berkeley as part of the broader history of the University of California and its commitment to access and diversity.