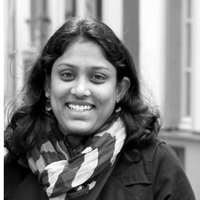 Swetha Vihayakumar
Ph.D. Student - Architecture
Email
swethakumar@berkeley.edu
Research Interests/Specializations
Architectural history and historiography, Postcolonial theories in architecture and urbanism, Subaltern architecture, Politics of memory in urban enviroments, Patronage and production of contemporary Hindu sites, Colonial historiographies of Hindu temples, Anthropology of urban tourism, Religious nationalism and emergence of modern religious movements in 20th and 21st century India.
Degrees
MS Architecture in Environmental Design, UC Berkeley
B Arch, RV College of Engineering, Bangalore, India
Biography
I am a fifth-year doctoral candidate in the Architectural History and Theory program, specializing in the socio-political histories of 20th and 21st century religious architecture. My dissertation "Emerging Modernities:New Landscapes of Religion and Spectacles of Ritual in Postcolonial India" is a historical analysis of postcolonial temple building. It examines the role of architecture, especially religious architecture, in constructing new narratives of identity and nationalism. My Master thesis in Environmental Design examined how globalization and socio-cultural practices of the West is impacting contemporary Indian religious architecture.
I cuurently study modern religious theme parks and everyday places of urban sacrality in India. I am interested in how ideas of power and nationalism manifest in urban religious environments, what ethical questions and conundrums besiege it, and who are the actors facilitating it. I draw from my interdisciplinary training in the departments of Architecture, City Planning, Anthropology, and South Asian studies.
Courses Taught
Acting Instructor:
CY PLAN 375: Graduate Seminar on Methods of Teaching
Graduate Student Instructor:
Arch 170a: A Historical Survey of Architecture and Urbanism (From Pre-History to Renaissance)
Arch 170b: A Historical Survey of Architecture and Urbansim (From 1400 to Present)
Awards Recognition
John L. Simpson Memorial Research Fellowship in International and Comparative Studies, AY 2016-17
Draper Research Fellow, Joan. E. Draper Architectural History Research Endowment, Fall 2016
Assistant Director, Berkeley Connect (Architecture), Fall 2016
Outstanding Graduate Student Instructor Award, UC Berkeley, Fall 2015
Spiro Kostof Fellowship for Architectural History, UC Berkeley, Sp 2015
Co-Chair of Tourism Studies Working Group, UC Berkeley, Fall 2014- present
UC Berkeley Doctoral Fellowship, 2012-13
College of Environmental Design, UC Berkeley, Department of Architecture Block Grants, 2014-2016
Nominated for Charles Correa Gold Medal Award for Urban Design, 2009
Selected Publications
The Sacred and the Sensual: Experiencing Erotica in Temples of Khajuraho
Swetha Vijayakumar, « The Sacred and the Sensual », Via [Online], 11-12 | 2017, URL : https://journals.openedition.org/viatourism/1792?lang=en
"Making of a Hindu-National Temple: Swaminarayan Akshardham" in Contemporary Geographies of Leisure, Tourism and Mobility, Routledge, Series editor C. Michael Hall. (Forthcoming)