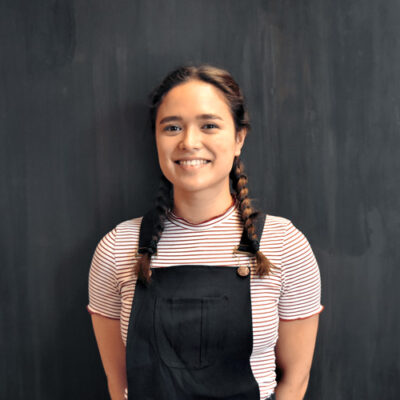 Serena Lousich
Abbey MRED+D Student, Class of 2023
EDUCATION
Victoria University of Wellington, Bachelor of Architectural Studies in Landscape Architecture; University of California, Berkeley, Master of Landscape Architecture
Hometown
Hong Kong and Te Whanaganui-a-Tara (Wellington, New Zealand)
Role Before MRED+D
Senior Designer, Surfacedesign Inc.
Bio
Serena is of Ngāti Waewae Māori, Filipino and New Zealand European descent. She strongly navigates her professional and personal world through her heritage.
Prior to the MRED+D program, Serena completed a B.Arch Studies at Victoria University of Wellington in New Zealand and an MLA at UC Berkeley. For the last four years, she has been working as a Senior Designer at San Francisco-based landscape firm Surfacedesign Inc. working on a range of project scales from residential to airports in the Bay Area and abroad in her home country of Aotearoa (New Zealand). These experiences have given Serena a core base of interdisciplinary work, management of construction, and design workflow and processes. Working in the design professional field has made her aware of the great influence and importance of work with a conscious and open-minded real estate industry for the betterment of shaping our built world and its communities.
During the MLA program at Berkeley, Serena completed a design thesis focusing on the bi-cultural design dichotomy between insider and outsider at the sacred land of Tuluwat Island, Wiyot tribal land, engaging with tribal relations to create an all-encompassing design that celebrated the environmental, cultural, historical and sacred importance of the island and its tangata whenua (people of the land) and allowing outsiders to interact in an intentional manner. Her thesis sought to put indigenous design principles, storytelling, and influence at the forefront.
Serena hopes that the MRED+D can not only equip her with the relevant skills needed to work in the field, but also to provide an avenue to further explore her passion in indigenizing the design realm, and subsequently opportunities in how to indigenize the real estate industry and its processes.
Serena is an avid adventurer, landscape/drone photographer and field hockey player.