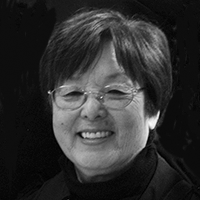 Sara Ishikawa
Professor Emerita of Architecture
BIOGRAPHY
Professor Ishikawa is an architect specializing in people-space relationships at urban, as well as smaller, scales, with a particular interest in affordable and low income housing and community facilities. She is co-author of A Pattern Language and The Oregon Experiment.
Since 1990, Professor Ishikawa has worked on a number of community housing projects in San Francisco and the East Bay. In 1978, she co-founded and was a principal of Community Design Collaborative in Oakland. Prior to this, Professor Ishikawa co-founded and was Vice President of the Center for Environmental Structure in Berkeley.
She has served as Assistant Planner for the Oakland City Planning Department and Program Developer for the Western Addition and Chinatown anti-poverty program in San Francisco. From 1960 to 1994, Professor Ishikawa taught design, housing design, community design, social and cultural factors in design, and the pattern language at Berkeley, where she also served as Associate Dean.
Professor Ishikawa has also taught at other academic institutions in the United States and abroad. She holds a Bachelor of Architecture degree from Berkeley.