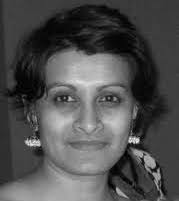 Sai Balakrishnan
Associate Professor of City & Regional Planning
Email
sbalakrishnan@berkeley.edu
SPECIALIZATIONS
New Spatial Forms of Urbanization, Land-use changes
BIOGRAPHY
Sai Balakrishnan is an Assistant Professor of City and Regional Planning, in a joint appointment with DCRP and GMS (Global Metropolitan Studies). Her research and teaching broadly pivot around global urban inequalities, with a particular focus on urbanization and planning institutions in the global south, and on the spatial politics of land-use and property. She has worked as an urban planner in the United States, India, and the United Arab Emirates, and as a consultant to the UN-HABITAT, Nairobi. Her work has been published in the International Journal of Urban and Regional Research, Urban Studies, Pacific Affairs, Economic and Political Weekly, and in edited book chapters. Her research has been quoted in media outlets, including The Guardian and Open Magazine.
Balakrishnan's recent book, Shareholder Cities: Land Transformations along Urban Corridors in India (University of Pennsylvania Press, 2019) explores new spatial forms of urbanization by focusing on land contestations along infrastructural / economic corridors in liberalizing India. The book explores the production of private mega-enclaves amidst agricultural fields along these corridors. These corridor urbanizations defy our familiar binaries of city and village and our inherited disciplinary silos of agrarian and urban studies. Instead, the book shows how current urban development accretes onto older histories of agrarian capitalism, thus constituting processes of what Balakrishnan calls "recombinant urbanization."
Balakrishnan is now focused on two current research works. The first is comparative research on the transfer of development rights (TDRs), a new land (and air) commodification instrument, in Mumbai and Sao Paulo. The TDR program is a fundamental reconceptualization of landed property. The TDR program involves delinking development rights, or air rights, from a specific plot of land, and moving these air rights across space, so they can be stacked onto another plot of land. This research is interested in some key questions. First, how the mundane land-use instrument of TDR opens up fundamental questions on "what is land?" What do we mean by land-use planning, when what is being planned is not terra firma, but delinked air rights. Second, what kinds of windows do these TDR programs open up into the wider processes of fiscal austerity, public services, and land commodification? Third, what are the new geographies of inequalities in these vertical cities?
The second research, in collaboration with Arindam Dutta (MIT), focuses on India's new economic corridors, namely the Delhi-Mumbai Industrial Corridor and the Indo-Gangetic Eastern Dedicated Freight Corridor, to understand the geographies of uneven development in postliberalization India. One of the key aims of the research is to unpack the seemingly "technical" understanding of infrastructure, and instead to reveal its role as a political and socializing instrument through which "the state" is captured by caste constituents. The research historicizes contemporary infrastructure corridors within longer path legacies that trace back to colonial-era irrigation canals, and is keen on analyzing how caste and capitalism co-constitute each other in India.
COURSES TAUGHT
CYPLAN 115: Urbanization in Developing Countries (Fall 2020)
AWARDS & RECOGNITION
William Holland Prize for outstanding article published in Pacific Affairs in 2013
2014 ACSP (Association of Collegiate Schools of Planning) Gill Chin Lim Award for Best Dissertation on International Planning
Outstanding Master of City Planning Thesis, MIT, June 2008
Publications
Books
Balakrishnan, S., Shareholder Cities: Land Transformations Along Urban Corridors in India (Philadelphia: University of Pennsylvania Press, 2019).
Refereed articles
Balakrishnan, S. "Recombinant Urbanization: Agrarian-urban Landed Property and Uneven Development in India," International Journal for Urban and Regional Research, vol. 43 no. 4 (2019): 617-632.
Balakrishnan, S. "Seeing Mumbai through its Hinterland: Entangled Agrarian-Urban Land Markets in Regional Mumbai," Economic and Political Weekly, April 2018.
Balakrishnan, S. "Highway Urbanization and Land Conflicts: The Challenges to Decentralization in India," Special Issue on "Decentralization and Urban Transformation in Asia," Pacific Affairs, vol. 86 no.4 (2013): 785-811.
Book Chapters
Balakrishnan, S. "Narratives of Waste Land: Politics of Land Commodification and Decommodification in Liberalizing India," in Asher Ghertner and Robert Lake (eds), Land Fictions, Ithaca: Cornell University Press (Forthcoming).
Balakrishnan, S. "New Towns in India." In Ann Forsyth and Rick Pieser (eds) New Towns, University of Pennsylvania Press (Forthcoming).
Balakrishnan, S. "Land-based Financing for Infrastructure: What is New About India's Land Conflicts?" In R.Nagaraj and Sripad Motiram (eds) Political Economy of Contemporary India, Delhi: Cambridge University Press (2017).
Balakrishnan, S. "Peri-Urban Land Markets in Bangalore: New Conditions of Informality and a New Politics of Inclusion." In Eugenie Birch, Shahana Chattaraj and Susan Wachter (Eds) Informal Real Estate Markets, University of Pennsylvania Press (2017).
Media articles
Balakrishnan, S. "India's brutally uneven development patterns are mapped in routes migrant workers are taking home," Scroll.in (2020)
Book (2019)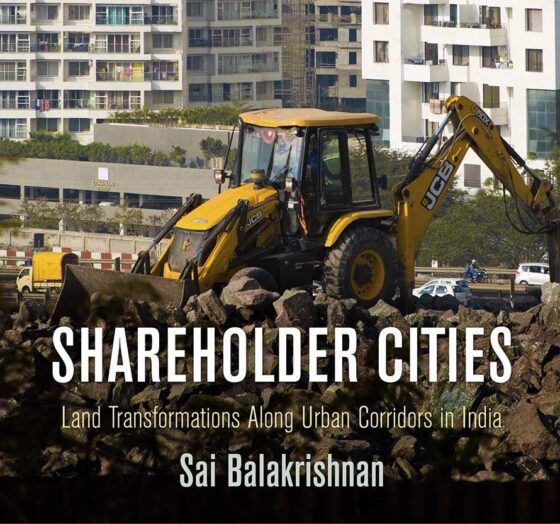 In Shareholder Cities, Sai Balakrishnan argues that some of India's most decisive conflicts over its urban future will unfold in the regions along the new economic corridors where electorally strong agrarian propertied classes directly encounter financially powerful incoming urban firms.
Balakrishnan focuses on the first economic corridor, the Mumbai-Pune Expressway, and the construction of three new cities along it. The book derives its title from a current mode of resolving agrarian-urban conflicts in which agrarian landowners are being transformed into shareholders in the corridor cities, and the distributional implications of these new land transformations.