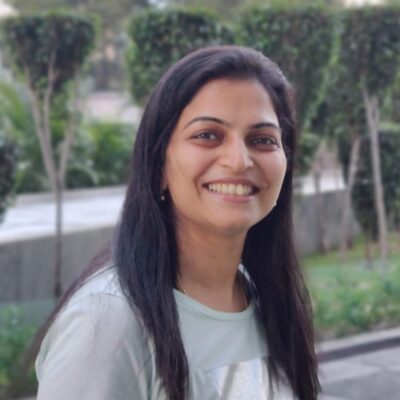 Ruchi Bindal
Abbey MRED+D Student, Class of 2023
EDUCATION
Delhi University, Bachelor of Commerce; Wigan & Leigh College UK, MBA in Finance
Role Before MRED+D
Director of Operations and Business Development, Pacific Point Group
Bio
Ruchi joins UC Berkeley's MRED+D with more than 12 years of entrepreneurial experience as a real estate professional. She has developed businesses both in India and in the US. Ruchi's finance and economics background helps her to have a pragmatic approach toward the costs and efforts associated with the development and design of real estate.
Most recently, she joined a business venture in the San Francisco Bay Area focusing on residential real estate. She led the market analysis, developed business strategy, built up a diverse team, and spearheaded training & development. She got acquainted with the transparent processes for risk absorption through escrow services, inspection agencies, and disclosures of critical information.
Prior to this, Ruchi played a vital role in sourcing timber products into India from Malaysia, the Middle East and Africa. Her most notable success was in sourcing a low-cost, innovative design finger joint board from Malaysia, which was approved and installed in a sports stadium shooting range.
Early in her career, she also worked with CMIE (Centre for Monitoring Indian Economy), where she oversaw, business development, research and training with clients of the Indian government's thinktank organizations and private sector companies.
Through the MRED+D program, Ruchi aspires to solve a multitude of issues, such as fringe settlements, sustainable infill designs, and addressing concerns on climate change. As the world is urbanizing at a fast pace, she intends to prepare herself to build efficient, livable, equitable, and prosperous cities by engaging with one of the most diverse, creative, and brightest cohorts at Berkeley.
Ruchi is a yoga enthusiast, and a certified Yoga Instructor (500 RYT). She also has augmented her culinary skills as she traveled and lived across different parts of the world. In her free time, she enjoys reading and spending time with family and friends.