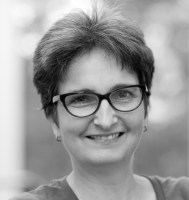 Michaela Ballek
Director of Summer Programs
Address
212 BAUER WURSTER HALL
Address
212 BAUER WURSTER HALL
SPECIALIZATIONS
Managing the Summer Programs for College: embARC Summer Design Academy for high school students, Disc* (Design & Innovation for Sustainable Cities) for current college students and the Summer [IN]STITUTE in Environmental Design for individuals who are interested to enroll into a master's degree.
BIOGRAPHY
Michaela's background is program management and she is passionate about education, sustainability and communication. After her MBA from Berkeley Haas, she worked in management consulting for many years. She is fascinated by architecture and design and joined the CED at the beginning of 2022 and is excited to be back at UC Berkeley.
In her spare time, she enjoys hiking the beautiful Bay Area and beyond, gardening, cooking, Zumba and ballroom dancing (pre-pandemic). She lives in Berkeley with her husband and her dog, with occasional visits from her college kids.