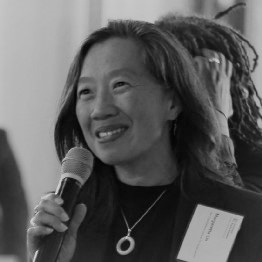 Margaretta Lin
IURD Principal Investigator; Lecturer in City & Regional Planning
SPECIALIZATIONS
Planning and policy justice utilizing principles of restorative and transformative justice
EDUCATION
J.D. UC Berkeley Law
Master in Asian Studies, UC Berkeley
B.A. University of Virginia
BIOGRAPHY
Margaretta received her JD from Berkeley Law and Masters in Asian Studies from UC Berkeley.  She is a Lecturer in City and Regional Planning and Future Histories Lab.  Margaretta is also the founding director of Just Cities, a leading racial justice planning and policy organization.  Just Cities recently designed and organized the passage of the nation's north star fair chance housing policies, removing structural discrimination and recognizing the humanity of people harmed by mass incarceration and racism.  Informed by family experiences of war and brutal occupation in her home country and personal experiences of racism and hate crimes in her adopted country of the United States, Margaretta has served as a lifelong healer of injustice and leader in racial and social justice movements.
Margaretta designs and teaches new courses on the art and practice of restorative and transformative justice in planning, policy, law, and the humanities.  She and Professor Charisma Acey are making justice jazz together piloting a new Transformative Justice Studio, CYPlan 291.  Margaretta also teaches planning justice praxis for Urban Studies students.  She has taught Economic Justice and a legal clinic, Mindfulness in Law, and piloted a public policy clinic.
Margaretta inherited the art of transforming crises into opportunities for justice and spirit from the women in her family who sustained the bodies, minds, and hearts of their families and communities during times of deprivation and oppression.  As the Founding Director of the Dellums Institute for Social Justice, Margaretta organized Bay Area leaders in government, tech, faith, grassroots community organizing to address the growing crisis of racial displacement, creating new policies and unprecedented funds for anti-displacement safety nets.  She co-incubated the Black Cultural Zone Collaborative with EastSide Arts Alliance to support Black leadership and power to prevent further displacement and reclaim land, space, and culture.
In senior roles for the City of Oakland during the Great Recession, Margaretta organized local/state/federal government agencies, labor, business, faith, community leaders to unify around solutions to pressing city crises from budget deficits, unemployment, escalating violence, blight and foreclosure, displacement and homelessness, labor strikes, and the killing of Oscar Grant.  These efforts resulted in Oakland securing unprecedented new federal and state resources for community priorities, local innovations in land, housing and community development policies, and new planning initiatives that prioritized East Oakland neighborhoods historically marginalized by city government.  She has also been the architect of community institutions formed in response to the racial injustice crisis of the day including East Bay Community Law Center's Community Economic Justice clinic, Youth Together, Youth Uprising, and the Skyline High One Land, One People Center.
Margaretta's applied research and public policy design areas include the intersections of mass incarceration and racialized displacement and homelessness; human empowerment as an anti-recidivism strategy; people, land, and space planning and policy solutions to historic injustices; Asian American and Black multiracial solidarity; and ethical and courageous leadership development of future planning and policy leaders.
COURSES TAUGHT
CYPLAN 291, Transformative Justice Studio
CYPLAN 190, Urban Studies Seminar in Restorative Justice in Planning