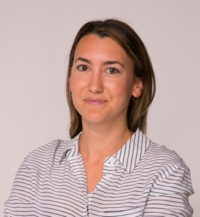 Julia Weis
Abbey MRED+D Student, Class of 2023
EDUCATION
Hamilton College, B.A. in Comparative Literature and Hispanic Studies
Role Before MRED+D
Director of Strategy, Outcast
Bio
Julia earned her bachelor's degree at Hamilton College. Following graduation, she started her career at direct-to-consumer clothing startup American Giant, working in a variety of roles to help build the company from the ground up. After nearly five years there, she joined Outcast, an integrated marketing agency based in San Francisco, where her focus has been on creating and driving brand strategies for tech and VC clients. Her sweet spot is connecting the dots between human behavior, data, culture and design to uncover and articulate what makes a brand or business work.
Julia has always had a personal connection to real estate, having grown up in a family of developers (primarily in multifamily housing). She has a passion for architecture and design, and is hoping to professionalize her personal background in development through the MRED+D program. She is interested, specifically, in learning about development as a tool to build a more economically, environmentally and socially sustainable future.
You can find her reading, cooking, skiing, surfing or hiking in her free time.