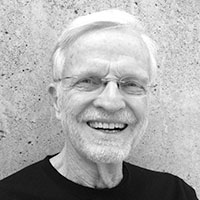 Gary Brown
Professor Emeritus of Architecture
Email
grbrown@berkeley.edu
BIOGRAPHY
Gary Brown received a Bachelor of Architecture degree from Rensselaer Polytechnic Institute in 1956 and a Master of Architecture in Urban Design from Harvard University in 1962. In between, he studied in Italy on a Fulbright scholarship and worked in the office of Eero Saarinen and Associates. He moved to the West Coast in 1964 and began teaching at Berkeley the following year, first as a lecturer and, starting in 1967, as a regular faculty member, teaching undergraduate and introductory graduate design studios.
He was Chair of the Department of Architecture from 1989 to 1992 and served as Associate Dean for Faculty Affairs for the College. His firm, Brown McCurdy Nerrie, won a 1969 PA Design Award for its Keller house at Lake Tahoe and a 1970 American Institute of Steel Construction Architectural Award of Excellence for its GRT office building in Sunnyvale, California. He retired from the department in 1994.
He is a member of the Board of the Drawing Dreams Foundation.