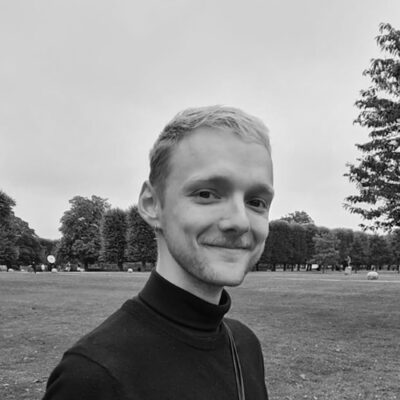 Frederik Braüner
Ph.D. Student - Architecture
Email
frederik.brauner@berkeley.edu
BIOGRAPHY
Frederik Braüner is a Ph.D. student in Architecture with a Designated Emphasis in European Studies. His research focuses on the history and theory of modern welfare state architecture in the Nordics and the Arctic. In his ongoing Ph.D. research, he is investigating the architecture from the decades of Welfare Colonialism in the Arctic, looking into the social, cultural, and economic factors that influenced the immense waves of urban development and modernization that took place in the post-war decades. In his previous research, he has investigated democratic decision-making policies in contemporary Danish housing developments, gender relations in modernist Scandinavian welfare state housing projects, and postcolonial relations between the Scandinavian countries and the former Scandinavian colonies.
Frederik holds a B.A. in Art history from Copenhagen University and a M.A. in Architecture from the Royal Danish Academy. His thesis project 'An Intersectional Architecture' won the Danish Commonwealth Thesis Award, 2021. As a licensed architect in Denmark, he has worked in architectural practice, building restoration, and as an Assistant Editor for the Danish Architecture Journal Arkitekten.
Research Interests/Specializations
Welfare state architecture; Scandinavian colonialism; 20th century urban developments; public housing and institutions; transformation and restoration; art history and visual culture; material culture; gender studies and queer theory; postcolonialism; European and Nordic Studies
Degrees
M.A. in Political Architecture: Critical Sustainability, The Royal Danish Academy
B.A. in Art History, Copenhagen University
B.A. in Architecture and Culture, The Royal Danish Academy
Courses Taught
En:En, 4th semester studio (fall, 2016) – instructor, The Royal Danish Academy.
En:En, 2nd semester studio (spring, 2016) – instructor, The Royal Danish Academy.
En:En, 1st semester studio (fall, 2015) – instructor, The Royal Danish Academy.
Awards + Recognition
2022 ISS Pre-Dissertation Fieldwork Fellowship
2022 Helmut Kohl Award in German and European Studies
2021-2022 Augustinus Fonden, Scholarship
2021 Danish Commonwealth Thesis Award, 1st prize in Denmark
2021 Knud Højgaards Fond, Scholarship
2021 Arcus Futures Award, UC Berkeley
2020-2021 Peter og Emma Thomsens Legat, Scholarship
Selected Publications
"An Intersectional Architecture" in Architecture and Culture, vol. 10, no. 01 (Apr. 2022). p. 1-3
"Gordisk Byknude" in Arkitekten: Biennale, vol. 123, no. 09 (Nov. 2021). p. 11-12
"Det Andet-Verdslige og Det Underjordiske" in Arkitekten: Hjørnehuse, vol. 123, no. 05 (Jun. 2021). p. 82-90
"Feministiske Perspektiver på København" in Landskab (Mar. 2021). p. 60-67
"Kunsttransplantation" in Arkitekten: Restaurering 2, vol. 122, 07 (Sept. 2020). p. 6-9
"Gender in Urban Space" in KÅRK: GENDER (Mar. 2020). p. 102-111
"Creating Public Spaces" in Here: Finder Sted/Taking Place, edited by Anne Romme, Camilla Hornemann, and Anne Pind, p. 142. Copenhagen: The Royal Danish Academy (2017)