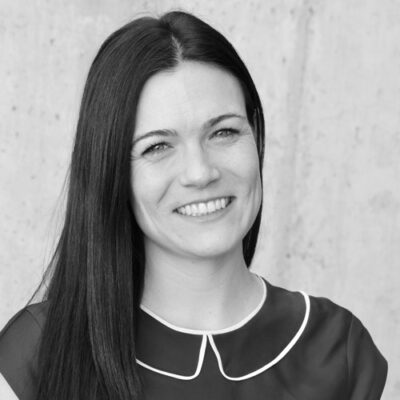 Elizabeth Bowler
Director of Strategic Initiatives
Address
403 Bauer Wurster Hall
Address
403 Bauer Wurster Hall
Email
ebowler@berkeley.edu
SPECIALIZATIONS
Manages the Arcus Social Justice Corps, the development and implementation of the college's strategic initiatives, and develops new/revised administrative procedures and governance structures.
BIOGRAPHY
Elizabeth manages the Arcus Social Justice Corps, a fellowship program that provides graduate students who are committed to working in social impact careers with financial relief, community building, and mentorship during their time in school so that they are well supported and equipped to pursue this work when they graduate. Elizabeth launched this program in 2020 in partnership with UDAR and CED's development team and now runs it with faculty director Dr. Karen Trapenberg Frick. She is also responsible for the development and implementation of the college's strategic initiatives, and she has worked to develop new and revised administrative procedures and governance structures at CED.
Prior to joining CED, Elizabeth was the Northeast program manager for the National Parks Conservation Association (NPCA), responsible for political advocacy to protect and preserve national parks and monuments throughout the Northeast region. In 2016, her New York City–based team successfully lobbied the Obama Administration to induct the Stonewall Inn into the National Park Service as a National Monument, to tell a more accurate and inclusive version of American history that honors and includes LGBTQ+ history.
While in New York, Elizabeth also project managed a green roof installation for the New York City Parks Department, funded by NFWF and the New York State Attorney General's Office, to measure stormwater absorption rates and inhibit runoff from flowing into the adjacent Bronx River. Before that, she was a crew leader for the GreenApple Corps, a "green jobs training program" that offered job readiness training and technical skill-building to young adults interested in environmental careers. Elizabeth is also an alum of AmeriCorps in her hometown of Oakland, where she developed an East Oakland edible school garden program.
Outside her work at Berkeley, Elizabeth is the founder of a workforce development program in Oakland called Hort | Culture, for which she won a 2023 UC Berkeley Chancellor's Award for Public Service. This is an official partnership program of Covenant House California (a national nonprofit that provides sanctuary and support for youth overcoming homelessness and trafficking) offering these young people paid opportunities to run Bay Area pop-up shops that promote creativity, wellness, and job readiness.
Elizabeth has a bachelor's degree in landscape architecture from UC Davis and a master's in urban environmental systems management from Pratt Institute.