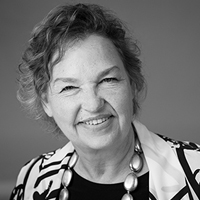 Dana Buntrock
Professor Emerita of Architecture
Address
348 Wurster Hall #1800
Office Hours
By appointment.
Address
348 Wurster Hall #1800
Office Hours
By appointment.
EDUCATION
M.Arch., High Distinction, University of Michigan, Ann Arbor
B.Arch., Tulane University
BIOGRAPHY
Dana Buntrock is a Professor Emerita in the University's Department of Architecture.
Her work focuses on interdisciplinary collaborations in Japanese architecture and construction practices, starting with her first book, Japanese Architecture as a Collaborative Process: Opportunities in a Flexible Construction Culture (London: Spon, 2000). It dealt with the radical changes that occurred in structural design and their exciting architectural outcomes following the 1995 Hanshin (Kobe) earthquake. She has conducted fieldwork in Japan, the US, Taiwan, and Korea, supported by fellowships from the US National Science Foundation, the Japan Society for the Promotion of Science, the Council for the International Exchange of Scholars, and the Social Science Research Council.
Among her professional activities, she has been a visiting scholar at the University of Tokyo and at Tokyo Institute of Technology, and was the Frederick Lindley Morgan Chair of Architectural Design at the University of Louisville.
Starting in 2011, Prof. Buntrock focused on how energy supply and architecture create opportunities for new approaches to architecture in Japan. She has spoken on energy policy and building science to numerous universities and private organizations, including the US National Defense University, the University of Tokyo, the Architectural Institute of Japan, Tokyo Denki University and others. Over the years, she has also made presentations at the Japan Society (New York), the Foreign Correspondents' Club (Tokyo), Architects Designers and Planners for Social Responsibility, the Chicago Architectural Club, Seoul National University, National Cheng Kung University and numerous other universities and international conferences.
The author of three books and dozens of articles in professional and academic journals, Buntrock's work has been translated into Japanese, Korean, Chinese and Spanish. She is currently drafting a new construction textbook written for architects---likely to be an insanely long effort simply because of the scope of the topic.
COURSES TAUGHT
ARCH 160/260 Introduction to Construction
ARCH 264 Off-Site Fabrication
ARCH 265 Japanese Craft & Construction
ARCH 269 Special Topics Related to Construction
AWARDS & RECOGNITION
Distinguished Professor, Association of Collegiate Schools of Architecture (2017-8)
Work