NEWS
We (see)saw(ed), we came, we conquered: CED's Ronald Rael bridges the border
Aug 2, 2019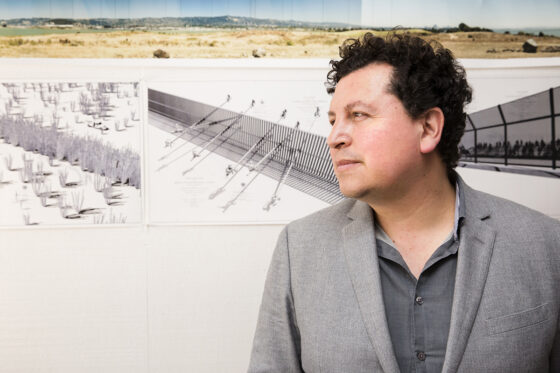 On a recent warm day in late July, Ronald Rael and Virginia San Fratello, co-partners in the creative practice Rael San Fratello, bridged the border between the U.S. and Mexico as three bright pink teetertotters were slid through steel slats in Sunland Park, New Mexico to waiting individuals in Colonia Anapra, a community in Ciudad Juarez, Mexico where the equipment was fabricated.
"One of the most incredible experiences of my and [Virginia San Fraetllo's] career was bringing to life the conceptual drawings of the Teetertotter Wall from 2009 in an event filled with joy, excitement, and togetherness at the border wall," Rael wrote in his Instagram feed. The Museum of Modern Art in New York and San Francisco both hold the original drawings and models that inspired Rael's now-famous creation.
Rael, professor and acting chair of architecture at CED, is the author of Borderwall as Architecture: A Manifesto for the U.S.-Mexico Boundary which envisions potential transformations of the borderwall between the U.S. and Mexico. Rael gave a TED talk last February on his architectural reimagination of the border. The book serves as "a timely re-examination of what the 650 miles of physical barrier that divides the United States of America from the United Mexican States is, and could be."
The "Teetertotter Wall" has surfaced across hundreds of social media pages and news feeds such as The New York Times, Rolling Stone, and CNN. Posts on Rael's Instagram included videos with overhead views of the installation straddling the divide and photos of kids and adults enjoying the teetertotters and connecting despite the wall that separated them.