NEWS
UC Berkeley unveils first-of-its-kind, architectural-scale, 3-D-printed cement structure
Mar 3, 2015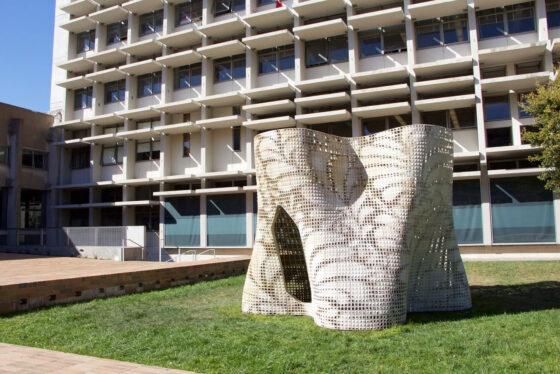 By Mary Cocoma | College of Environmental Design
From the UC Berkeley News Center
BERKELEY — A University of California, Berkeley, research team led by Ronald Rael, an associate professor of architecture, will unveil today (Friday, March 6) the first and largest powder-based 3-D-printed cement structure built to date. The debut of this groundbreaking project is a demonstration of the architectural potential of 3-D printing. It will close the fifth annual Berkeley Circus, which celebrates the research and accomplishments of the College of Environmental Design (CED) community.
The freestanding pavilion, "Bloom," is 9 feet high and has a footprint that measures approximately 12 feet by 12 feet. It is composed of 840 customized blocks that were 3-D-printed using a new type of iron oxide-free Portland cement polymer formulation developed by Rael.
Bloom is a precise 3-D-printed cement polymer structure that overcomes many of the previous limitations of 3-D-printed architecture. Such limitations include the speed and cost of production as well as aesthetic and practical applications.
Rael designed and led the yearlong research project with funding and collaborative support from the Siam Research and Innovation Co. Ltd. (SRI), the research and development division of Siam Cement Group (SCG). SCG, the largest cement company in Thailand, provided the Portland cement.
Additional support and materials were provided by Emerging Objects, a startup company co-founded by Rael and Virginia San Fratello, and Entropy Resins.
Rael's team consists of four CED graduate students: Kent Wilson, Alex Schofield, Sofia Anastassiou and Yina Dong
Fabricated using 11 printers made by 3D Systems and located in the College of Environmental Design printFARM (print Facility for Architecture, Research, and Materials), and at Emerging Objects, each enumerated brick is unique, with a variegated pattern that allows for varying amounts of light to pass through. Assembled, the bricks create an overall decorative pattern reminiscent of traditional Thai floral motifs along the structure's undulating wall.
"While there are a handful of people currently experimenting with printing 3-D architecture, only a few are looking at 3-D printing with cement-based materials, and all are extruding wet cement through a nozzle to produce rough panels," Rael said. "We are mixing polymers with cement and fibers to produce very strong, lightweight, high-resolution parts on readily available equipment; It's a very precise, yet frugal technique. This project is the genesis of a realistic, marketable process with the potential to transform the way we think about building a structure."
After its debut on March 6, the architecture will be disassembled and shipped to SRI in Thailand, where it will be exhibited and remain on display for several months before traveling to various locations around the world.
"Our goal at SRI has always been to help advance cement-technology innovation," said SRI managing director Sanit Kessuwan. "Our collaboration with Ronald Rael and the College of Environmental Design at UC Berkeley has allowed us the rare opportunity to work with one of the premier environmental design centers in the world to help them innovate our materials to create a new paradigm in building."