NEWS
Spanish architect Carme Pinós awarded 2016 Berkeley-Rupp Prize
Sep 11, 2016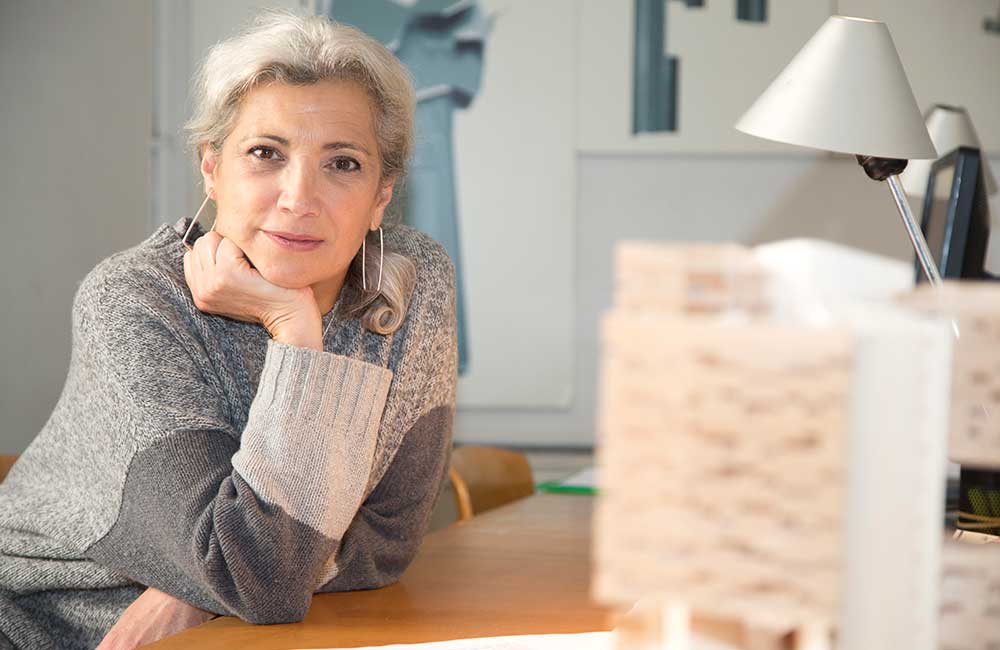 BERKELEY — Carme Pinós, an award-winning architect and educator, is the 2016 recipient of the Berkeley-Rupp Architecture Professorship and Prize, the University of California, Berkeley's College of Environmental Design (CED) announced today.
Acknowledged as one of the world's leading architects, Carme Pinós' is known for designs ranging from cultural centers, educational institutions and public housing to office towers, urban landscapes and furniture design.
Pinós leads the architectural firm Estudio Carme Pinós in Barcelona, Spain, having founded it in 1991 after earning international recognition for her work with Enric Miralles. Her designs have been exhibited around the world and models of her buildings reside in the collections of both the Centre Pompidou museum in Paris and New York's Musem of Modern Art (MOMA).
The biannual Berkeley-Rupp Prize awards $100,000 to a distinguished design practitioner or academic who has made a significant contribution to advancing gender equity in architecture, and whose work emphasizes a commitment to sustainability and community. The prize includes a semester-long professorship, public lecture and gallery exhibition at CED.
"It is with great pleasure that we award the Berkeley-Rupp Prize to Carme Pinós. Her outstanding design, vibrant intellectualism, dedication to public architecture and landscape in the public realm, and support of women-led economic development embody all that we strive to cultivate with this prize," said CED Dean Jennifer Wolch. 
Pinós will begin her residence at the CED in spring 2018.
Her research plan includes investigating a new architectural intervention in Burkina Faso, which will be the basis for a semester-long graduate studio. The studio will develop ways to implement the design and research work currently led by architect Albert Faus and supported by the Ministèrie de L'Habitat et de l'Urbanisme du Burkina Faso, which looks at the potential for new low-cost, sustainable thermal insulation derived from peanuts which are extensively grown in the area, almost exclusively by women. The installation — expected to be led by associations of local women peanut growers — will include a production plant and an agricultural training and investigation center.
Some of Pinós' most outstanding completed projects are the Crematorium in the Igualada Cemetery, Spain; CaixaForum Museum and Cultural Center in Zaragoza, Spain; the Cube Office Towers I & II in Guadalajara, Mexico; Departments Building in WU Campus in Vienna, Austria; the metro station Zona Universitaria in Barcelona, Spain; the Juan Aparicio Seafront in Torrevieja, Spain; and the JVC Cultural and Business Center Fairgrounds in Guadalajara, Mexico.
Her current projects include the Regional Office of the Generalitat in Tortosa, Spain; the architectural set composed by Gardunya Square, Massana School of Arts, a block of flats and the back façade of the popular Boqueria Market in the historical district of Barcelona; and the master plan of Saint Dizier, France.
Among other recognitions, Pinós was named an honorary member of the American Institute of Architects in 2011 and a Royal Institute of British Architects International Fellow in 2013 for her outstanding contribution to architecture. In 2015 she was honored with the Creu de Sant Jordi, one of the highest civil distinctions awarded by the Catalan government to individuals and organizations for their cultural and social services in Catalonia.
"Carme Pinós will bring her wide experience as an architect, urban designer and teacher to Berkeley," said Cathleen McGuigan, editor-in-chief of Architectural Record. "Her architecture is known for bold and vibrant forms yet her designs deeply engage the user, the city and the landscape. Whether designing a museum, or planning a factory in Burkina Faso to help boost the economy, her projects reflect a thoughtful connection to the poetry of place."
The Berkeley-Rupp Prize nominating committee is comprised of Deborah Berke, founder of the New York City-based architectural firm Deborah Berke Partners; Lucy Berman, trustee of the Sigrid Rupp Trust; Tom Buresh, UC Berkeley professor and architecture department chair; Yung Ho Chang, principal architect at Atelier Feichang Jianzhu, professor of architecture at the Massachusetts Institute of Technology and a professor at Tongji University's College of Architecture and Urban Planning in Shanghai; Madhavi Desai, partner at ARCHICRAFTS Studio; Sheila Kennedy, founding principal of Kennedy & Violich Architecture and professor of the practice of architecture at MIT; Lisa Kleissner, trustee of the Sigrid Rupp Trust; Cathleen McGuigan, editor-in-chief of Architectural Record; Marilyn Jordan Taylor, former dean of the University of Pennsylvania's School of Design; Susan Ubbelohde, UC Berkeley architecture professor and principal at Loisos + Ubbelohde; Allison G. Williams, vice president and director of design at AECOM; and CED Dean Jennifer Wolch.
The Berkeley-Rupp Prize is made possible through a bequest by UC Berkeley alumna Sigrid Lorenzen Rupp.
Deborah Berke was the inaugural recipient of the Berkeley-Rupp Professorship and Prize in 2012 and Sheila Kennedy received the prize in 2014.