NEWS
Ronald Rael's Cabin of 3D Printed Curiosities Wins 3D Pioneers Challenge
Jun 14, 2018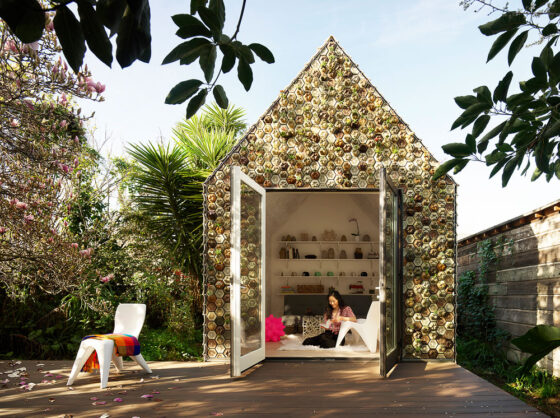 The 3D-printed Cabin of Curiosities, an exploratory project led by College of Environmental Design associate professor of architecture Ronald Rael and his partner Virginia San Fratello, a professor at San Jose State University, won the this year's 3D Pioneers Challenge, an international competition based in Germany for additive manufacturing technologies. The Cabin of Curiosities is a research endeavor and "proof of concept" investigation into the architectural possibilities of upcycling and custom 3-D-printed claddings as a response to 21st-century housing needs that was unveiled in an Oakland backyard in May.
The Cabin demonstrates the potential of additive manufacturing on a weather tight, structurally sound building. All of the cabin's 3D printed components are produced in a print farm, located near the site of the cabin. The front facade is composed of 3D-printed Planter Tiles to create a living wall of succulents that thrive in the local climate. Different materials are used to craft the tiles, including cement, sawdust, and chardonnay grapes. The roof and side facades are clad in 3D-printed ceramic tiles that act as a rain screen. The surface of each tile visually emulates a knitting technique called the seed stitch. G-code is used to control each line of clay as it is printed to create a loopy texture. The interior is clad with 3D printed bio-plastic panels that are backlit with LED lights and glow. The chairs and tables are printed using materials such as bio-plastic and nylon. Other objects in the interior include a coffee set and wine goblets printed in coffee grounds and grape skins.
The project team also includes a number of CED alumni and students: Logman Arja (M.Arch '19), Hannah Cao (M.Arch '16), Sandy Curth (M.Arch '20), Barrak Darweesh (M.Arch '17), Yonghwan Kim (M.Arch '16), Daniel Komen (M.Arch '15), Cooper Rogers (M.Arch '19), Alex Schofield (B.A. Arch '13, M.Arch '15), Phirak Suon (M.Arch '16), and Kent Wilson (B.A. Arch '12, M.Arch '15).
About the 3D Pioneers Challenge: Since 2015 the unique 3D Pioneers Challenge covers a range of verticals and is aimed at designers who are breaking new ground in the field of 3D printing and who understand the key trends in the industry. Additive and rapid manufacturing processes are no longer in their infancy – their unique features have already helped them to conquer the market and win over end users. Alongside the traditional engineering sectors such as the aerospace industry, additive manufacturing processes are now also being used in medical technology, fashion and architecture, lifting the limits on imagination and individuality. The Challenge seeks to uncover specialists from around the world who are thinking outside the box and pushing boundaries.