NEWS
Remembering Dean Emeritus Richard Bender
Oct 25, 2022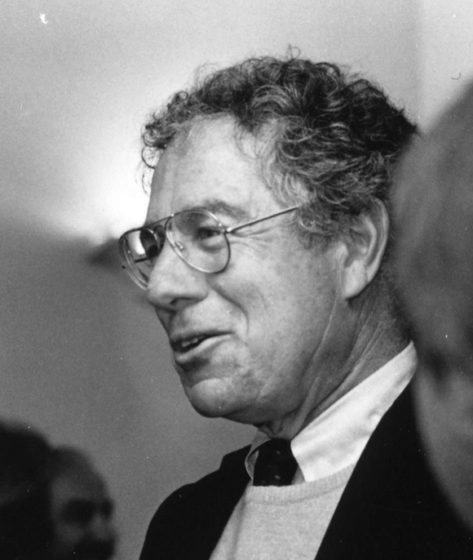 With immense sadness, the College of Environmental Design announces the passing of Professor Emeritus of Architecture, Richard Bender. Bender was an architect, civil engineer, planner, and educator, known for his urban, campus and community designs. Bender served as Dean of the College of Environmental Design from 1976 to 1988. He died on October 8 at the age of 92.
Bender was born in Brooklyn, NY. He received a bachelor's degree in civil engineering from the City University of New York in 1951. Bender then pursued graduate work in Building Construction Engineering at MIT and the Graduate School of Design at Harvard, receiving his M.Arch from the latter in 1956.
Following graduation, he married artist and writer Sue Rosenfeld. They lived in Europe for two years before returning to New York where Bender worked with Paul Lester Wiener and José Luis Sert on new towns in Latin America and taught at Cooper-Union.
At the invitation of Gerald McCue to teach at UC Berkeley, Bender moved to the west coast in 1969. On campus, Bender served as Chair of UC Berkeley's Department of Architecture, Associate Dean for Research, Dean of the College of Environmental Design and Director of the Campus Planning Study Group and the Urban Construction Laboratory. His work in these programs led him to direct master plans for the University of California System campuses, including UC Berkeley, UC San Diego and UC Santa Cruz. Commemorating his service that "exceeds the standards of excellence" to the University of California Berkeley, Bender was awarded the Berkeley Citation in 1986.
Bender authored "A Crack in the Rear-View Mirror: A View of Industrialized Housing" (Van Nostrand Reinhold, 1973), a definitively timeless book on this topic. He was also founding director of the nonprofit BRIDGE Housing Corporation. He served as visiting "GC-5" Professor of Urban Design and Construction at Tokyo University, advised the design and construction of The Getty Center in Los Angeles and directed master plans for the Benesse Art Site on the Island of Naoshima, Japan and Nanyang Technical University in Singapore.
Bender is survived by his wife, sons Michael and David, and their families. "Until his last hours, he remained incredibly proud of and excited by his association with the CED," Michael Bender shared. "This was manifested several ways, primarily by sharing the pride of the work of colleagues and especially former students."
The faculty, staff and students of the College of Environmental Design offer our condolences to Dick's wife, family, friends and his much beloved former students.
Remembrances
I knew Richard Bender in New York, where after working for [Paul Lester] Wiener and [Josep Lluis] Sert he worked for several years in the office of William Lescase, before moving to California.
I worked in that office after graduating in architecture and grew to appreciate Dick Bender. I visited him and his wife in Berkeley in the 1970s.
---
At the start of the 1972 academic year, Berkeley architect and CED Professor Emeritus Professor Sandy Hirshen introduced me to Richard Bender and we began a 50-year writing partnership. Our camaraderie grew to the extent that calling him Richard instead of Dick was never a natural act.
When I first met him, he was already well known as a planner of new towns and an expert on mass housing—from self-help in the Bronx to the market experiments that HUD launched under Lyndon Johnson and then Richard Nixon and Mitt Romney's father, George. Less well known was his friendship with the sculptor Tino Nivola and other artists in and around Amagansett on Long Island, where Dick and his wife Sue built their summer house—featured in the New York Times decades later as a part of the Hamptons' modern period.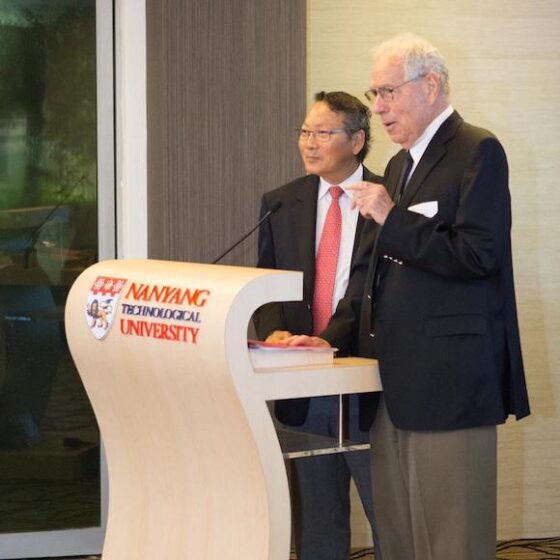 Richard Bender with NTU's Anthony Teo at the first Univer-Cities Conference, Singapore in 2013 (Anthony Teo/Courtesy)
Dick became the Architecture Chair at CED soon after we met, and a year or two later, he succeeded William Wheaton as Dean. He oversaw a substantial research program, funded by the National Science Foundation and what was then the National Bureau of Standards, that set the stage for Department of Energy funding and the creation of the Center for the Built Environment within CED.
His real monument, though, is the Berkeley Campus, which he saved from being paved over by enlisting then-Chancellor Albert Bowker to explain the campus to itself and to preserve the campus' sense of place as it grew. He also added design review by faculty and outside professionals to the process by which new buildings were proposed, sited, and developed. Several of us were part of the Campus Planning Study Group, and one of us, Emily Marthinsen, became Berkeley's Campus Architect—now that's a long-range plan!
Later, tapped by his friend Alan Stein, Dick helped establish and nurture Bridge Housing Corporation, the Bay Area's largest home-building nonprofit. Word got around, and soon Dick was advising half the planet on how to revive aging new towns and provincial villages; redevelop metropolises like Tokyo; and plan campuses for leading universities in California, China, and Singapore.
Dick had a long view—and a "good nose," as the Zurich architect Peter Steiger, a longtime friend, likes to say. His intuition was like a great physician's diagnostic sense. Even physicians sometimes speak sharply if their patients are too obstinate, but he was renowned for his bedside manner. Giving advice is much harder than it looks, especially in the company of the grandees of their elevated worlds. You have to convince them that it's their idea, and he knew how to do that.
Several times, I watched him discuss projects in Tokyo's Aoyama ward with the late Tokyo developer Minoru Mori. A visionary himself, Mori was sufficiently impressed by these conversations to ask Bender, along with Sir Peter Hall, to be a founding advisor to the Mori Power City Index, now one of the leading measures of a metropolis's appeal. Dick saw things that others overlooked, influencing work at different scales and timelines. He was especially good at considering a project's impact on the surrounding city.
Richard Bender with Rick Holliday at Factory OS on Mare Island in 2019 (David Trachtenberg/Courtesy)
Dick had a favorite analogy, "clocks and clouds." Those he counted as friends definitely formed a cloud—a flying circus or motley crew that rose to every occasion in which we found him at the center. Another favorite was "elephants and sled dogs," extolling the latter's flexibility and self-sufficiency. Optical illusions that show how our preconceptions blind us to the fuller nature of many things illustrated his talks. "Slow," in the sense of making room for time whenever beloved places were to be altered, was also mentioned.
A few years ago, Dick and I contributed to a centenary book on the Italian architect-planner Giancarlo de Carlo edited by Paolo Ceccarelli, and I learned how many modernists—Gropius, Chermayeff, Moser (with whom he and Steiger worked on CERN), and de Carlo himself, among others—he knew personally through his work in Zurich and later in Italy. But he also knew the young Thomas Gordon Smith and his family from sharing a semester at the American Academy in Rome. He was good friends with Fumihiko Maki and others in Japan, including CED alumni Naomichi Kurata and Naomi Maki. His friendship with Professor Shigeru Ito led to a Visiting Chair at RCAST in Tokyo, part of Tokyo University. In France, he was long associated with the planners of Cergy-Pontoise new town, joining its summer/fall institutes with SOM's Phil Enquist.
We spoke weekly at Strada and then over Zoom, often with Emily Marthinsen. Dick sent us notes and links until a week before his death. (After holding cancer at bay nine years ago, he told me, "Well, since I'm not dead I'd better get my car seats recovered.") We thought he had nine lives, but alas he didn't. Along with his family, he leaves a throng of people who treasured his friendship and benefited from his counsel. We'll all miss him.
— John J. Parman, CED Visiting Scholar and co-founder of the award-winning quarterly, Design Book Review