NEWS
Reconnecting big rivers in Mississippi and California
May 31, 2023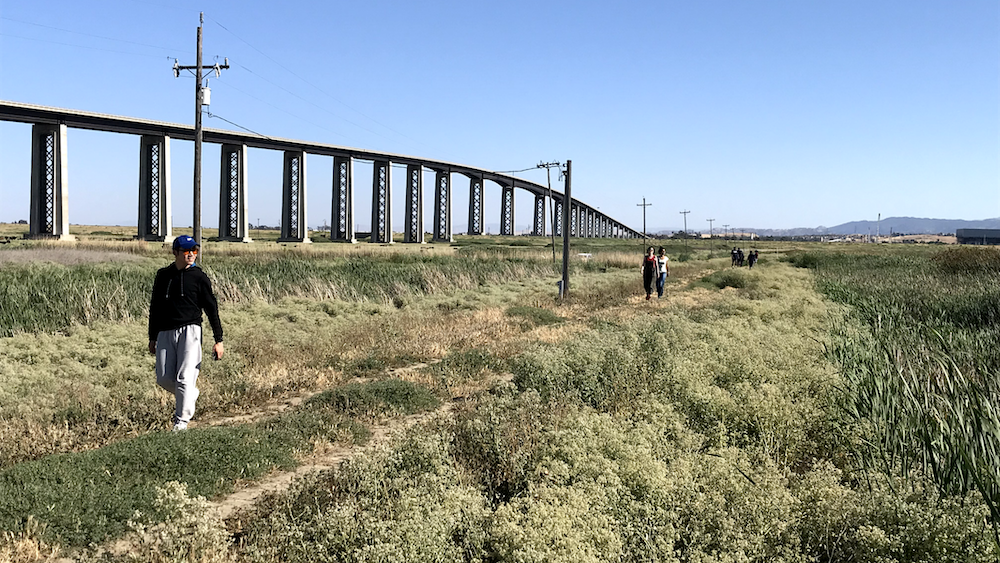 In August 2022, heavy rains hit Jackson, Mississippi, causing tributaries of the Pearl River to clog, the main channel to crest, and ultimately, entire neighborhoods to flood. Situated in the river's vulnerable floodplain, Jackson and its majority Black residents were left with boil notices and widespread water damage.

Jackson's flooding has been a pressing concern for its residents for decades. Now, tensions are rising as the US Army Corps of Engineers considers a "One-Lake" dam proposal that could end up increasing flooding in Jackson's poorest neighborhoods.

Graduate students from Jackson State University (JSU) and UC Berkeley recently proposed alternate strategies to protect Jackson's residents. For the past year, researchers from both universities have been studying ways to improve access to riverbanks while protecting neighborhoods from flooding.

The grant-funded research collaboration kicked off in May 2022, when students from JSU flew west to meet Berkeley landscape architecture students for a two-day workshop along the Sacramento River. Undergraduate and graduate students met with state officials and assessed six riverbank sites including West Sacramento parks, the Vic Fasio Yolo Bypass Wildlife area, and the Sacramento River weir.

The workshop concluded back in Berkeley, where students proposed strategies to create better connections with the river — laterally, with urban districts that border the river; longitudinally, along the length of the river; and vertically, from the riverbanks to the riverbed. Students envisioned a new ferry service linked to bike trails; riverside parks planted with native shade trees; and floating docks for fishing, swimming, and launching kayaks.

Last fall, Berkeley Master of Landscape Architecture students joined their JSU counterparts in Jackson and Vicksburg, Mississippi. Teams developed tactics to address river access, readaptive use, and the area's mounting flood risk.

After exploring various sites and engaging with local stakeholders, students laid out restoration and protection plans, such as establishing a multiuse trail along the Mississippi River in Vicksburg connecting museums, parks, and riverfront access areas and restoring Town Creek, a Pearl River tributary in Jackson, by adding docks and platforms for public access.

Discussions in Jackson, however, largely revolved around the possible impacts of the One-Lake project, a proposed impoundment of the Pearl River with questionable flood-control benefits. However, real estate interests support the project because it would create lakefront properties.

During the workshop in Jackson, JSU and Berkeley students critiqued the One-Lake project proposal and developed an alternative approach to managing floods, the "Green Heart of the Pearl." Instead of creating an artificial lake, the plan would preserve the river floodplain to absorb floodwaters. The preserved floodplain would become a public park.

The JSU/Berkeley collaboration continues. In March, findings were presented at the Council of Educators in Landscape Architecture (CELA) Annual Conference in San Antonio, Texas. Next steps include a more detailed examination of the flooding of Pearl River tributaries and its impact on surrounding communities.

Learn more about the collaboration and view student presentations on the River Lab website.