NEWS
Perloff gift endows chair, doctoral fellowship to promote diversity and social justice
Aug 23, 2023
An important gift from Laura and Gregg Perloff expresses their belief that the College of Environmental Design is uniquely positioned to lead the way toward equity and diversity in the fields of architecture and city planning.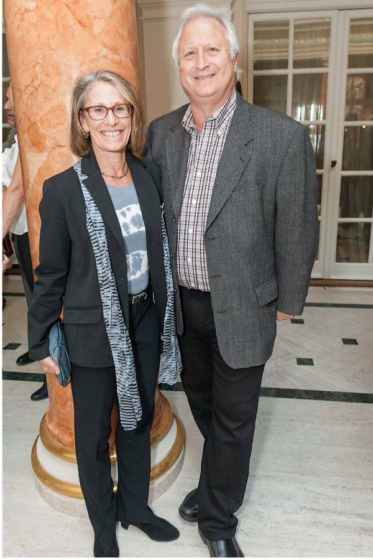 Laura and Gregg Perloff. Photo: Susana Bates for Drew Alitzer Photography.
The College of Environmental Design (CED) announces a new gift from Laura and Gregg Perloff that will yield $3M to support graduate students and faculty leadership. Their substantial gift of $1.5M enabled the college to capture an equivalent amount in university matching funds. Together, these funds endow the new Perloff Family Chair in City & Regional Planning and the Paul R. Williams Graduate Fellowship.
Gregg, who earned his Master of City Planning from CED in 1976, and Laura, a trustee of UC Berkeley, are longtime supporters and champions of the college and university. This most recent gift builds on their previous generosity to CED: the Perloff Family Fellowship and the Harvey S. Perloff Graduate Fellowship currently support doctoral and master's students in the college's Department of City & Regional Planning (DCRP).
The Perloffs' goal with this latest gift is to bolster CED's reputation as a world-class learning center and bring people of diverse backgrounds and means into its community of scholars and practitioners.
"We need to plan for a future that takes into account the needs of a diverse society," the Perloffs explain. "We believe UC Berkeley is uniquely situated to study and promote policies for a more just shared future."
New chair supports city planning excellence
The new Perloff Family Chair in City & Regional Planning honors and supports the department chair of DCRP during their term of service. It provides a scholarly allowance for the chairholder and supports graduate students in the department. By capturing Hewlett Foundation matching funds for this gift, the chair's endowment will start at $2M. Associate Professor Daniel G. Chatman is serving as the first Perloff Family Chair.
"This endowment enables me to continue to focus on research while carrying out administrative responsibilities in the department, and it also acknowledges the substantial workload associated with the chair role," Professor Chatman says. "I am grateful to the Perloffs on my own behalf, as well as on behalf of the department. The Perloff Chair endowment will encourage faculty to take on the important role of department chair in the future."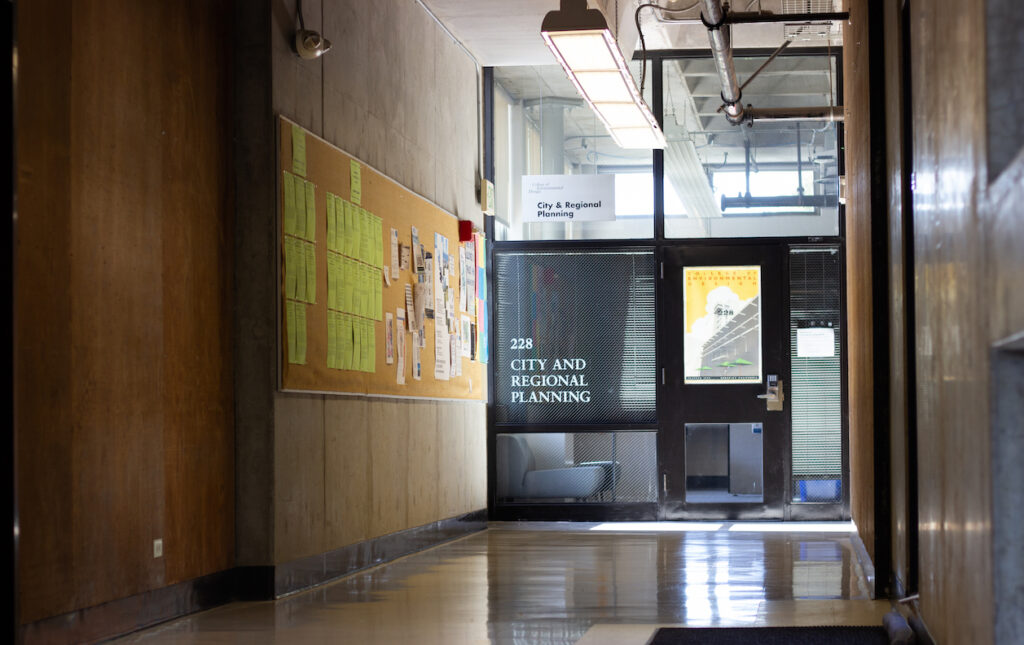 Understanding the importance of city planning and its capacity to generate meaningful change is a Perloff family legacy. In earning his MCP, Gregg was following in the footsteps of his father, Harvey, who served for 15 years as dean of UCLA's then-Graduate School of Architecture and Urban Planning, today housed in Perloff Hall.
As Founder and CEO of Another Planet Entertainment, the exclusive promoter for UC Berkeley's Greek Theatre and Oakland's Fox Theater, among other venues, Gregg says he uses his Berkeley education every day. For example, he was working from a city planning mindset when he envisioned the renovation of the Fox Theater as a catalyst for revitalizing downtown Oakland.
"It's so important that all people feel welcome and respected in our urban spaces," Laura and Gregg say. "We know that the Department of City & Regional Planning, like UC Berkeley as a whole, is committed to the ideals of a shared humanity and personal dignity. We want to ensure the continued success of the department, its professors, and its students as they work toward these goals."
Paul R. Williams Graduate Fellowship honors trailblazing Black architect
The Paul R. Williams Graduate Fellowship is named for the trailblazing African American architect Paul Revere Williams, FAIA (1894–1980). The fellowship gift is being matched by an anonymous UC Berkeley donor to establish an initial endowment of $1M, making it one of the most prestigious fellowships in the college. The Williams Fellowship will support doctoral students who have the potential to be leaders in equity and diversity in design.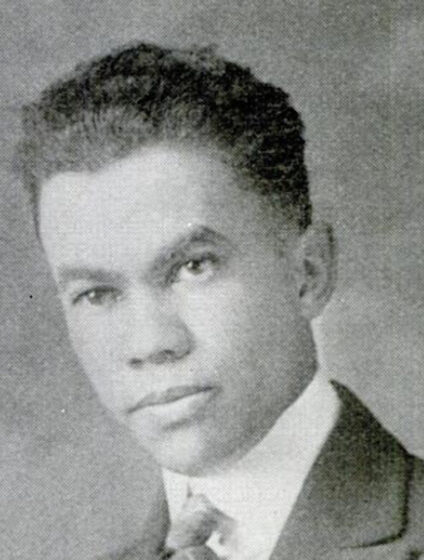 Paul Revere Williams, 1917.
In naming this award, the Perloffs aim to honor the remarkable accomplishments of Williams, the renowned Los Angeles designer of more than 3,000 buildings — lavish houses and iconic hotels, including a noted addition to The Beverly Hills Hotel, as well as modest bungalows, department stores, office and government buildings, and churches.
Williams also designed the original star-shaped building for St. Jude's Children's Research Hospital in Memphis, pro bono, at the request of his lifelong friend Danny Thomas, and he was one of the architects of the famous "space age" Theme Building at the Los Angeles International Airport.
Williams was most famous as "architect to the stars" for the many grand houses he designed for Hollywood royalty — Cary Grant, Lucille Ball and Desi Arnez, Frank Sinatra — often in neighborhoods where he and his family would not be allowed to live.
But he also worked to bring quality housing and the possibility of homeownership to Black families. For example, he designed housing for Black workers in Henderson, Nevada, and a neighborhood of bungalows for middle-class African American residents in Las Vegas. In his hometown of Los Angeles, Williams co-founded Broadway Federal Bank to give home loans to Black families who were denied mortgages from white lending institutions.
This year marks 100 years since Williams joined the American Institute of Architects (AIA) as its first African American member; he went on to become the first Black member to be inducted into the AIA College of Fellows, in 1957, and ultimately AIA's first Black Gold Medalist, an honor conferred posthumously in 2017.
Today, more than 40 years after Williams's death, only 2% of licensed architects in the U.S. are Black. The Perloffs hope that the Williams Fellowship and the example of Williams — who is too little-known, even in his native California — will inspire more young African Americans to pursue architecture and other allied fields. "We want to open up possibilities for young people who may not have considered a career in architecture. In order to have buildings that serve all of society, we need to diversify the profession."
Giving back is a Perloff family tradition
Laura and Gregg are quick to share that the example of Gregg's parents, Mimi and Harvey Perloff, inspired their ideals and philanthropy.
Harvey Perloff was committed to justice and equality. As dean of UCLA's Graduate School of Architecture and Planning, he increased the proportion of minority and women students and faculty and strove to achieve a student body that would reflect the ethnic diversity of metropolitan Los Angeles. As a scholar, he pioneered the new field of urban and regional economics, and he was instrumental in introducing the planning specializations of social and environmental policy.
Gregg's mother, Mimi Perloff, often described as a "dynamo," was a Juilliard-trained pianist and tireless advocate for the arts, which she saw as "a necessity — not the frosting on the cake." Although she championed many causes, her most lasting legacy is as co-founder of performing arts outreach program Design for Sharing. The program brings public school students and underserved communities to the UCLA campus to attend live performances by world-renowned artists. The program has impacted the lives of hundreds of thousands of Los Angeles residents since its inception more than 50 years ago.
In her support of the Music Therapy Program at UCSF Benioff Children's Hospital in Oakland, Laura is following Mimi's example, as well as acting on their shared belief in the power of the arts to improve lives. The Perloffs donated the seed money to pilot the program in 2008 and in 2017 created the Gregg and Laura Perloff Endowment in support of music therapy at the hospital.
Inspiring others to give
"Just as Mimi inspired us, we want to inspire others to give," says Laura, who is particularly keen to point out that UC Berkeley has matching funds that can amplify the impact of any gift. "We are honored to be ambassadors for the university and hope that our financial support serves as an example to others."
"Laura and Gregg's ongoing commitment to the campus and the college means so much to CED and the communities we serve. We are fortunate to have them as partners as we continue to forge new pathways toward environmental and social justice," says William W. Wurster Dean Renee Y. Chow.