NEWS
Meet bike park designer Megan Bradley
May 10, 2023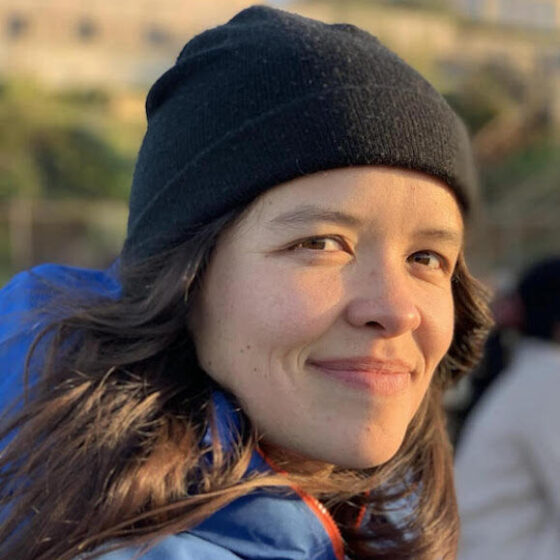 DEGREES
BA Landscape Architecture 2018
Master of Landscape Architecture 2020
CURRENT POSITION
Lead Bike Park Designer and Action Sports Project Manager, American Ramp Company
LATEST OBSESSION
Graphic novel Capacity
What was your favorite CED course?
Landscape Architecture 1: Drawing a Green Future with Chip Sullivan. It's what introduced me to landscape architecture.
What was your favorite part of your experience as a student in Bauer Wurster Hall?
Some of my favorite memories come from one of Chip Sullivan's classes. We had on-campus field trips where we studied and watercolored the way people move through space and the spirit of the landscape.
How did CED prepare you for your next steps?
CED gave me rigorous training in design representation and effective presentation communication. Those lessons are the basis of how I think through deliverables for my current design projects and community engagement meetings. It's important to have a thorough understanding of design theory and how to move from site inventory and analysis to concept design. There were several opportunities to intern at landscape architecture firms to get experience, but I really found my niche in a class that encouraged me to dig into an aspect of landscape architecture that I was curious about. For me, that was related to my mountain biking career, so I reached out to companies that build bike trails. This led me to my current position as a bike park designer.
What have you been working on lately? What drew you to it?
I'm the lead bike park designer and action sports project manager for a company that designs and builds mountain bike parks and trails. I competitively raced mountain bikes for 10 years and during my time at Berkeley won the USA Cycling National Championships for the women's cross-country mountain biking category. I knew I wanted to give back to the sport, so I combined my experience in mountain biking with my landscape architecture education. I found my niche in the field and have been grateful to be on this path and design spaces for people to get outside and ride.
Tell us about a book you're currently obsessed with.
I picked up the graphic novel Capacity at San Francisco's City Lights book store and was mesmerized by the drawing style. It follows this incredible story that brings the reader into a totally different universe through imaginative, graphic storytelling. The landscape of the book's fictional space evokes a sense of wonder that I try to create through landscape design.